Rivals100 Five-Star Challenge: Predictions on MVP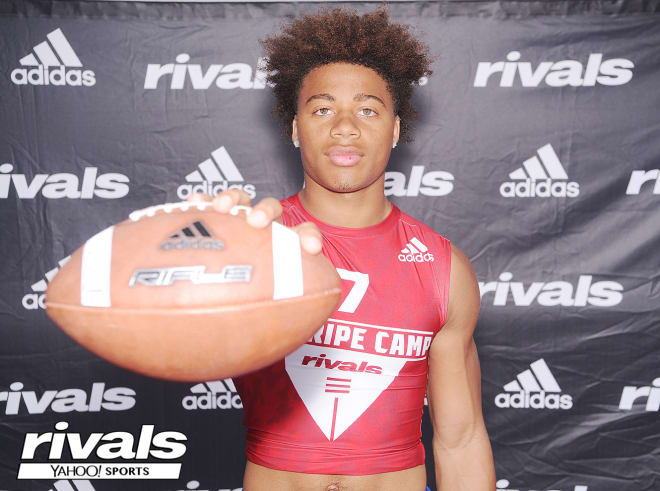 QUESTION OF THE DAY: Who will be MVP of the Rivals100 Five-Star Challenge?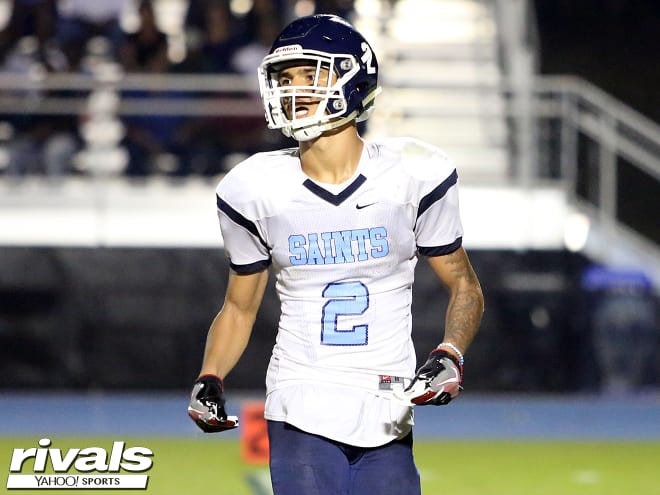 Rob Cassidy (Southeast): A quarterback is always a safe bet and I was impressed by Ryan Hilinski when I saw him at the Los Angeles stop of the camp series. The South Carolina commit has the build and the arm strength, but he also has the camp and 7-on-7 experience that will allow him to shine in this setting. If it's not a quarterback, there's a good chance that it's a wide receiver and John Dunmore seems like the kind of long, athletic, seasoned player that could steal the show and bring home the award. I know picking two players is hedging, but I'll probably miss on both, so does it really matter?
Mike Farrell (National): I'm going with Jadon Haselwood as the MVP. More often than not it's been a wide receiver and he has the skillset to have a dominant day if he hooks up with the right quarterback. He's shifty, he can run excellent routes, he has great hands and he can elevate. It's a great wide receiver group at the event but Haselwood can stand out and take home the honors.
Adam Friedman (Mid-Atlantic): Wide receivers thrive in these types of environments and there are a bunch of good ones this year. I'll say Jadon Haselwood outperforms his peers as he chases Theo Wease's No. 1 spot in the wide receiver rankings. Haselwood, a Georgia commit, has made major strides over the last year and seems to be ready for the spotlight on Thursday.
Adam Gorney (National/West Coast): A lot of the top 2019 receivers will be competing at the Five-Star Challenge but I really think the most electric and exciting wide receiver inside Mercedes-Benz Stadium will be 2020 standout Rashawn Williams from Detroit (Mich.) Martin Luther King. I watched his highlight film last week and I saw two main things: Williams is an incredibly athletic playmaker and he makes really tough catches. Whether it's over a defensive back, in a crowd, tiptoeing the sideline, a fingertip grab or where two defenders are converging on him, Williams almost always comes down with the ball. In this setting of drills, 1on1s and 7on7 competition, the 2020 receiver is going to outduel the 2019 stars and take home MVP honors.
Josh Helmholdt (Midwest): The MVP award usually goes to a quarterback or a wide receiver, but this year I'm looking on defense. Derek Stingley Jr. just moved to our No. 1 overall player in the 2019 class and that creates added pressure, but I expect he rises to that challenge. One of the reasons Stingley earned that No. 1 ranking is because he has a fiery competitiveness to him and he performs his best on the big stages. This is the biggest stage of the off-season, and I expect No. 1 to play his best football this week.
Nick Krueger (Texas): As far as an overall MVP goes coming out of the Five-Star Challenge is concerned, the guy that could be in the best position is wide receiver Garrett Wilson. Just thinking about how the camp is set up, whichever player puts on the biggest show in the 7-on-7 tournament will likely make the biggest impression at the end and tip the scales in his favor.
Of all the receivers that are going to be there, he is probably most capable of catching a high volume of passes while at the same time making the eye-popping type of plays as well. It's going to be hard to deny what looks like is setting up for a very favorable camp setup for Wilson. He was already a guy we've discussed as a fringey five-star talent coming into the camp, and with an MVP performance this week, he could make good on that.
Chad Simmons (Southeast): I will go with Bo Nix. He is a quarterback, he is a winner, he has performed on many big stages in the past and I know he will be ready to compete this week. The Auburn commit is calm under pressure and he knows a lot of eyes will be on him. Last year Trevor Lawrence and Justin Fields made very strong cases for this award, so another quarterback being in the discussion for MVP is not much of a reach.
Woody Wommack (Southeast): I'm going to really go out on a limb here and say the MVP will go to the nation's No. 1 player, defensive back Derek Stingley. He is built for this sort of competition and I fully expect him to come in ready and put on a show, even though he will have a target on his back because of status.