Rivals100 Five-Star Challenge: Farrell's underclassmen takeaways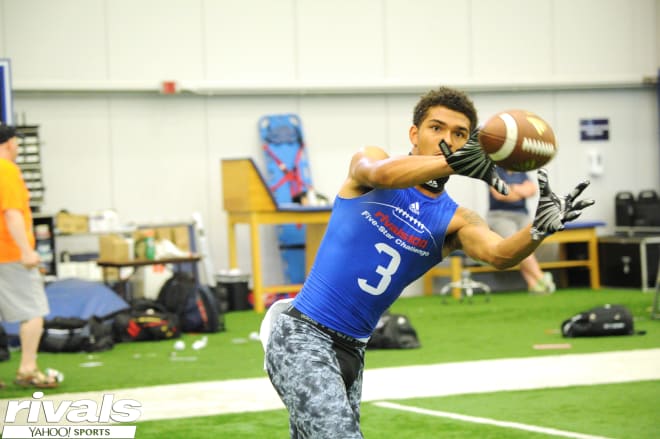 Bailey is an impressive kid. He held his own as the only 2020 prospect at the event, but he also showed some nerves in 7-on-7 play with a few picks. But he's a top-notch quarterback with sky high potential.
Gunnell had his moments and is at his best when dinking and dunking as he's very accurate on short and intermediate passes. He just needs to tighten his release a bit but he's got a lot of upside for Aggies fans to watch.
Dunmore needs to fill out, but he catches everything and has a lot of wiggle after the catch. He will make some people miss for the Gators.

Arguably the most impressive of the underclassmen, Haselwood was dominant in 7-on-7 play. Georgia fans should be excited.
Knox is huge and has big, reliable hands. Will he be a big receiver or grow into a tight end? It doesn't matter much. He will catch a ton of passes either way.
Lee was pressed into defensive duty as well due to an injury and he was outstanding breaking on the ball. He led everyone with three interceptions in 7-on-7 play.
Palmer had a very good morning session, showing the ability to separate with ease and some good hands, but he was quiet in the evening.
Wease was right behind Haselwood when it comes to impressive underclassmen at wide receiver, at least in my book. He's big but also elusive.
Jones was up and down as expected for a younger lineman, but he has good size and is powerful.
Ndoma-Ogar has a powerful build for an interior lineman and upside physically, but he was a step behind for most of his reps and needs to adjust to the quickness of elite linemen.
The Alabama commitment was very solid with length, excellent technique and the ability to use his arm extension to ride players wide.

The most physically aggressive of the linemen, at least for the underclassmen, Thomas just needs to get quicker feet. He will be a fan favorite in Baton Rouge.
Webb is massive with amazing lower body strength. He will be one of the top 2019 offensive linemen in the country if he keeps developing.
Wright has a great frame, can move his feet and is physical. He was a bit timid at first and not taking a ton of reps, but he got more comfortable as the day went on.
I like Briggs a lot. He's a bit undersized right now and has to fill out his frame, but he was always off the snap first it seemed and gave everyone trouble.
Herron looks more like a big linebacker and struggled with more physical linemen, so it will be interesting to see what position he plays in college.
Izuchukwu was beyond raw and really had no idea what he was doing coming off the edge. He's built well and powerful, but lacks refinement in a big way.
McLendon struggled a bit, especially with stronger linemen than could move him where they wanted at times. He will handle contact better as he gets stronger.
Floyd was one of the most active linebackers at the event and made some big plays in the 7-on-7 session. USC fans should be excited about his potential.
Orji is a 'tweener right now and looked a bit out of place at times, especially in the 7-on-7 session. He has a good frame and, if grows into it and improves instincts, he will be fine.
Thomas isn't very long and is built like a fullback, but he can move pretty well and has solid instincts. He's an inside plugger for sure and a pure middle linebacker.
Charleston has a lot of upside as a safety because he sees the field well and breaks on the ball quickly. As expected, he struggled a bit in solo coverage.
Otey has length and just needs to fill out a bit and get stronger, but he has a high ceiling because of that potential size. He had an up-and-down day. Vols fans should be excited about his upside.

Steele was impressive. UCLA fans have to be excited about him because his football instincts are excellent.

Stingley had a very good morning and was solid in the afternoon. I love his ability to get his head around and play the ball.
Williams may be small, but he's electric and closes on the ball as well as anyone.