Rivals100 Five-Star Challenge: Farrell's commitment predictions
QUARTERBACK
All of the quarterbacks that competed at the Five-Star Challenge are committed and I don't see any flipping.
RUNNING BACK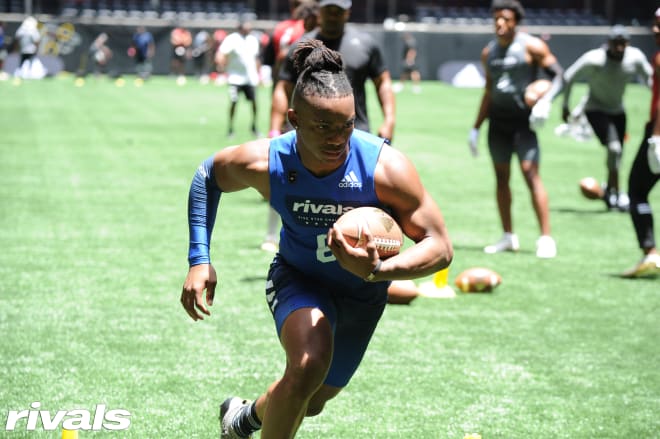 Bijan Robinson – Ohio State – This appears to be down to Ohio State and Texas and everything I heard at the event led to Robinson ending up in the Buckeyes' class. However, it's still very close and you can't count Texas out as he had a great visit there.
Jalen Berger – Penn State – Ohio State gets Robinson and Michigan took Blake Corum, so both will be full and Penn State will be a great option for him. The Buckeyes want two backs, so keep an eye out for them here, but I'll go Nittany Lions right now.
DeAndre Boykins (2021) – South Carolina – Family ties make for an early prediction here but North Carolina, Clemson and others will be in the mix.
WIDE RECEIVER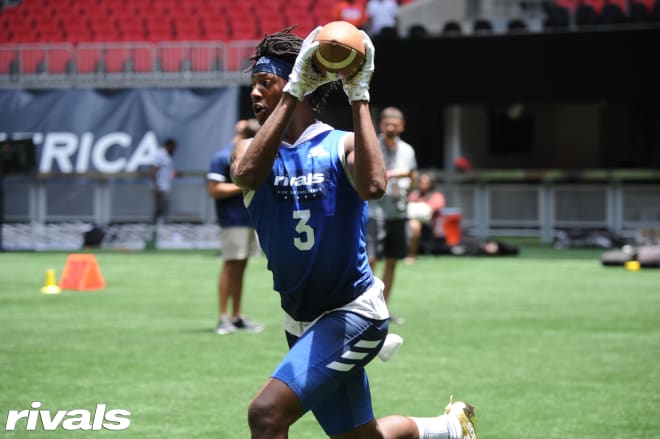 TIGHT END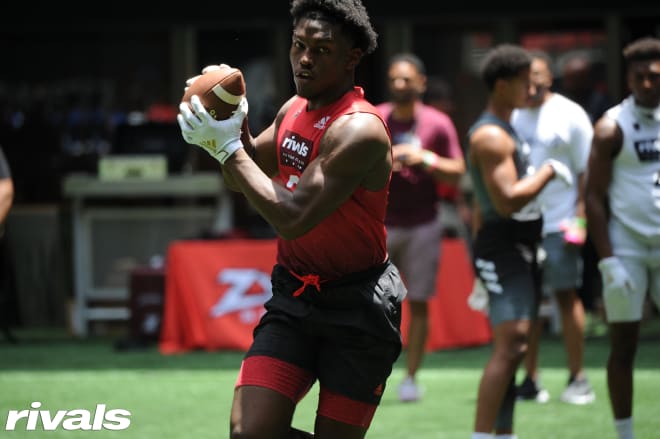 OFFENSIVE LINE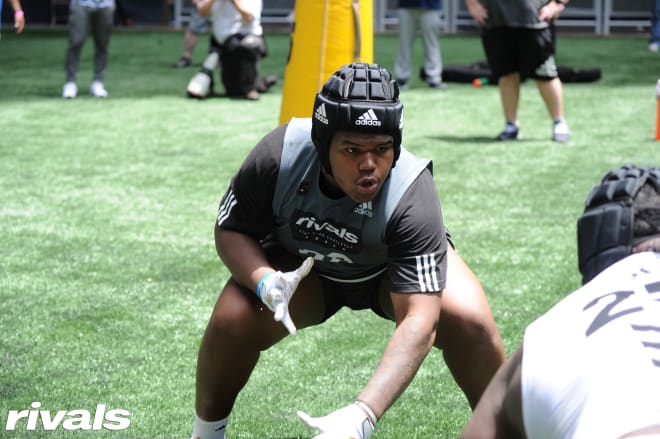 Raheem Anderson (2021) – Michigan – There is still a long way to go here but I can't see Michigan letting this top Cass Tech talent get away.
Hayden Conner (2021) – Texas – Michigan and Nebraska among others are making a fine impression on the big tackle and there is a long way to go, but I think he stays in state with the Longhorns.
Marcus Dumervil – LSU – Oklahoma and Alabama among others are very much in the mix here as is Louisville, but the Tigers pull him out of Florida.
Bryce Foster (2021) – Texas A&M – The powerful guard has a long way to go before he decides for good, but A&M is in very good shape for him.
Anton Harrison – Oklahoma – He and Aaryn Parks (below) are tight and I think they go together as a package deal.
Donovan Jackson (2021) – Stanford – This is just a hunch based on his academics and his parents being teachers, but Texas A&M and others will make a strong push. If he visits Stanford officially, I think it will be tough to beat the Cardinal.
Amarius Mims (2021) – Georgia – One of the most talented 2021 players at the event, Mims is a long way from deciding but I think it will be hard to beat the Dawgs based on their recent OL recruiting.
Chris Morris – Texas A&M – Morris is a tough one to read at times and can be all over the map but word on the street at the event was that A&M had a strong lead.
Aaryn Parks – Oklahoma – Parks decommitted from Penn State and seems enamored with Oklahoma and how the Sooners have produced offensive linemen lately.
Sedrick Van Pran – Georgia – This is a tough one to call but I think Georgia and Sam Pittman will push harder than the rest and lure him to Athens.
DEFENSIVE LINE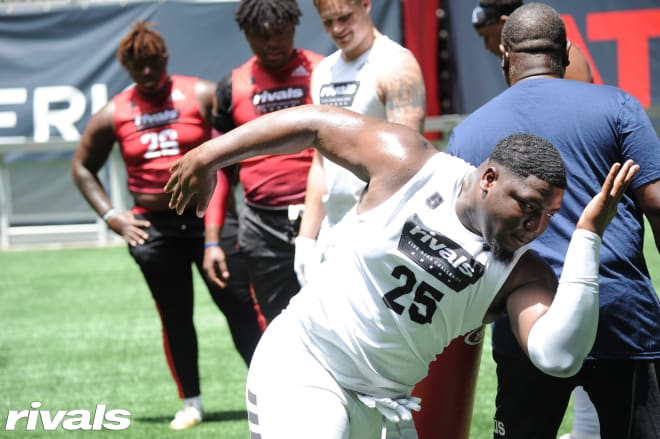 Vernon Broughton – Texas A&M – Broughton almost announced his commitment at the event and there was a ton of Aggies buzz surrounding him.
Jacolbe Cowan – North Carolina – The Heels want him the most so they win out as Georgia and Tennessee could probably land him but aren't pushing as hard.
Donell Harris – Alabama – Good luck figuring this one out. Since he decommitted from Miami and re-classified, no one knows what program will have room for him and who will push the hardest. I still don't think Alabama passes on him.
McKinnley Jackson – Ole Miss – This was thought to be a LSU-Alabama battle but Ole Miss has stepped it up and made home the best option for Jackson.
Octavious Oxendine – Tennessee – The Vols have been thought to be the leader for a while now and I don't see anything changing.
Jaquelin Roy – LSU – I can't see the Tigers letting this elite talent out of the state.
Chantz Williams – Florida – Georgia and LSU are in here as well but I think he stays in state and picks the Gators.
LINEBACKER
Keith Brown (2021) – Oregon – It's very early for Brown and he will get offers from all over the country but Oregon is the leader right now as the in-state power.
Junior Colson (2021) – Texas A&M – The Aggies are doing a great job recruiting all over the country and Colson has already taken notice. This one is a long way from decided but I like the Aggies chances early.
Bryson Eason – Arkansas – It's either Mississippi State or Arkansas for Eason and I think the Hawgs land him and his talented teammate (below).
Justin Flowe – USC – Clemson is the team if he leaves the state and he could very well do that, but in the end location and perhaps a new coach at USC will keep him home.
Martavius French – Arkansas – French and Eason pick Arkansas as a package deal.
Terrence Lewis (2021) – Clemson – It's early but Clemson has his interest and the Tigers do a great job stealing kids from Florida.
B.J. Ojulari – Tennessee – The Vols are in great shape here and could get his commitment soon if he stops pushing the date back.
Noah Sewell – Oregon – Family wins out here as he joins his brother Penei at Oregon.
Wesley Steiner – Auburn – This one will be done this week, maybe even by the time you read this.
Jaheim Thomas – Tennessee – Michigan State is strong option and his parents at Cincinnati alums but he seems to be waiting until he sees the Vols in late November before he gets serious about deciding.
Phillip Webb – Auburn – This is going to be an intense battle overall but Auburn has done the best job for him and have him leaning their way.
DEFENSIVE BACKS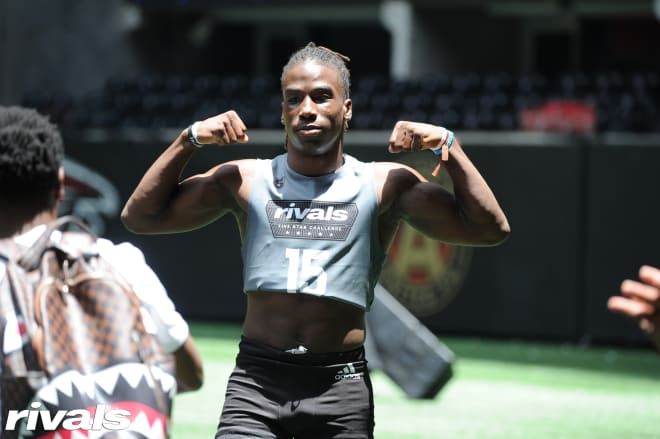 Xavion Alford – Alabama – The talk in Atlanta at the event was about Alford and Alabama even though LSU and Texas A&M will make this tough.
Jacobe Covington – Washington – Everyone seems to think Oklahoma here for Covington but Washington has quietly pulled ahead.
Joshua Eaton – Texas A&M – It was Texas early but now it appears to be all Texas A&M for the talented defensive back who also played wide receiver at the event.
Darion Green-Warren – USC – The Trojans keep him home after his early commitment to Oklahoma despite his interest in Georgia, Michigan and others.
Tony Grimes (2021) – Texas A&M – Jimbo Fisher recruited Virginia Beach and the 757 well at Florida State and those relationships help the Aggies. Clemson will make this tough however and Texas is pushing.
Isaiah Johnson (2021) – Tennessee – The Vols beat out Virginia Tech and West Virginia if he picks today, but more offers will be coming in.
Kamren Kinchens (2021) – LSU – The lure of DBU will be too much for Miami and others to beat in the end, but it's very early.
Kelee Ringo – Georgia – Georgia and Texas were the programs I heard the most about when it comes to Ringo but he heads to the SEC based on the chatter at the event.
Bryson Washington – Oklahoma – It's Oklahoma and Texas here and the Sooners win a very tough battle.
Joel Williams – Alabama – Since his decommitment from Florida, the talk has mainly been about Alabama when it comes to sources.
Omari Porter – Iowa – He wants to commit this summer and his recent visit to Iowa was a very good one and he likes the way the Hawkeyes develop defensive backs.