Rivals100 DB Derrick Davis gives his Ohio State visit "a solid nine"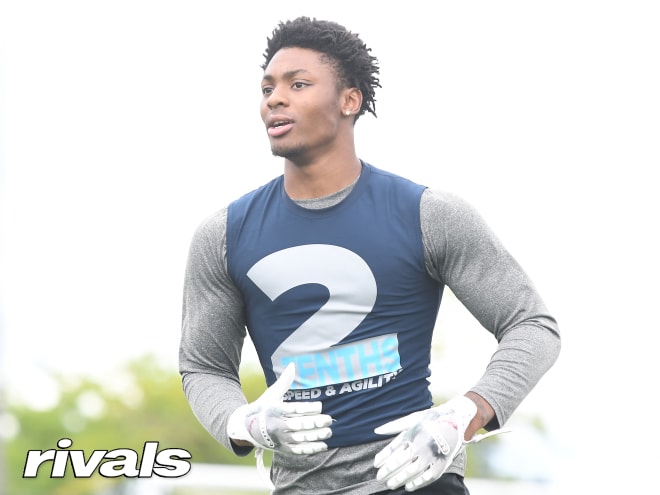 Ohio State was the epicenter of the recruiting world this weekend with most of their 2021 commitments and a few important targets making their way to Columbus. Rivals100 prospect Derrick Davis was the highest rated uncommitted player in town and the Buckeyes are pushing for his commitment. The Monroeville (Pa.) Gateway safety is having a tough time figuring out which team he will pick on November 7th but he felt very comfortable around the Ohio State commits.
IN HIS OWN WORDS...
"The only different thing about this visit was seeing the other recruits," Davis said. "It was the first time I got to spend some time with most of them. Some of them I knew from camps but it was my first time meeting a lot of them. We just hung out with each other in a big group. It was a good time.
"Jack Sawyer was really cool," he said. "He made me really come out of my shell. At first I was a little quiet but as I got to know him I saw he was a good dude.
"My comfort level, from one to ten, was a solid nine," said Davis. "The city was great and there's a lot to do and with the recruiting class we shared a nice little bond.
"The defense struggled a little bit in the first half, which was expected because their whole defense is new," he said. "Other than that, they picked it up and they looked really good out there. I haven't talked to the coaches yet.
On his upcoming visit to LSU this weekend: "It's going to be my first time at LSU," Davis said. "I'm trying to see the campus and some of the academic facilities. I want to see if it's the place for me. The coaches really want me to get down there."
On how and when he'll figure out which school he will pick: "It's going to come down to this weekend really," he said. "After this weekend I'll have my mind made up. I want to go to the school that has the perfect environment for me, that will develop me as a young man and hopefully become a future NFL draft pick."
RIVALS' REACTION...
This was a really important visit for Ohio State and it sounds like the Buckeyes have made a move with Davis. His recruitment has largely been viewed as a Penn State/Ohio State battle and the Nittany Lions might have had an edge heading into he weekend. Davis stopped short of naming a leader but it's obvious this race is even closer than it was before the weekend. He did say that he'll be watching the game this weekend when the two Big Ten East rivals square off but was "staying away" from making any predictions. LSU will have a chance to impress Davis this coming weekend and, even though he can't meet with or talk to the Tigers coaching staff, Davis still has a lot to learn about the Baton Rouge campus.