Rivals Roundtable: Transfer portal players worth watching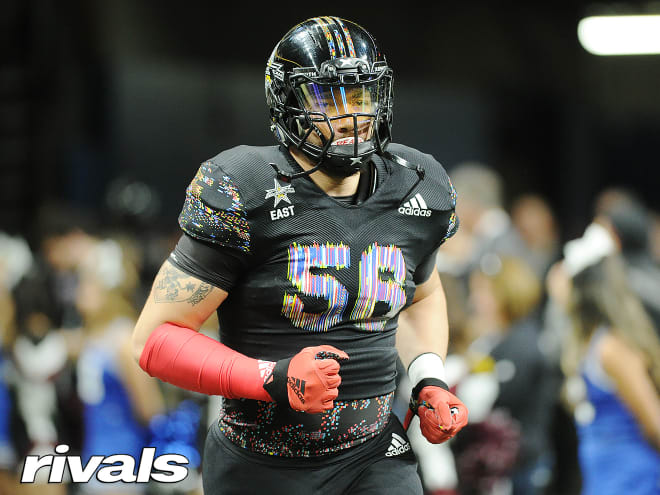 There have been an abundance of top players who have entered the transfer portal this season in college football and many of them had high rankings throughout the recruiting process. Today, the Rivals analysts each pick someone in the transfer portal who hasn't had a great start but who could still have productive college careers.
MORE ROUNDTABLE: Most interesting recruitments | Who should move up rankings?
CLASS OF 2020 RANKINGS: Rivals250 | Position | Team | State
ROB CASSIDY, Florida analyst   
Joey Gatewood has a chance in the right system. His raw, physical tools, including his massive arms and solid speed that will allow him to shine if he lands with a coach that is willing to play to his strengths. Gatewood's versatility is intriguing and if he can become more polished over the next few years, he has a chance to make an impact in his new home.
MIKE FARRELL, National recruiting director  
People need to watch out for Shawn Robinson at Missouri because I love his skill set. He can run and extend the play and he has a cannon of an arm. Accuracy has been an issue in the past, so we will see how that develops, but having to sit out a year due to transfer will really benefit him. He is learning under Kelly Bryant and the offensive fit is a good one for him. He's going to be a sleeper to watch next season in the SEC."
ADAM FRIEDMAN, Mid-Atlantic analyst   
Easy choice here. Antonio Alfano should have an outstanding career at Colorado as long as he can stay out of his own way. In a passing league like the Pac-12, Alfano will have plenty of opportunities to rack up sacks and become a top draft pick like we thought he could be.
ADAM GORNEY, West Coast analyst   
Brenton Cox is a former five-star defensive end who transferred out of Georgia and has landed at Florida. He's been working to get immediately eligible this season, but there's still no word from the NCAA. So, next year should be big for Cox, who was rated as the second-best strong-side defensive end in the 2018 class behind only Clemson's Xavier Thomas. Cox is a really talented edge threat and Florida has developed those guys for years. It didn't work out at Georgia, but a fresh start at Florida could be huge for Cox and the Gators.
JOSH HELMHOLDT, Midwest analyst   
Michigan State has been one of the transfer portal's greatest victims, losing a half dozen players since the start of the season. I had higher expectations for guys like Brandon Randle and Cam Chambers, but both have had their chances. Of the six who hit the portal earlier this season, I would highlight La'Darius Jefferson as a guy who can still have a productive career. A high school quarterback who tried to make the move to running back in East Lansing, Jefferson has the skills and intangibles that can impact on the college level if he can find the right position fit.
CHAD SIMMONS, Southeast analyst 
I will go with Antonio Alfano, a top 5 prospect in the 2019 class out of New Jersey. We know the talent is there, so now maybe the change of scenery from Tuscaloosa to Boulder will help. There is a lot of pressure when you play at Alabama, and playing there doesn't work out for everyone. So, heading to Colorado to play for Mel Tucker and his staff may be the change needed. There are not many, if any, with the talent of Alfano on that roster, so hopefully he goes in ready to work because he has a chance to make a big impact.
SAM SPIEGELMAN, Texas/Louisiana analyst   
Justin Rogers is the best quarterback to come out of Louisiana in recent memory. In high school, he was a dynamic dual-threat with size, a big arm and a strong football mind. He was on the cusp of a fifth star when he suffered a season-ending injury during Week 1 of his senior year in 2017. His surgery was equally as serious and he has yet to return to the field in meaningful action since. He's now left TCU and will look at schools all over the country, but possibly LSU or Tulane in his home state. If he is fully recovered from his leg injury, he could be Joe Burrow's successor in Baton Rouge, throwing to his former Parkway teammate Terrace Marshall Jr. and best friend Ja'Marr Chase.

WOODY WOMMACK, Southeast analyst   
Five-star Antonio Alfano could still have a very big career, especially considering he's now headed for the Pac-12 and Colorado. Alfano will be out of the spotlight in Boulder and should have every chance to settle in. With Mel Tucker being a defensive coach, I have no doubt that he will feature Alfano in his defense and the quality of offensive linemen he will be facing on a weekly basis will be much more manageable than what he would have seen in the SEC.