Rivals Roundtable: Next 5-star commit, SEC vs. ACC, more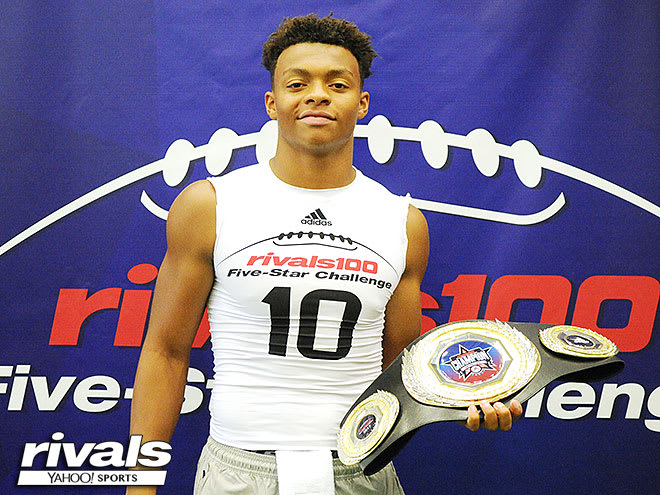 1. WHO IS THE NEXT FIVE-STAR TO POP, AND WHERE IS HE HEADED?
ADAM GORNEY (National): Quarterbacks generally commit early and five-star Justin Fields is in a heated battle in the Southeast that he might not want to drag into his senior season. It seems like Georgia has the slightest edge over Florida State at this time but the Seminoles are by no means out of it. There are plenty of five-stars who will take a round of official visits and wait much longer to make a pledge. But Fields does not seem like a guy who's going to wait forever and after an early commitment to Penn State, it looks like he will wrap things up sooner, rather than waiting until later.
ROB CASSIDY (Southeast): I feel like Justin Fields-mania can only sustain itself for so long. And now that Florida has its quarterback in Matt Corral, it won't be long until Fields fall into place. My guess? Florida State. Auburn and Georgia are also real possibilities, and Fields is out of my region so Chad Simmons would have a better handle on this situation. My FSU guess is based on a slightly softer depth chart and the fact that the Seminoles are annually in the hunt for the playoff.
CHAD SIMMONS (Southeast): James Cook. Cook is a former Florida State commit and he has visited Georgia a few times this year. He showed up at the Rivals100 Five-Star Challenge presented by adidas in Bulldog gear while still committed to the Seminoles, but since he decommitted from Florida State on July 4, Georgia has been the school trending. Some felt he'd already be committed to the Bulldogs by now, so he is one definitely on Commitment Watch.
JOSH HELMHOLDT (Midwest): Earlier this summer I listed the two uncommitted quarterbacks as most likely five-stars to commit next. Well, Matt Corral made his decision for Florida earlier this week, now all eyes focus on Justin Fields. I will also stick with my prediction he ends up at Georgia.
WOODY WOMMACK (Southeast): If I had to guess which prospect ranked as a five-star would be the next to commit, it might be Justin Fields, but after guessing incorrectly where he was going to commit once during the process, I"m not going to make that mistake again. I did notice that defensive end Micah Parsons was recently back at Ohio State and it's a matter of when, not if, he finally commits to the Buckeyes.
ADAM FRIEDMAN (Mid-Atlantic): The easy answer here is Justin Fields. The Georgia native has kept everybody guessing while continuing to make it known he wants to commit soon. Where is he headed? That's the great unknown and the answer changes based on who you ask. Georgia and Florida State are the two frontrunners but nobody is quite sure what Fields will do. It's pretty unbelievable that Georgia could end up signing a five-star quarterback in three straight recruiting classes if Fields chooses the Dawgs.
2. LET'S PRETEND THERE IS A 'TRUE-FRESHMAN HEISMAN'. WHO WINS IT IN 2017?
GORNEY: Since a lot of the top quarterbacks in the 2017 class are either fighting for the starting jobs or behind someone else for at least a year, I'm going with Florida State freshman running back Cam Akers. His dynamic skill and playmaking ability are special and needed in Florida State's backfield. I suspect as the season goes on he's going to get more and more carries and do big things. I still believe Najee Harris has the better NFL potential but he's behind some really talented running backs at Alabama - big surprise there - and so Akers is my pick.
CASSIDY: Florida state running back Cam Akers. He should have been the No. 1 player in the country last year, and he'll be a bona fide star by the time the upcoming season is over. In reality, now that I've beaten this drum so hard, Akers will probably battle injury and have a quiet season while some two-star freshman quarterback from Montana breaks every record in existence. Sorry for the jinx, Cam.
SIMMONS: Cam Akers. More and more freshmen are not only being invited to New York for the Heisman trophy ceremony, but winning it. Johnny Manziel was first to win the award as a freshman in 2012, then Jameis Winston did it the following year, though both were redshirts. Keep an eye on Akers in 2017. Like Winston, Akers is at Florida State. He enrolled early, he had a great spring and he is likely to be the featured back this fall. He is a natural and he has three-years-and-out written all over him. He could be standing at the podium excepting the Heisman a couple of weeks before Christmas later this year.
HELMHOLDT: I could say appease our Florida analyst, Rob Cassidy, and go with his personal man-crush Cam Akers, but I won't. If Rob can play regional homer, then so can I. Hunter Johnson has not earned the starting quarterback job at Clemson — he isn't even considered the favorite — but something is tugging at my gut saying he's going to make a big splash for the Tigers this season.
WOMMACK: If we are giving out a freshman Heisman its going to go to someone who has the most opportunity for playing time this fall. With that in mind, I'm going with Texas A&M quarterback Kellen Mond. He's in line to win the starting job and he will be surrounded by a lot of talent. As a former five-star, it will be interesting to see how he handles the job if he does indeed end up winning it out of camp.
FRIEDMAN: I've got my eye on one of the young wide receivers at Michigan. Former five-star Donovan Peoples-Jones is a superstar in the making and former four-stars Tarik Black, Nico Collins, and Oliver Martin have a ton of ability. All of these guys will have plenty of chances to make plays in big moments this season.
3. WITH FLORIDA STATE AND CLEMSON WINNING TWO OF THE LAST FOUR NATIONAL TITLES AND BOTH LIKELY PRESEASON TOP 10 THIS SEASON, MIAMI TEARING IT UP ON THE RECRUITING TRAIL AND LOUISVILLE RETURNING THE HEISMAN WINNER, HAS THE ACC PASSED THE SEC AS THE NATION'S BEST CONFERENCE?
GORNEY: Absolutely not. Just watch SEC football and ACC football and the talent difference is clear. Sure, the ACC has some good teams and Clemson was special last season, Florida State is always loaded, but Alabama is basically an NFL Light team and there are so many outstanding players and teams in the SEC. The SEC has had 81 first-round picks since 2010, while the ACC has had 44. In the last two seasons, the SEC's advantage is 20-8. Duke? Wake Forest? Syracuse? Boston College? Give me a break. The SEC is far, far better.
CASSIDY: If I'm shooting straight here, no matter how hard I try, I can't force myself to have an opinion or care about this argument. Conference superiority is such a hot-take sports radio topic that my stomach actually begins to hurt when I'm asked to discuss it. The best league is the one that serves the best media meals at its title game and its media days. I'll go with "both leagues have some great teams at the top and both leagues have some awful teams at the bottom."
SIMMONS: No. At the top, the ACC (Clemson and Florida State) can play with the best in college football, but from top to bottom, the SEC is still the strongest and most competitive conference on a regular basis. The SEC has the better rosters, the better games each week and the most complete conference. The Big Ten was talked about the most last year and the ACC is strong at the top, but their depth is not the same as the SEC.
HELMHOLDT: Before this most previous four-year stretch the SEC won four straight national titles. And Alabama won it again in 2015. I won't say the ACC and the Big TEN are not catching up, but top to bottom the SEC remains the top conference in college football, hands down.
WOMMACK: I don't really buy into this whole debate. You can make a case for several conferences to be the best depending on the year and the talent at those schools. The SEC has the most individual talent and from our perspective that's what matters most.
FRIEDMAN: There is no doubt the ACC was better than the SEC last season and they are set up well to be better than the SEC again this season. Does that make them the nation's best conference? Maybe, but the SEC has been the dominant conference over the last three years. They may not have won the National Championship each of those seasons, but the conference as a whole has been deeper for a longer period of time. One season of dominance is not a trend.