Florida spotlight: Five players who boosted stock during camp season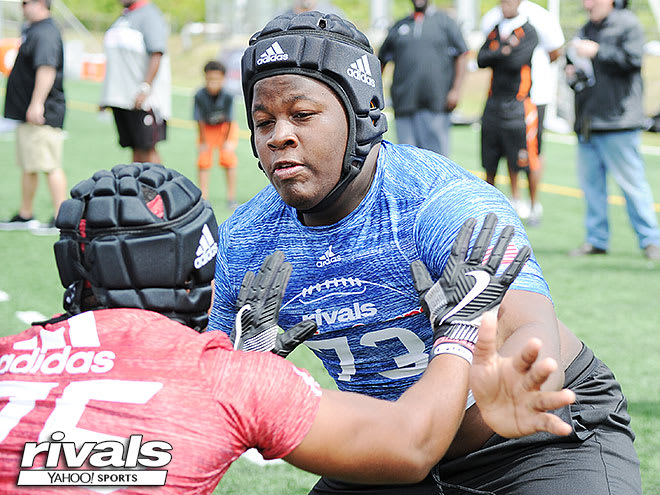 Say what you want about "t-shirt camps" and the lack of hitting, but there are no football games in the summer. That never stops prospects from gathering recruiting clout and scholarship offers, however. This year, like most years before it, a long list of Florida-based athletes have made a name for themselves on the camp circuit. Below is a look at five prospects that turned heads with their performances.
RELATED: IMG responds to Baylor, Texas | Key 2019 commitments
No Florida-based prospect has had a better offseason than Scaife, a Miami commit. He has camped at a number of camps and dominated every single stop. He wrapped up his junior season as a three-star prospect but has shot into the Rivals250. He took home MVP honors and the Rivals100 Five-Star Challenge presented by adidas as well as at the series' regional camp in Miami. Most recently, he beat up on impressive competition at Miami's Paradise Camp. He still lacks ideal length, but the results are impossible to dispute.
Scalzo's name has been kicking around recruiting circles for some time, but the whispers may grow louder this season. At a recent True 19 camp in Delray Beach, the Ft. Lauderdale (Fla.) Cardinal Gibbons quarterback showcased his development. Scalzo has a big-enough arm to play major college football and his accuracy is coming along. The junior-to-be could be in for a massive season. He lacks ideal height, which may prevent him from landing offers from college football bluebloods, but his skill set could help a number of Power Five schools.
Adams is also a prospect that was doubted because of his limited size, but he made that an afterthought by dominating Florida State's June camp. Adams is as explosive as slot wide receivers come. And while he'll still need to add some weight in the coming months, he made plenty of believers this summer. There's a lot to like about his game, even if he'll never have the size to completely take over a game. He can help FSU as a situational target and showed much better than his ranking.

A Florida State commit, Huggins entered the summer as a two-star prospect with decent length but the reputation of having limited mobility for a safety. He's since tossed that reputation in the trash. Huggins looked great on the camp circuit and his becoming a more complete safety. He's not a top 250 player in the country, but it's clear that he's much better than his ranking indicates. His length is now complemented by decent closing speed and active hands. He's still not a perfect player, but he's not a two-star prospect either. Huggins put an exclamation point on his summer by showing well at Miami's Paradise camp.
Another undersized wide receiver, Brown has used his speed to turn heads. He impressed at the Big County Preps Xecutives camp in Lakeland, Fla., before earning an offer from Alabama with a strong showing at the Tide's on-campus camp. Brown checks in at just 5-foot-9, but he has true track speed and acceleration that makes him a pest in the slot. His offer list is growing and will continue to do so this fall.