Rivals Rankings Week: New 2022 DL rankings
TEAM WITH TOP COMMITS: Georgia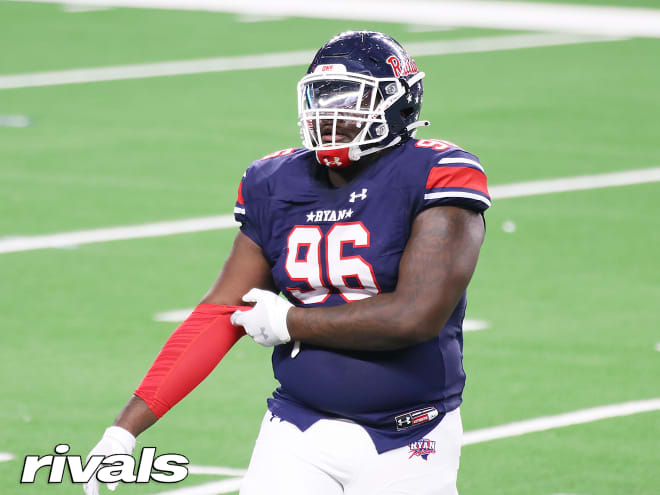 Kirby Smart and his staff have fielded one of the best defensive fronts college football has seen in a long time, and the Bulldogs have reinforcements on the way. Georgia is the only team with commitments from two five-star defensive linemen and it is tied for the most defensive line commits in the Rivals250.
Keithian "Bear" Alexander and Mykel Williams were both five-stars in the previous rankings version as well, but two of their other commitments moved up in this update. Defensive end Darris Smith moved up 69 spots in the Rivals250, while CJ Madden entered the rankings at strongside defensive end with a boost to a 5.7 Rivals Rating. Former five-star Tyre West remains in this Georgia class for now, but the Rivals250 defensive tackle is looking around at other schools.
Georgia recently added three-star defensive tackle Shone Washington to its class, and the Bulldogs may not be done picking up commitments on the defensive line.
*****
TEAMS TO WATCH: Alabama, Ohio State, Miami, Texas A&M
The Crimson Tide are one of the top schools for a number of highly rated uncommitted defensive linemen. Five-star Marvin Jones Jr. is taking a close look at Alabama and has maintained close contact with the coaching staff. Anthony Lucas has done the same. He was on campus twice last month and just hosted some Alabama coaches for an in-home visit. Khurtiss Perry, Christen Miller, Caden Curry and Enai White are just a few other names that Alabama has been on as signing day approaches.
Curry and Miller are major Ohio State targets, and the Buckeyes are in a good spot for both. Curry hasn't named a leader but there is confidence that he'll end up in Columbus. Miller has gone back and forth with who his leader is and there is still time for momentum to swing in Ohio State's favor. Various teams have led for defensive tackle Hero Kanu, but Ohio State remains a major player in his recruitment. The Buckeyes are battling USC, Georgia and others for his commitment. The Buckeyes seemingly are the team to beat for Omari Abor.
Miami has been picking up momentum with a number of recruits since Mario Cristobal arrived in town. Shemar Stewart has been leaning toward Texas A&M, but Cristobal and his staff are working hard to keep him from leaving the state. Florida State is battling for Nyjalik Kelly, but Miami is in great position now that the new coaching staff is on the ground and communicating with him. Anthony Lucas had been very serious about his interest in Oregon but with Cristobal in Miami instead of Eugene, he could be looking closer at the Canes.
The Aggies are one of the hottest teams in the country, and they've been building an incredible class. Enai White is leaning toward signing with Texas A&M but Alabama is still in the mix with him. Texas A&M coaches have been all over Shemar Stewart for a long time and is trying to hold off Miami and Georgia. Anthony Lucas is also in play for the Aggies, but they seem to be playing from behind in his recruitment.
*****
PLAYER TO WATCH: Anthony Lucas 
Anthony Lucas has been generating a lot of buzz over the last few months, and he isn't giving any hints about where he's leaning. Alabama really wants him, but Texas A&M and Notre Dame are also in the mix. All three schools have gone to see him in the last week or so. Another team to watch with him is Miami. Lucas was very interested in Oregon, but he could start looking more seriously at Miami now that former Ducks head coach Mario Cristobal is now leading the Canes.