Rivals Rankings Week: Meet the seven new five-stars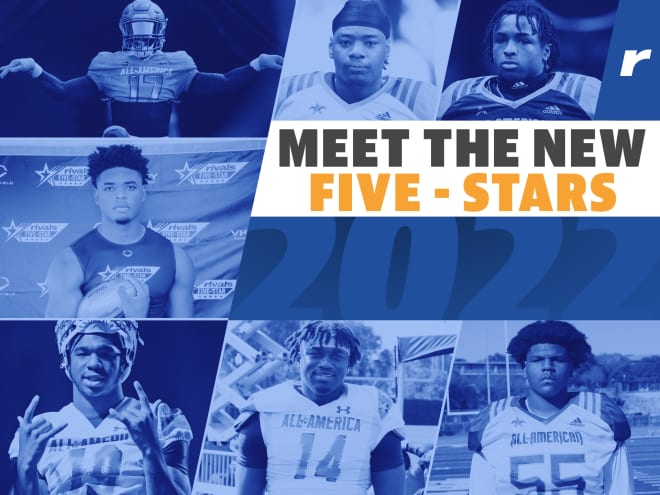 The final Rivals Rankings Week for the 2022 class kicked off on Monday and seven new five-star prospects were unveiled. Take a closer look at the prospects that were elevated to elite status.
SDE Quency Wiggins
"No player has developed more over a two-year stretch than Baton Rouge (La.) Madison Prep defensive end Quency Wiggins. A converted basketball standout, the 6-foot-7, 285-pounder quickly took to football, emerging as a force setting the edge and also causing havoc behind the line of scrimmage.
"Over the offseason, Wiggins shined as a pass-rusher and dominated an LSU camp. He accounted for 13 sacks and 26 TFL and was dominating the week in San Antonio before suffering an injury off the field. He's transformed into one of the best defensive linemen in the nation with enormous upside at LSU." - Sam Spiegelman, National Recruiting Analyst
*****  
OT Elijah Pritchett
"This was a recruiting cycle where a clear No. 1 offensive tackle did not emerge but Pritchett is the best of the bunch. The Alabama signee was excellent at the All-American Bowl where he dominated with his feet, strong hands and his versatility. When his team was loaded with offensive tackles, Pritchett volunteered to move inside and play guard so he could get reps there.
"He was equally dominant wherever he was on the line. Some have compared him to Evan Neal and while he's not as massive or athletic, Pritchett has great size and he handled five-star DE Mykel Williams during a game this season so we have high confidence Pritchett can be special in Tuscaloosa." - Adam Gorney, National Recruiting Director
*****
WR Aaron Anderson
"Undoubtedly the most dynamic slot receiver in the country this cycle, Aaron Anderson has been an impact player for New Orleans powerhouse Edna Karr since his freshman year. He's continued to develop as not only a downfield threat, but can make contested catches in the middle of the field and is dynamic after the catch and as a return specialist.
"Anderson has the same explosiveness as Jaylen Waddle with even more physicality to his game. He's going to have a big stage to shine on at Alabama." - Spiegelman
*****  
CB Julian Humphrey
"Julian Humphrey has shined on every stage over the past year and change. The speedy Houston native boasts elite speed with records in the 100 meters (10.55 seconds); 200 meters (21.17 seconds) and 400 meters (50.89 seconds). Humphrey clocked a 4.38-second 40 as he ran away with Fastest Man honors at The Opening, and more importantly, it translates on the field.
"He can tightly shadow receivers downfield and also over the middle. He has ballhawking tendencies and has the size to also be a physical run defender." - Spiegelman
*****  
OLB Jihaad Campbell
"Campbell started high school as a receiver in New Jersey and has grown into an elite outside linebacker. His speed and quickness make him a great pass rusher off the edge while also giving him the ability to cover in space.
"Campbell, an Alabama signee, has developed very effective hand techniques to beat offensive linemen and get to the ball carrier on running or passing plays. He checks the boxes physically and is plenty strong now but still has room to add more solid mass when he arrives in Tuscaloosa." - Adam Friedman, National Recruiting Analyst/Rankings Director
*****  
SDE Shemar Stewart
"Stewart was one of the players under the microscope at the Under Armour All-America Game and he really impressed. The uncommitted defensive end has great size and is much more powerful than we anticipated. He has the skillset to take on and beat double teams.
"Stewart holds up well at the point of attack and knows how to effectively shed blocks to make the tackle. He can excel as a pass rusher as well. Stewart shows a variety of pass rushing moves to get into the backfield but he mostly relies on power moves, taking advantage of his leverage and long arms.
"Miami seems to have momentum in Stewart's recruitment but Georgia and Texas A&M are serious contenders as well." - Friedman
*****
OT Josh Conerly, Jr.
"Conerly has moved up to five-star status after watching him for the entire week at the All-American Bowl where he showed off impressive size but even better athleticism. His ability to move his feet, block at the second level and his fluid movements matched with toughness and no hesitation to mix it up, we felt Conerly needed an even bigger bump in the rankings.
"Michigan, Washington, Oregon, Oklahoma, USC and others remain in the mix and the new five-star could wait until March to make his decision so he can take all visits necessary." - Gorney