Rivals Rankings Week: Class of 2023 Rivals250 released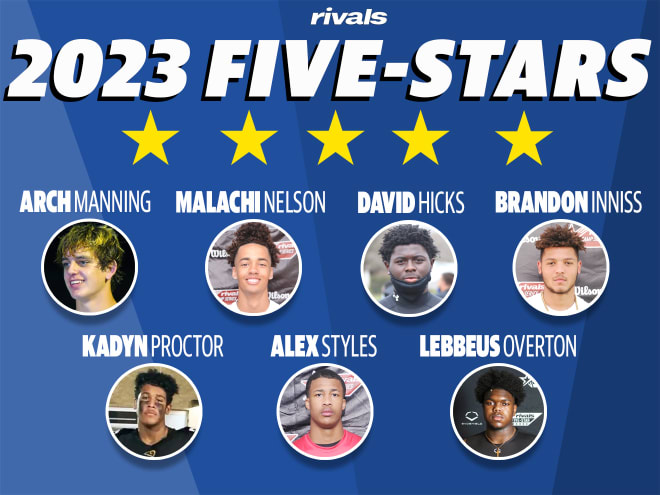 The 2023 Rivals250 debuted today after months of reviewing film and seeing players during the offseason camp circuits, including the Rivals Camp Series. Below, the Rivals team of analysts introduce you to the top 2023 players at each position.
PRO-STYLE QUARTERBACK: Arch Manning
"Manning not only comes from football royalty, but the rising junior passer is coming off a spectacular offseason in which he shined at multiple college camps across the country and ascended to the nation's No. 1 player regardless of position.
"Manning is a football junkie with an outstanding capacity to absorb knowledge and execute on the field. He has excellent vision and processes very quickly with the ability to put the ball anywhere on the field and also create opportunities with his legs.
"Clemson, Alabama, Texas, Georgia, LSU and Ole Miss are a few of the schools in play for the five-star from New Orleans." - Sam Spiegelman, National Recruiting Analyst
*****  
DUAL-THREAT QUARTERBACK: Pierce Clarkson
"Even though Clarkson splits time with Michigan State commit Katin Houser as Bosco's quarterback, he still has all the talent in the world, is well-groomed to be special, is a super smart decision-maker and has a very bright future ahead. More than 20 schools have already offered from across the country." - Adam Gorney, National Recruiting Director
*****  
RUNNING BACK: Justice Haynes
"Haynes is an excellent model for the modern running back. He has the speed, versatility, toughness and vision to excel at the college level and beyond. Haynes rushed for more than 1,700 yards last season and scored 25 touchdowns on the ground. This offseason he showcased his skillset as a receiver out of the backfield and proved more than capable in that area.
"The Georgia legacy prospect is entertaining offers from all over the country including Clemson, Alabama, Notre Dame, LSU and the Bulldogs among others." - Adam Friedman, National Recruiting Analyst/Rankings Director
*****  
ALL-PURPOSE BACK: Rueben Owens II
"One of the nation's speediest prospects regardless of position, Owens -- a one-time Texas commitment -- leads the pack at all-purpose back. He's a weapon in the running game and as a receiver with his blend of speed and quickness, fantastic hands and ability to create big plays from anywhere on the field.
"Owens has been wildly successful as a component of the El Campo (Texas) backfield, but is due for a breakout campaign in 2021. The Texas four-star is a priority for both the Longhorns and Aggies as well as Alabama, Georgia and LSU." - Spiegelman
*****  
WIDE RECEIVER: Brandon Inniss
"Inniss is a phenomenal route runner who changes gears very well and can create separation against anybody. He has awesome hands, he's physical and cannot be pushed around by cornerbacks and has dominated for years. Alabama, Ohio State, Oklahoma, Clemson, Miami and USC stand out most." - Gorney
*****  
TIGHT END: Duce Robinson
"Robinson has a five-star physical presence as he could be one of the better-looking tight ends in recent classes and he also has great hands. At numerous events, Robinson caught every ball thrown his way even when defensive backs were draped all over him. If he dominates during his junior season at Phoenix Pinnacle then he could be in the five-star discussion. Clemson, Oklahoma and Georgia are some early standouts." - Gorney
*****  
OFFENSIVE TACKLE: Kadyn Proctor
"The only five-star offensive tackle in the 2023 class so far, Proctor is absolutely massive at 6-foot-8 and 335 pounds but he moves so well and can dominate in every way. He completely dominates in run blocking and simply manhandles opponents.
"As a pass blocker, Proctor moves with light feet and a big punch so defensive ends cannot get around him. For everything expected of an offensive tackle, Proctor possesses it in his game." - Gorney
*****  
OFFENSIVE GUARD: TJ Shanahan, Jr.
"Shanahan is a mean, physical offensive lineman who looks forward to exerting his will on people. He's a barrel-chested tough guy who wants to dominate, he chirps at the defensive linemen he competes against and he has an attitude that he will not be overpowered when on the football field.
"Shanahan toured the country this year and just transferred from Orlando Timber Creek to Austin (Texas) Westlake so his recruitment could change quite significantly." - Gorney
*****  
CENTER: Bradyn Joiner
"Joiner has been a steady presence on the inside at center and is a priority for several SEC teams there. Joiner has outstanding feet and is both athletic and powerful battling with tackles in the trenches. The Alabama native has a knack for knockdowns and operates well as the anchor up front.
"Georgia has put itself in a strong spot with the Auburn (Ala.) High School standout, but Alabama, Auburn, Clemson and Ole Miss remain in play." - Spiegelman
*****  
WEAKSIDE DEFENSIVE END: Matayo Uiagalelei
"This ranking is definitely not just because he is D.J.'s brother. Uiagalelei is his own unique player who dominates especially at defensive end but also tight end. At 6-foot-6 and 265 pounds, Uiagalelei is comfortable with his size, moves incredibly well, beats good offensive tackles to the edge all the time and he's a playmaker who can tip passes or pick them off often.
"At tight end, he's a solid route runner with good hands who's definitely a red-zone threat. Georgia, Ohio State, USC and many others are involved early." - Gorney
*****  
STRONGSIDE DEFENSIVE END: David Hicks, Jr.
"The nation's top defensive lineman is coming off a superb sophomore campaign at Katy (Texas) Morton Ranch and turned in a brilliant offseason at various camp settings coast to coast. Hicks has been exceptional getting after the quarterback from the edge as well as inside, and he's excelled against top-shelf competition.
"Hicks will play as a junior for state power Allen High School. His top colleges include Texas, Texas A&M, Clemson, Alabama, LSU and Ohio State." - Spiegelman
*****  
DEFENSIVE TACKLE: Jason Moore
"There isn't a more athletic defensive tackle in this class than Moore. A high-level basketball player, Moore's too quick for most of the offensive linemen he comes across. There is still work to be done to refine his technique but the natural ability he brings to the field is really impressive.
"Moore can win with power or speed but the development in his technique is what has set him apart from the rest of the defensive tackles. Moore hasn't thought too seriously about his recruitment just yet but Maryland is off to a good start with him." - Friedman
*****  
INSIDE LINEBACKER: Anthony Hill
"Hill was a key cog for Denton (Texas) Ryan as it marched toward a perfect season culminating in a Texas 5A state title a year ago. As a sophomore, Hill covered sideline-to-sideline and added a ton to Ryan's defense as a pass-rusher up the gut and coming off the edge. Hill has shined this offseason dropping back into coverage and showcasing another element of his skill-set.
"Ohio State, Texas, Texas A&M, Oklahoma and Alabama are the favorites." - Spiegelman
*****  
OUTSIDE LINEBACKER: Malik Bryant
"Whether he ends up as an edge defender or an outside linebacker, Bryant dominates and closes better than almost anybody else regardless of class. He's so physical and fast off the edge and then Bryant likes to knock people around instead of just getting the ball carrier on the ground.
"For someone who played elite talent as a sophomore, Bryant was super special and should only continue to be dominant. Texas A&M, Ohio State, Georgia and Maryland are four to watch early on." - Gorney
*****  
CORNERBACK: AJ Harris
"Harris ascended to the nation's top cornerback and even showcased some of his coverage skills at safety on occasion. Regardless of where he lines up on the field, Harris is a glue stick in coverage with excellent anticipation, fluidity and a knack for making plays at crunch time.
"This is a loaded position group, particularly in the state of Alabama, which sets the stage for an exciting fall. Clemson, Ohio State, Georgia and Alabama covet Harris." - Spiegelman
*****  
SAFETY: Derek Williams
"Nicknamed 'The Raptor' in his part of Louisiana, Williams is a well-rounded safety from New Iberia (La.) Westgate that's capable of making plays from his centerfield spot on defense. Williams, who checks in at 6-foot-1 and 190 pounds, plays downhill and punishes pass-catchers navigating in the middle of the field. He's equally as impactful in the box -- as a physical defender with elite closing speed with an overwhelming presence. Michigan, Texas, Alabama and LSU are all after Williams." - Spiegelman
*****
ATHLETE: Alex Styles
"After seeing Styles twice this offseason, making him a five-star in this rankings update was a no-brainer. At the Indianapolis Rivals Camp in the spring, Styles was able to blanket receivers that were smaller and, supposedly, faster than him. He knocked down plenty of passes and pulled in a few interceptions. Styles has the cover skills of a safety and the size and physicality of a linebacker with a football I.Q. that is through the roof.
"Watching his development throughout the rest of the cycle will be fascinating and teams around the country are hoping he'll reciprocate their interest in him. Ohio State and Notre Dame have the inside track for obvious reasons but Alabama, LSU, Florida State and North Carolina are trying to get his attention after hosting him for visits this summer." - Friedman