Rivals Rankings Week: Breaking down the 2023 DL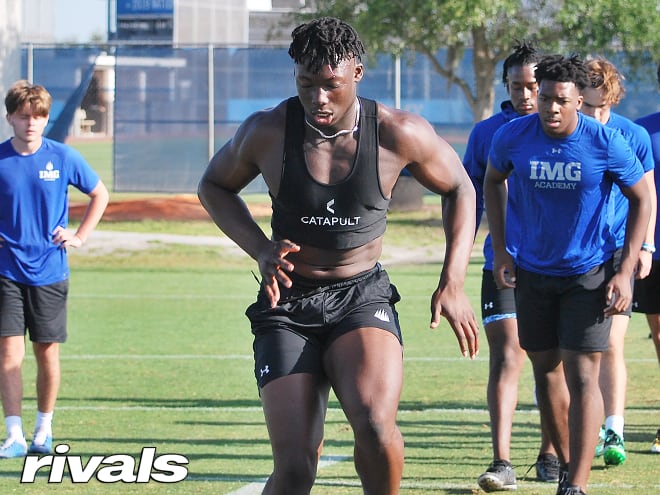 *****
NO. 1 AT THE POSITION: Samuel M'Pemba 
Moving from athlete over to weakside defensive end, M'Pemba is now the top-ranked defensive lineman in the Rivals250. The St. Louis native playing at IMG Academy in Bradenton, Fla., projects as an edge rusher at the next level and elite college programs are tripping over themselves to try to get his attention. M'Pemba is a unique defensive prospect because he really could succeed in a variety of positions. At 6-foot-4 and 245 pounds, M'Pemba does a great job finding the ball carrier regardless of where he lines up. He is an aggressive and physical player that knows how to fend off offensive linemen.
Notre Dame and Oregon are two of the main players for M'Pemba, but he hasn't given away much about the inner workings of his recruitment. Both schools will get him on campus in the near future, while Georgia impressed him during a recent visit to Athens. It seems like the momentum in his recruitment will shift a few times before all is said and done.
*****
TWO TEAMS TO WATCH: Georgia and Alabama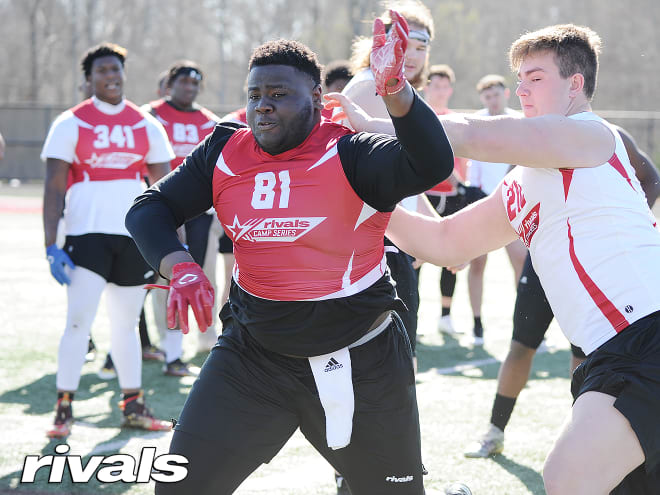 It isn't a deep year at defensive tackle, but Georgia is in good position for a few of them. Four-star Sydir Mitchell has already taken official visits to Georgia and Texas A&M, but the Dawgs look like they're the leader for the New Jersey native. Top 50 prospect and No. 2 defensive tackle Jamaal Jarrett is a major Georgia target and he's reciprocated the interest. He was on campus earlier this summer and the momentum from that visit remains. He'll be at Georgia this weekend for his official visit after taking his official visit to Auburn last weekend. North Carolina is also a big contender for Jarrett. Georgia native Kayden McDonald is also high on the Bulldogs' board and McDonald is interested as well, but Clemson is a serious contender, along with Florida, Michigan State, Oklahoma and NC State.
The Crimson Tide are expecting to sign a fairly large group of defensive linemen this year, and they have plenty of highly rated targets. Top 60 prospects Peter Woods, James Smith and Kelby Collins are very high on Alabama's board and they are in good position with all three in-state prospects. Another Alabama native, Jaquavious Russaw, is a top target for the Crimson Tide but they'd like him as an outside linebacker instead of a defensive end. Notre Dame five-star commit Keon Keeley has been pursued heavily by Alabama and that remains the case. Florida native Damon Wilson is high on Alabama's wish list, too, but the Tide haven't gotten him on campus since January. Keep an eye on Jordan Renaud, Edric Hill and Jordan Hall as well.
*****
THREE PROSPECTS TO WATCH: Victor Burley, Jason Moore, Will Norman
Tennessee, Michigan State, Georgia and Ohio State all want Burley, but it seems like all of them are chasing Clemson. The Vols and Spartans have already hosted the Georgia native and he was scheduled to visit Athens this weekend, but there's a chance that doesn't happen. Clemson hasn't gotten an official visit from Burley yet, but he's been on campus in the past. He's also a cousin of Clemson assistant coach Nick Eason, so there is plenty of familiarity there. Ohio State's official visit is scheduled for the end of the month and a commitment may not be all that far off in the future.
Moore, the top defensive tackle in the Rivals250, is working through his official visits this month and a decision could come next month. Penn State hosted Moore last weekend and Notre Dame is up this weekend. Official visits to Michigan and Ohio State will cap his series of visits this month. Maryland is also in Moore's top five, but the Terps haven't received an official visit from the local star because they've already hosted him on so many unofficial visits. Notre Dame is considered the leader, but they're fighting off Penn State and Ohio State.
Norman is taking his official visit to Florida this weekend, and the Gators could put a stranglehold on his recruitment if all goes well. The IMG Academy defensive tackle has a top five that also includes LSU, Texas A&M, Penn State and Michigan, but Florida has been trending for him. Penn State is the closest to home for Norman, who is originally from New Jersey, and he likes how he'd fit in there. He feels the same way about LSU but Florida is the only school scheduled to host him for an official visit. A commitment could come in a few weeks and Florida is the favorite at this point.