Rivals Camp Series Miami: Predictions on top prospects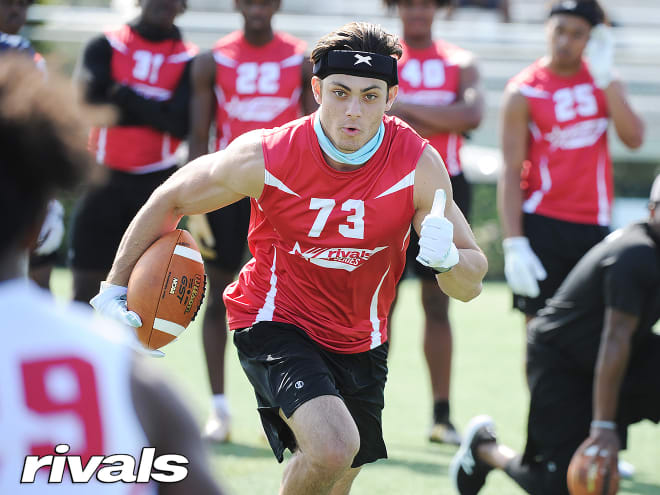 *****
COREY COLLIER - Florida
It's difficult to be certain of where Collier may land. His recruitment probably has a few twists and turns left, but having a teammate committed to Florida (Brashad Smith) won't hurt the Gators' chances. Collier has long been high on Dan Mullen's program and lists them as one of his top schools at every turn. The Gators have invested a lot of time at Miami Palmetto High School as of late, and it may pay off down the road.
*****
KAMREN KINCHENS - LSU
Kinchens has long been interested in LSU. The Tigers were one of his first major offers, and the four-star cornerback never lets an interview pass without mentioning the Tigers. When he found out he would be attending the Rivals Five-Star Challenge in New Orleans this year, Kinchens immediately celebrated the opportunity to visit LSU either before or after. It's hard to imagine Ed Orgeron and company not being major players in this recruitment until the end.
*****
TROY STELLATO - Clemson
Clemson has zeroed in on Stellato, and the wideout seems to have taken a shine to the Tigers. Dabo Swinney hasn't missed on many primary targets in recent years and has had wild success recruiting Florida. Stellato may well be the next Florida-born receiver to make his way north to Clemson, as it's clear the Tigers are in the thick of the hunt.
*****
JULIAN ARMELLA - Florida State
One of the best players at Sunday's camp, Armella has a very bright future ahead of him. Even with offers from around the country already, it would be surprising to see Armella end up anywhere other than Florida State. The Seminoles legacy is very familiar with the program and everything in Tallahassee. Mike Norvell and his staff have the inside track here and should end up signing Armella is everything goes according to plan.
*****
AARON MCLAUGHLIN - NC State
Auburn landed McLaughlin's commitment in July of last year but the two sides decided to go their separate ways earlier this month. Plenty of schools jumped into the race to land his next commitment but the two that seem to be in the best shape for the long run are Miami and NC State. The Canes are working very hard to keep his attention and get him to visit this spring. NC State has been all over McLaughlin since pretty much the beginning of his recruitment. The Wolfpack haven't backed off and that could pay dividends down the road.