Rivals Camp Series Dallas: Prospects now on the radar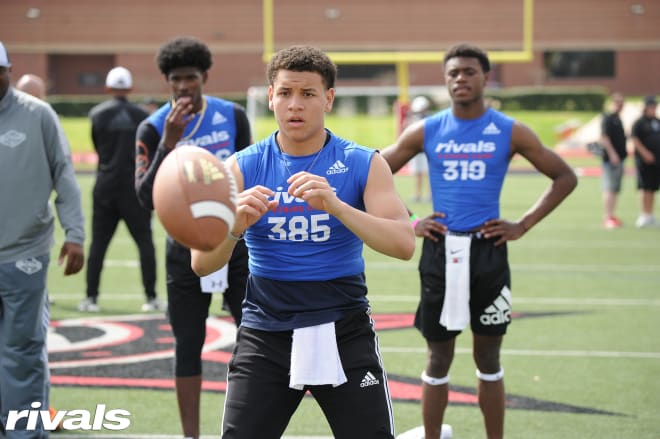 Despite only being a freshman, Allen was in the conversation for the Defensive Back MVP award all the way to the end. Already with good size for the cornerback position, Allen was able to use his length to consistently break up passes and he also came down with at least one interception we saw. In-state programs Baylor and Houston have already offered, and more performances like this one will put him on the radar of additional colleges.
*****
It was a loaded crop of quarterbacks in Dallas and Battles showed a lot of promise as a soon-to-be junior. He's a tad undersized, but he's a strong quarterback and equally threatening runner in a spread offense. Battles impressed with some great throws on the move and accuracy all afternoon -- enough to catch the attention of Oklahoma and Duke, as well as local schools such as UTSA and North Texas.
*****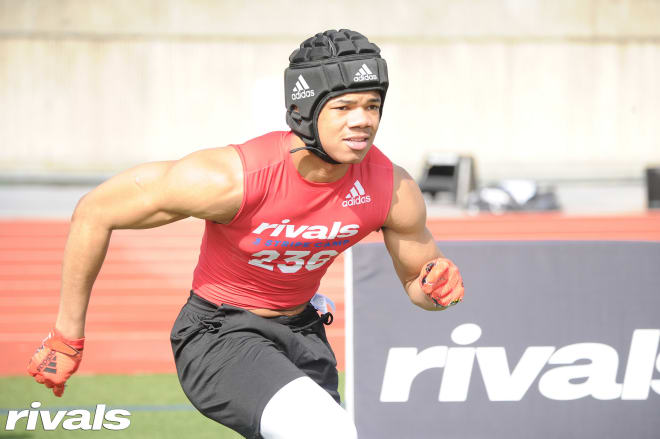 Brown was the linebacker MVP for the Dallas Rivals Camp after turning in a very promising performance among a thin group of participants. Brown, 6-foot-1 and 192 pounds, is an athletic outside linebacker that was outstanding in coverage. He was able to hold his own against tight ends and running backs alike, moving well and making absurdly athletic plays in one-on-ones. We really like the potential in the 2020 outside linebacker, who's still in search of his first offer.
*****
The Oklahoma native made the trek into Texas for the Rivals camp and was one of the better edge rushers on hand. The 6-foot-4, 235-pounder has 36-inch arms and is a natural athlete. Coming off the edge, he was fluid and had violent hands. With some added strength and refined technique, he has enough natural athleticism to give offensive tackles headaches for the next two seasons.
*****
Harmon's number popped up on the field all day Sunday, and it's no coincidence as to why. The rising junior cornerback showed off tremendous instincts, jumping a handful of routes and coming up with an interception and even more pass break-ups. He has a tremendous ceiling that should entice some schools as he waits on his first overture.
*****
There were three prospects who started to separate from the pack at offensive line, and Humann was one of the three. Listed as an offensive guard with a skill set that should fit best there at the college level, Humann did line up at tackle several times and was more than capable from that spot. The Oklahoma native is still waiting on his first offer, but he may not have to wait long. Humann moves well for being nearly 300 pounds, and he did a great job locking out and controlling defenders.
*****
Ivy measured up at 6-foot-3 and 240 pounds and lined up at defensive tackle and as a strongside end. He consistently generated a strong push in the middle and displayed a strong swim move when he shifted out wide. Although he plays for local powerhouse Duncanville, Ivy has yet to claim his first offer. With his size and talent, it won't be long before schools return to campus asking about Ivy.
*****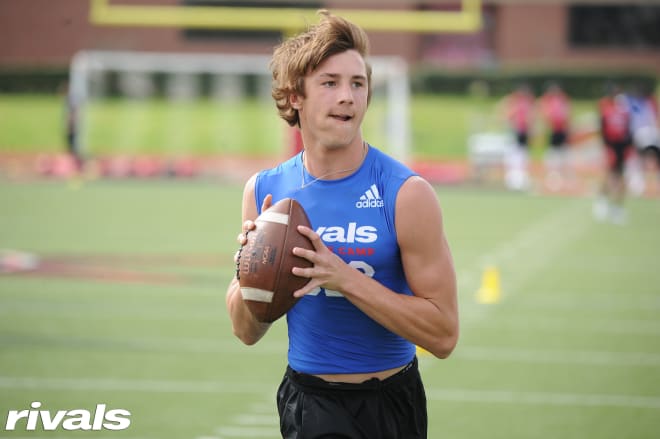 Despite a wealth of quarterback talent at Sunday's camp in Dallas, the freshman was not overshadowed by the upper-class talent and he was cited by several of the position coaches for his performance. At just 166 pounds, Klubnik still has a lot of room on his frame to add weight, which in turn should produce more strength. Still, Klubnik threw with impressive velocity, regularly spinning a ball that effectively sliced through windy conditions Sunday.
*****
Lowery's lone offer is from Iowa State, and it's clear the Cyclones did a wonderful job of evaluating the class of 2021 cornerback, as Lowery looked every bit the major college prospect on Sunday. Lowery, who was in the MVP conversation for much of the morning, shined in coverage. The Prestonwood Christian Academy standout has solid size, but his calling card is running down field with wide receivers. At the event, the junior corner was rarely beaten deep and routinely stayed in the hip pockets of some of the camp's fastest targets for 30 or so yards.
*****
Houston, Illinois, Baylor and Florida are just a few of the early offers for Megwa, the class of 2022 running back who was the positional MVP of our Rivals Camp stop in Dallas. Megwa already looks the part of a college running back. He was explosive running routes and has the physical stature (6-foot and 200 pounds) desired. Megwa showed enough to put his name in the discussion as one of the best in Texas for his class with a ton of upside at an early stage.
*****
Minor has already garnered quite a few offers this spring, most notably from Liberty, Illinois State, Abilene Christian and Texas Tech. The potential here is real. Minor showed great athleticism and the ability to control his body while disrupting receivers' rhythm and making plays for the ball in the air. He has great speed and lateral agility, which should help him get on more teams' radars entering the summer.
*****
Orji has family playing at all different levels of college football. The biggest question is not whether the youngest member of the family will join them, but at what position. While his teammate, Jaxon Smith-Njigba, says Orji could play wide receiver, it's clear he could pursue quarterback as well. He's 6-foot-2 and 210 pounds with multiple Power Five offers. He's a rhythm passer, but when he's in the groove his throwing motion is fluid and that natural athleticism makes for a dangerous addition to his game.
*****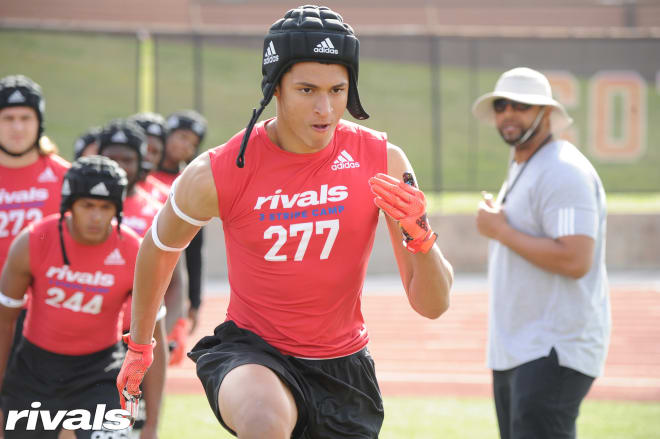 When schools head to Parish Episcopal, they're usually searching for elite quarterback Preston Stone. However, some will notice the talented defensive end that's also in the 2021 crop. Overton, at 6-foot-1 and 200 pounds, has 36-inch arms and possessed a quick initial step. He has room to grow, but his quickness was certainly noticeable. Expect his offer sheet to grow as he continues to camp ahead of his junior year.
*****
Sargent is an undersized defensive lineman who measured in at 6-foot and 272 pounds. However, there has to be college teams in need of an interior player who consistently generates pressure. Sargent was consistent all afternoon. He remains in search of his first offer.
*****
The 6-foot-5 offensive tackle has a chance to be a high-level prospect. The massive, class of 2022 lineman arrived in Dallas without any fanfare or a single scholarship offer, but he looked extremely impressive in flashes while showcasing a high ceiling. Sexton needs polishing, but his long arms and light feet will carry him a long way in football. It's already clear that he'll be able to help a Power Five program down the road.