Rivals 3 Stripe Camp New Jersey: Top underclassmen
PISCATAWAY, N.J. – The New Jersey stop of the Rivals Camp Series presented by adidas brought out many of the region's top prospects. Here is a look at the top 12 underclassmen performers from Sunday's event.
MORE: Recruiting notes | Camp chatter | Top performers: Offense | Defense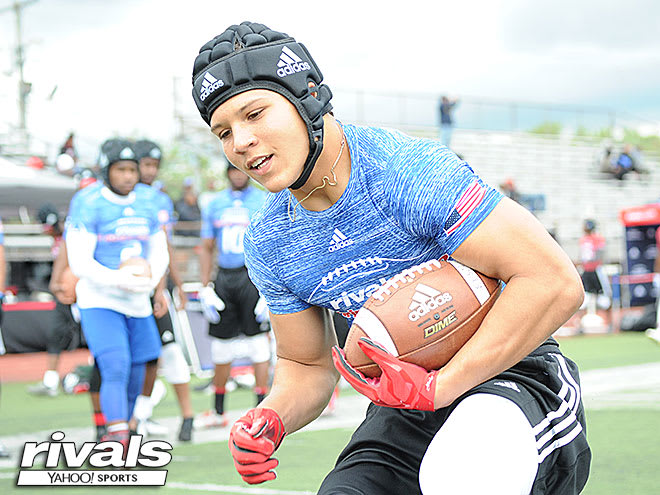 Recruiting wrap: Maryland, Michigan State, North Carolina, Rutgers, South Carolina and Virginia Tech are among Corum's nine early offers.
Performance: It's hard to believe Corum is still just a freshman because he has been on the recruiting scene for about a year already. A shorter back with good change of direction and quickness, Corum was a tough assignment for linebackers in both the cat-and-mouse drill and the receiving one-on-ones. The question going forward is how much more growth – fundamentally and physically – does Corum have, or is he close to being maxed out?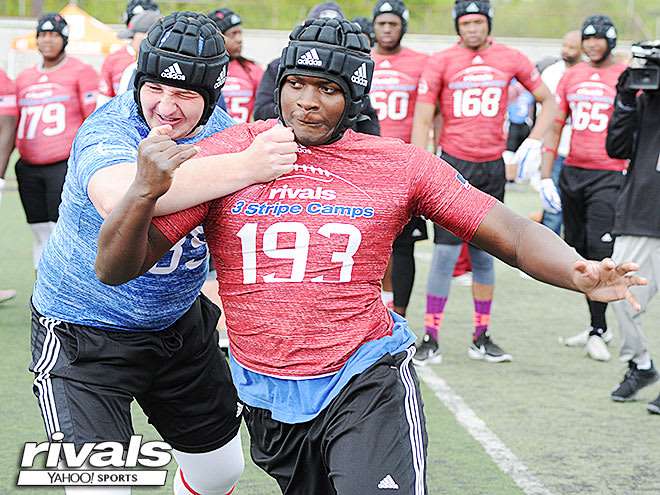 Recruiting wrap: Rutgers came through with Richards' first offer on May 3.
Performance: Richards did not catch our eye until late in the one-on-one session, meaning the sophomore probably was not fighting for his reps. However, once he got his opportunity, he delivered. Measuring 6-foot-4 and 270 pounds, Richards may grow into a defensive tackle some day, but for now he shows plenty of quickness to stay on the edge and be a five-technique defensive end with some pass-rush abilities.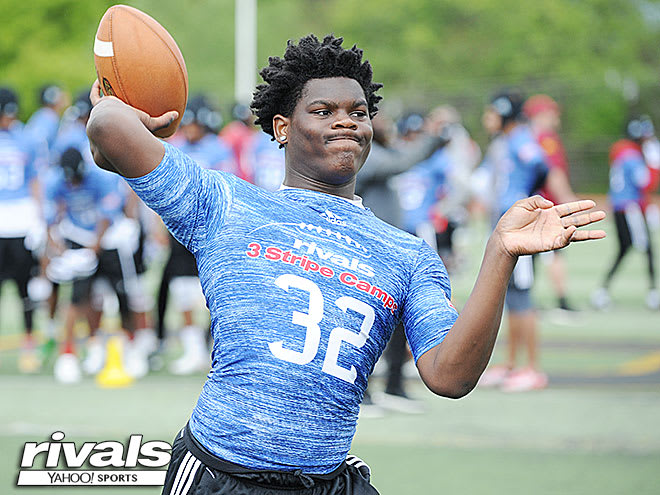 Recruiting wrap: Rutgers extended Maynor his first offer in late April.
Performance: There are two, big takeaways from watching Maynor on Sunday. The first is that he throws one of the prettiest balls out there with sharp rotation that cut through the wind at Piscataway High School. The second is that he is only 5-foot-10. Now, guys like Russell Wilson and Drew Brees have proven you can play quarterback at a high level being less than 6-feet tall, but it is certainly more difficult. Maynor has a great arm, but only time will tell if he can overcome the lack of height.
Recruiting wrap: Army and Virginia have made early offers to Garwo.
Performance: Measuring in at 5-foot-9 and 205 pounds, Garwo has that short, stocky running back build that is a common sight in the NFL with guys like Ray Rice and Doug Martin. That low center of gravity can sometimes be an aid with change of direction, and that is certainly the case for Garwo. He does not spend a lot of time dancing, but can make the quick cut and elude a defender, as he did several times during the cat-and-mouse drill.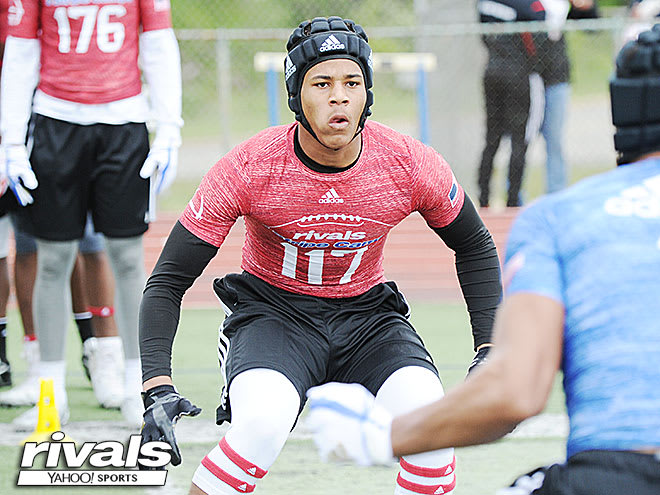 Recruiting wrap: Cincinnati, East Carolina, Maryland, North Carolina and Virginia Tech have offered Sampah.
Performance: The linebacker group was deep with talent, but diverse in the types of linebackers competing. Sampah was on the longer, leaner side, looking more like a weakside linebacker prospect for the next level. That is a good trait mix for a camp setting, though, and Sampah took advantage of his opportunity. He was very comfortable in space, covering running backs and tight ends out of the backfield and also showed well in the cat-and-mouse drill, where his quickness and agility were assets.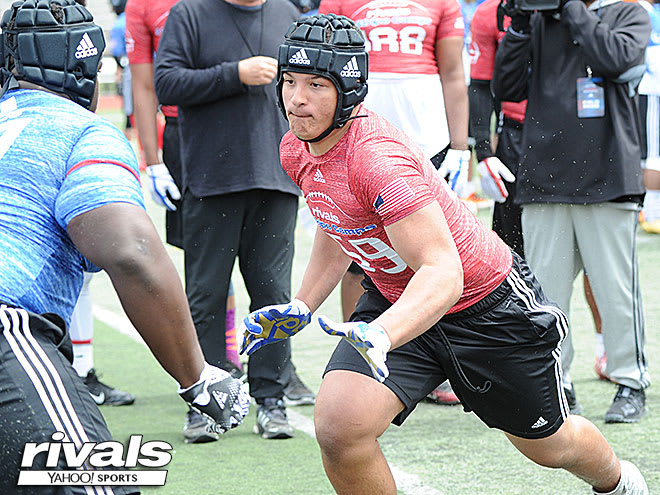 Recruiting wrap: Michigan joined N.C. State, Maryland and Boston College as the first four schools to offer Cross.
Performance: Cross, the son of former Alabama and New York Giants star Howard Cross Jr., caught a lot of people by surprise. He was more aggressive and stronger than many offensive linemen thought and he played with excellent leverage. Listed at 6-foot-2, Cross played much bigger than that and more offers will start flowing as he gets taller.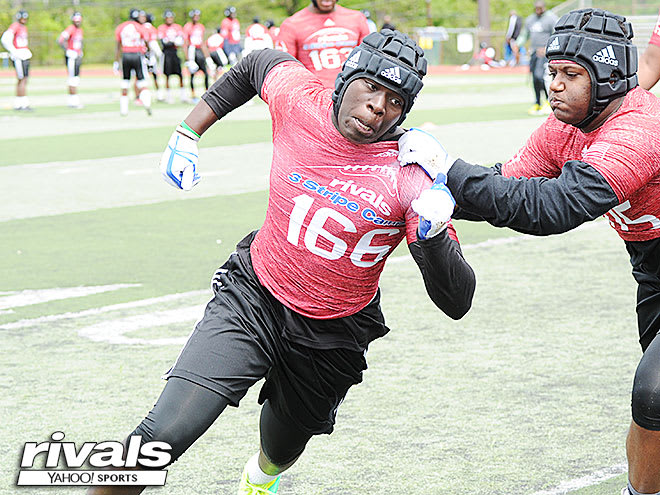 Recruiting wrap: Virginia, Louisville and Ball State are the first three schools to offer Oben.
Performance: Oben has been on the camp circuit for a while and this was his best showing yet. The advanced hand techniques he used during the one-on-one session were impressive. Oben was able to get to the quarterback taking inside and outside routes, something we haven't seen from him before.
Recruiting wrap: East Carolina added their name to Harrison's offer sheet on Monday along with Kentucky, Maryland and Syracuse.
Performance: Harrison is a very promising prospect. Aside from his huge frame, he showed good quickness and an aggressive nature that should serve him well throughout his football career. There was one play during the one-on-one session where Harrison got into his pass set and stopped the defensive end's initial outside rush who then tried to counter back to the inside and Harrison sent him flying down the line.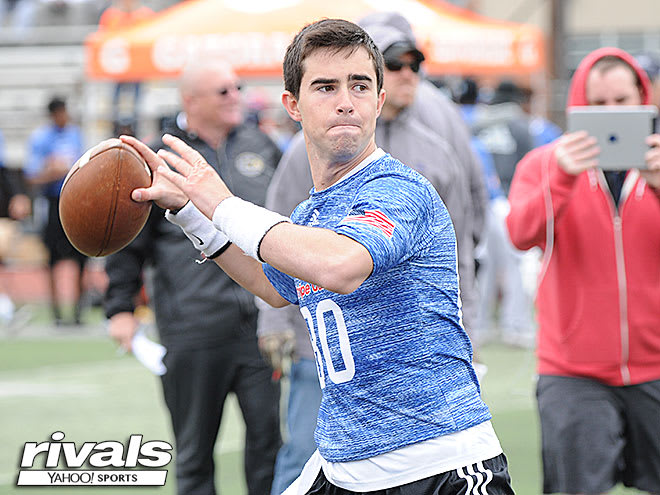 Recruiting wrap: Close to 20 schools have offered Pyne, including Alabama, Auburn, Florida State, Penn State, Tennessee, Texas A&M, Virginia Tech, Maryland and many more.
Performance: Many people in attendance were eager to get a look at Pyne after he generated plenty of waves last offseason. Pyne lived up to the hype. He is very advanced when it comes to his footwork and accuracy. Pyne is only a freshman and certainly isn't ready to take over a college program today, but he is very far along in his development for a player his age.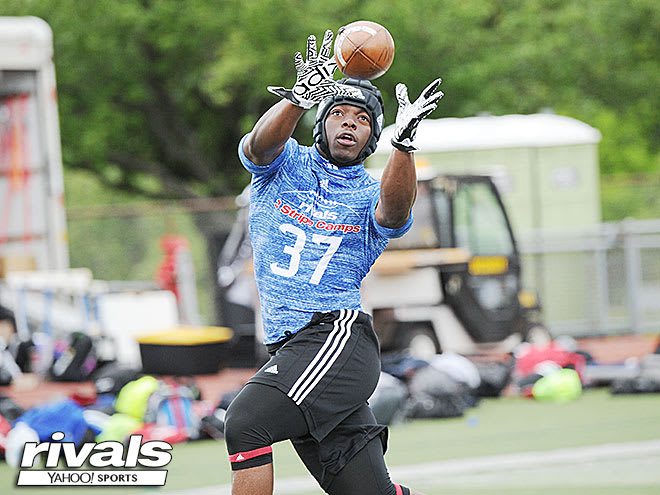 Recruiting wrap: Alabama, UCLA, Maryland and Ohio State are just a few of the big offers Bangda holds.
Performance: Bangda is a bigger back and was surprisingly elusive in the cat-and-mouse drills. He is a physical runner than thrives running between the tackles but he has good hands too. Bandga gave linebacker problems during one-on-ones with his sharp cuts and explosiveness off his plant foot.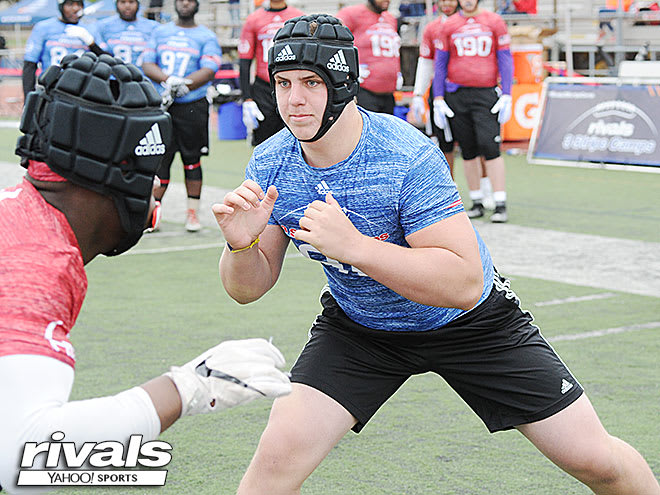 Recruiting wrap: Maryland and South Carolina have begun recruiting Tengwall but he doesn't hold any offers yet.
Performance: There is little doubt Tengwall will be a national recruit. Just an eighth grader, Tengwall earned an invitation to the 3 Stripe Camp during the New Speed Combine on Saturday. He was able to hang with the much older prospects on Sunday and really didn't look out of place at all. Tengwall had some very good reps during the one-on-one session and wasn't overpowered.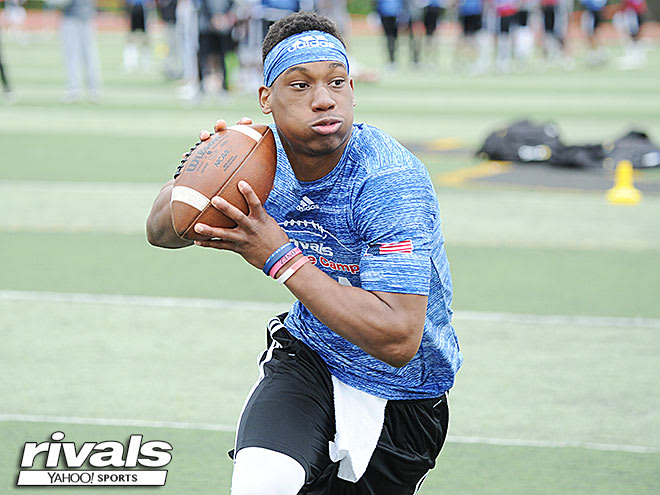 Recruiting wrap: Kentucky, North Carolina, Rutgers and Virginia Tech have offered Roberson.
Performance: Roberson has a strong arm and was very accurate on Sunday. The wide receivers really liked getting matched up with him during one-on-ones because he did a good job of leading them and making it really hard for defensive backs to get a hand on the ball. One of Roberson's biggest assets is his mobility but it's hard for him to show that off in a camp setting.