Rivals 3 Stripe Camp New Jersey: Top offensive performers
PISCATAWAY, N.J. – The Rivals 3 Stripe Camp presented by adidas rolled into New Jersey on Sunday, and some of the best prospects from the region turned out to compete. The day saw several impressive performances, but only the best of the best can make the cut for top performers. Here's a look at the offensive players that out-shined the rest.
MORE: Recruiting notes | Live from New Jersey | Full Rivals 3 Stripe Camp schedule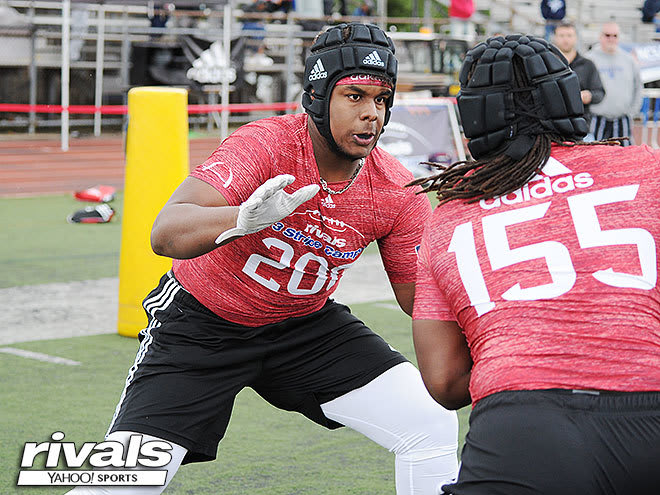 Recruiting wrap: Ohio State, Penn State, Maryland, Virginia Tech, North Carolina and Rutgers are Walker's top six.
Performance: From the very first reps of one-on-ones, Walker was the dominant figure among the linemen. He's really filled out his broad frame and that added strength has really benefited his game. Walker has very quick feet and did not get beat around the edge. Defensive linemen had a very hard time finding the route that would beat him. Walker also has great patience and the instincts to know when to finish his blocks.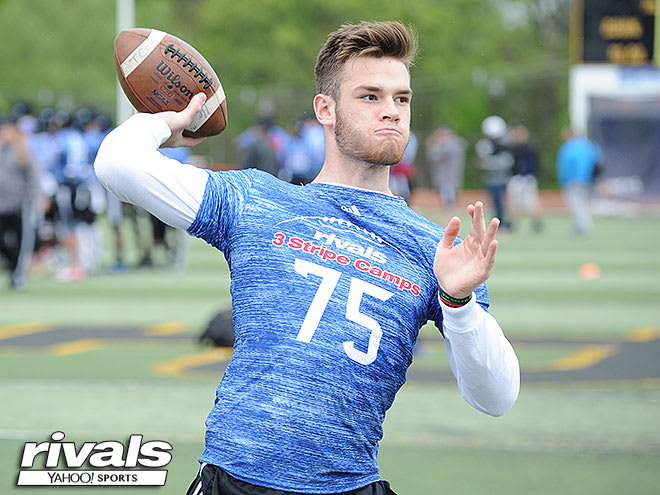 Recruiting wrap: Leary is committed to N.C. State.
Performance: Leary was outstanding. His arm strength blew everybody away as he was able to put the ball on a line on almost any route. Leary showed great touch on downfield passes and did a good job of timing up his passes to lead receivers correctly. His throwing mechanics were on point and there were very few suggestions the coaching staff had for him.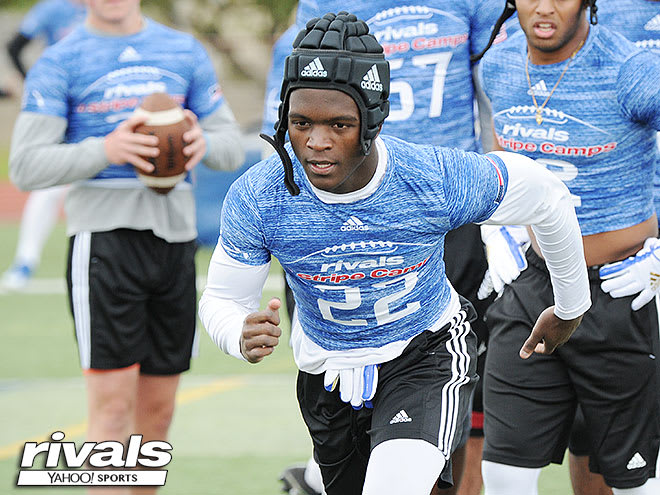 Recruiting wrap: Syracuse is Jarrett's first and only offer.
Performance: Jarrett was a bit of a surprise winning the wide receiver MVP award. Jarrett came up with some acrobatic catches that caught everybody's eye on the sideline. While he may be young, he certainly has a lot of upper body strength and had no problem breaking press coverage. While Jarrett's reliable hands and great strength were huge assets, his biggest strength was his speed. Jarrett was able to create separation with speed and consistently make defensive backs dive to try to knock down the passes.
Recruiting wrap: Slade is committed to Penn State.
Performance: Defenders always had to be on their toes when Slade came to the front of the line. Slade is always electric with the ball in his hands and Sunday was no exception. In cat-and-mouse drills, he was light on his feet and made all of the linebackers work to try to stop him. In one-on-ones, it was like child's play, making one cut and getting an easy catch. Slade is so strong in his lower body but so quick that his cuts and ability to accelerate to top speed in a flash made creating separation a cakewalk. He lined up as a wide receiver for a few plays and made cornerbacks look silly trying to guard him on intermediate crossing and deep routes. There was one play will where he ran a stop-and-go route and made a touchdown catch leaping over the defensive back.

Recruiting wrap: Brown is committed to West Virginia.
Performance: Quarterbacks loved throwing the ball to Brown because he made it so easy for them to get the ball to him. He has very reliable hands and runs excellent routes coming out of the backfield. There weren't any linebackers that could stop Brown when the ball is thrown well. He's also gotten much bigger and stronger over the last few months, which should help them contribute earlier in his college career.
Recruiting wrap: Lenhart is still waiting on his first offer.
Performance: After waiting his turn at DeMatha, it seems like this should be Lenhart's year. He put on a show on Sunday, throwing picture-perfect passes towards the sideline and really making it difficult for defensive backs to defend any of his passes. Wide receivers really had to do a good job of getting their head around quick enough to make sure that they didn't let Lenhart's passes get past them. He has a very strong arm and quickly developed a rapport with the many talented receivers.
Recruiting wrap: Marinelli added an offer from UCF last week, joining previous offers from Army, Bowling Green and Buffalo.
Performance: Marinelli lacks ideal height for an offensive lineman, but he compensates by being strong as a bull and very fundamentally sound. Plus, playing center means height is not nearly as important as if he were playing offensive tackle. Several of the defensive linemen Marinelli faced during the day commented about how strong the New Jersey native was, and that was obvious in the way he controlled every defender he got his hands on.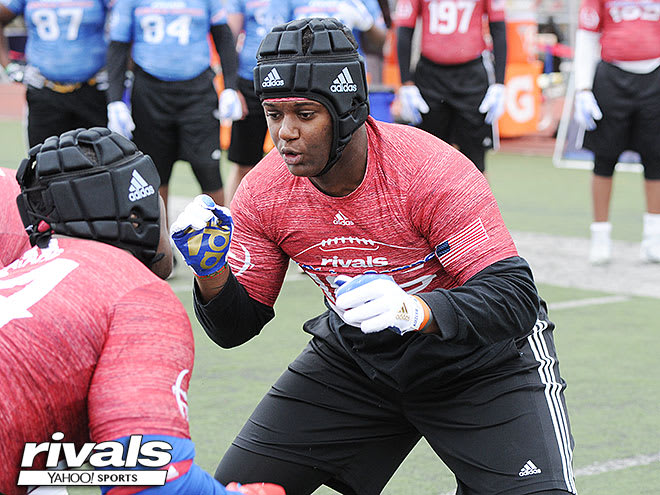 Recruiting wrap: Banks holds offers from Buffalo, Marshall and Kent State. He most recently visited Buffalo and Temple.
Performance: Banks' height, or lack thereof, will force him inside in college, but that should be where his skills are best utilized. Similar to Marinelli, Banks' best assets are his strength and his technical proficiency at the position. Defenders he was able to get his hands on were essentially done, as Banks was able to control with his hands and keep his feet chopping after locking on. It was a solid group of offensive linemen, and Banks' performance was clearly one of the best.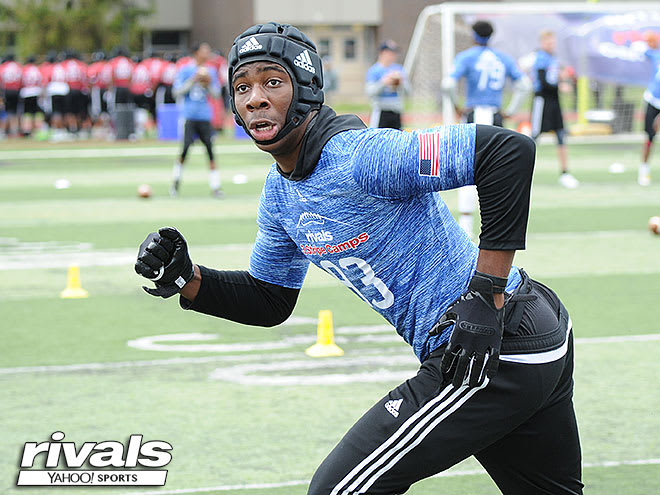 Recruiting wrap: Pitts plans a post-season decision and wants to take his official visits. He has trips planned to Georgia (May 20) and Florida (June 10) upcoming.
Performance: Tight end was particularly deep at this camp with guys like four-star Jeremy Ruckert and three-star Matt Alaimo among those competing, but Pitts emerged as the day's top performer at the position. Measuring 6-foot-5 and 239 pounds, Pitts has a great frame for the tight end position and looks like he could play in-line with little issue. He is a bit of a long-strider, meaning he comes out of his breaks a little slow, but he does a tremendous job tracking the ball, using his body to shield defenders and he has a strong pair of hands.
Recruiting wrap: Hellams added offers from Purdue and Wisconsin right after the camp was over on Sunday.
Performance: It was easy to see that Hellams was one of the most physically talented prospects at the camp. He is a strong runner but can change directions on a dime. In one-on-one drills, Hellams showcased his strength by fighting off defensive backs at the line of scrimmage and running through contact downfield. He has a huge catch radius and quarterbacks took advantage of that by throwing the ball in places only he could catch it.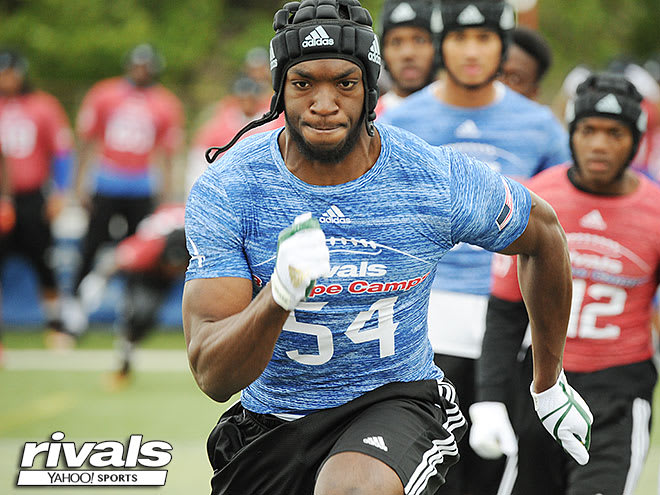 Recruiting wrap: George plans to trim his list soon, with Maryland, North Carolina, Penn State, West Virginia, Virginia Tech, Wisconsin, Kentucky and Duke good candidates to make the cut.
Performance: There were few wide receivers who were physical mismatches for defensive backs like George was. Pressing the Maryland native at the line of scrimmage was a losing battle, so most defensive backs chose to give him a little cushion. Not surprisingly, George was not the quickest wide receiver in attendance, but what he lacks in suddenness he makes up for by being a sharp route runner. That is where he creates separation, and he also uses his body well to shield defenders.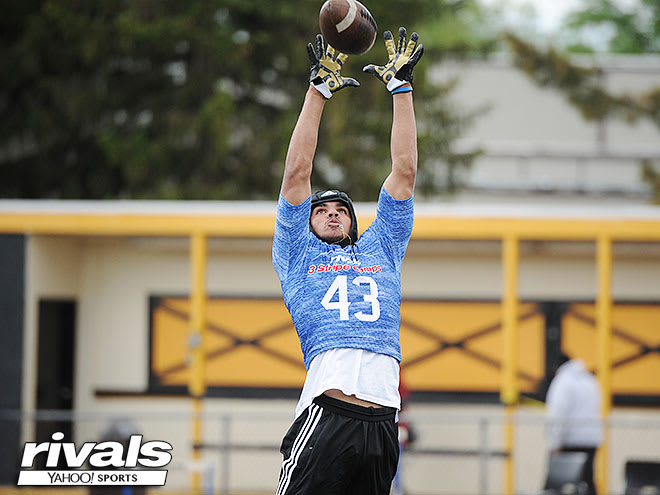 Recruiting wrap: Potts holds an early offer from Syracuse.
Performance: Potts caught our attention early in the drills portion of the event when he juked several linebackers in cat-and-mouse drills. The rising junior combines a creative mind with a lot of shake and the ability to get up and go in a hurry. When he decides to take off, Potts gets to top speed and that allows him to exploit holes slower backs would miss. He also showed in one-on-ones later in the day that he is a threat as a receiver out of the backfield.