Rivals 3 Stripe Camp New Jersey: Recruiting news and notes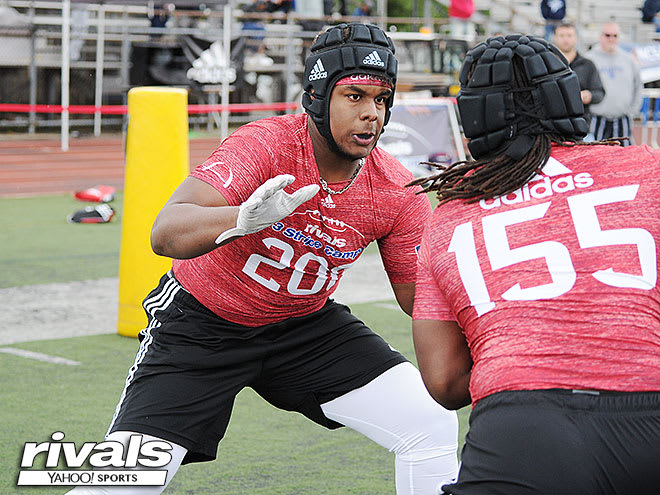 PISCATAWAY, N.J. - The Rivals 3 Stripe Camp Series presented by adidas rolled into New Jersey on Sunday as some of region's top prospects turned out to compete at Piscataway High School. With so many stars in attendance there was plenty of recruiting news to report. Here's a roundup of some of the day's notable nuggets.
MORE: Live from New Jersey | Full Rivals 3 Stripe Camp schedule
Notre Dame, Michigan, Ohio State and Wisconsin have been the top contenders for Ruckert for a long time. Relationships formed during his recent visits to all four schools left lasting impressions on Ruckert, especially with the assistant coaches at Notre Dame, Michigan and Ohio State. Wisconsin's best recruiter for Ruckert is 2017 quarterback signee Jack Coan. Both are from Long Island and have a long-standing relationship.
Walker has Ohio State, Penn State, Virginia Tech, Rutgers, Maryland and North Carolina at the top of his list. He took a recent visit to Penn State and the Nittany Lions seemed to have momentum but Walker stopped short of calling them his favorite. The Penn State coaches and Rutgers coaches do the best job of making him feel like a priority. Walker is planning on returning to Penn State this month or in early June. There is no commitment date on the horizon but one could come before the season.
Maryland, North Carolina, Penn State, West Virginia, Virginia Tech, Wisconsin, Kentucky and Duke are at the forefront of George's recruitment. He short list is coming soon from George but these schools are good candidates to make that list. Penn State and Virginia Tech have been linked to him quite a bit but George doesn't have a favorite right now. Louisville, North Carolina, Maryland, Penn State and Virginia Tech will get visits from George this offseason. A commitment could come as early as the end of July or after the season.
Penn State, Rutgers, North Carolina, Duke and Georgia are standing out to Earlington right now. He insists his recruitment is wide open but he has developed some strong relationships. Earlington wants to take more visits before really excluding a lot of schools. Temple recently offered him for basketball and football and Earlington thinks more schools could start doing. Boston College, Maryland and Georgia could be the next schools to host him.
Florida, Georgia, Virginia Tech, Tennessee, Oklahoma and UCLA are doing the best job recruiting Pitts based on his relationships with the coaches. Georgia, Virginia Tech and Maryland are the latest schools to host Pitts but he is planning more visits. Pitts will visit Georgia again on May 20 and Florida will get its first shot with Pitts on campus on June 10. He doesn't have a commitment date planned but one could come during the season.
Virginia and Notre Dame sit at the top for Franklin. He enjoyed his recent visit to Charlottesville and wants to get back to Notre Dame with his father. His mother has already been to both schools and she will weigh heavily on his decision. Franklin admits he is leaning towards Notre Dame with a decision date of July 1 closing in.
Morgan really likes Pittsburgh, Virginia Tech, Maryland, Rutgers and Temple right now. He is thinking about announcing a commitment on June 6. Morgan has visited all of these schools and took a return visit to Rutgers on Sunday after the camp. Regardless of which school he picks, Morgan will still be recruited by a number of schools and he feels a few new schools might start recruiting him after he commits.
Hickman holds 11 scholarship offers and is open to all schools, but Ohio State and Penn State are his early top two. He most recently visited Penn State for their spring game and said it feels like home every time he goes there. When he made an earlier visit to Ohio State, the competitive atmosphere in Columbus resonated with him. Hickman plans to make a return visit to Penn State soon and is also looking into trips to Boston College and Notre Dame.
Alaimo is aiming for a June commitment, but wants to make visits to NC State and Tennessee first. He has already made one visit to NC State, but this will be his first trip to Tennessee. Those trips will take place once Alaimo's baseball season has completed. Other schools he is considering heading into next month's decision are Vanderbilt, Rutgers, Louisville and Syracuse.
Hawkins, a class of 2019 cornerback, has had a productive spring, adding a majority of his 11 offers since April 1. The most recent offer came from Nebraska last week after defensive coordinator Bob Diaco was in-school. Diaco actually gave Hawkins his first scholarship offer when he was the head coach at UConn and that relationship is strong. Hawkins plans to visit Nebraska for a camp this summer and is also heading out to Stanford later this month for a visit. A decision is expected during his junior year, once his junior season has ended. He plans to narrow his list this summer and said Penn State, Virginia Tech, N.C. State, North Carolina, Minnesota, West Virginia and Nebraska are all in good position to make that cut.