Rivals 3 Stripe Camp Atlanta: Awards
ALPHARETTA, GA. – The Atlanta stop of the Rivals 3 Stripe Camp Series presented by adidas is in the books, and now it's time to take a look at which performers earned awards at Sunday's event. Here's a recap of the award winners and prospects who earned invitations to this year's Rivals Five-Star Challenge.
RELATED: Recruiting notes | Live from Atlanta | Full Rivals 3 Stripe Camp schedule
QUARTERBACK MVP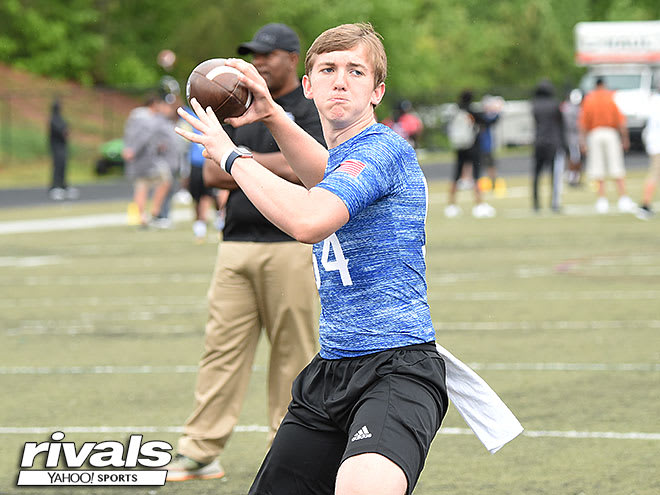 Bailey seemed to be throwing at all times Sunday. He took so many reps and he was sharp in the not perfect conditions. He is a quiet kid but throws with confidence. He carries himself well and he even threw down a few nice dunks in the gym before the camp got started. Bailey is the next top quarterback in the state of Georgia. Trevor Lawrence, Justin Fields and Emory Jones are the guys in 2018, and Bailey will be a national guy in the 2020 class. He grew up a Florida fan and has an offer from the Gators, but he is exploring all of his options.
DEFENSIVE LINE MVP (FIVE-STAR CHALLENGE INVITE)
Cox burst onto the scene about a year ago and he has since become a national recruit. Georgia and Ohio State are battling for the strongside end out of Stockbridge (Ga.), and a decision could come as early as this week. He at one time was a lean rush end who some thought could project as a stand-up linebacker, but after another year in the weight room and some good added weight he is destined to play with his hand in the dirt. Cox has cemented himself as one of the best in the country at defensive end.
RUNNING BACK MVP
Dixon is from a small town in Georgia that not many know about, but the Butler (Taylor County) star is becoming a big name throughout the South. He has put up big numbers the last two seasons, he plays fast and he was a nightmare for linebackers Sunday. He was up at Tennessee for a visit Saturday and the Vols are on his radar. Clemson is another school he is taking a hard look at.
WIDE RECEIVER/TIGHT END MVP
For someone who does not get to catch a lot of passes on his team, Fitzpatrick looks natural getting down the field and plucking the ball out of the air. He plays in a triple option offense and is used a lot as an in-line blocker and he has that toughness and grit you like to see. He fights for the football and he plays with smarts and determination. Fitzpatrick has Ivy league offers to SEC offers and he is going to explore all of them.
OFFENSIVE LINE MVP (FIVE-STAR CHALLENGE INVITE)
Hill has become a monster between the lines. He is so soft spoken and quiet when he is not on the field, but he knows how to flip that switch when it comes time to compete. He has become one of the most dominant players in the 2018 class. At times Sunday, he made it look so easy in the trenches against some talented defensive linemen. Alabama and Ohio State offered Hill this past week, but are they too late? Auburn, Clemson Florida State and Georgia are four schools he is definitely considering.
DEFENSIVE BACK MVP
Horn only played basketball as a freshman and sophomore in high school out in Mississippi before moving to Georgia and having a big junior season on the football field. He has an extensive offer list with Alabama now in the lead for his signature. He is the son of former NFL wide receiver Joe Horn, so he has great bloodlines, and you can see the confidence he plays with, just like his father did.
LINEBACKER MVP
McDonald is not a name being talked about in the recruiting world, but after his strong performance Sunday things will pick up for him. Arkansas State was first to offer and Rutgers and UNLV has extended offers since with more likely coming this spring. He is a versatile linebacker who could project as an outside or inside linebacker on the next level.
MORE RIVALS FIVE-STAR CHALLENGE INVITES
The five-star USC commitment missed the Rivals Camp in Los Angeles, but on Sunday he made his way all across the country to compete alongside fellow five-stars Lawrence and Jones. He more than held his own, doing a nice job while battling tough conditions for a quarterback. Corral earned an invitation to the Five-Star Challenge for his efforts.
After missing out on the Dallas stop of the Rivals Camp due to sever weather, Eagles made his way all the way to Atlanta for Sunday's camp and the trip was worth it. Eagles was one of the most physically impressive wide receivers in attendance, and while the slick balls gave him trouble at times, he did more than enough to earn an invitation to the Five-Star Challenge. Eagles left after the camp to head to Clemson for a visit and has a long list of schools that includes Oklahoma, Texas and several others.
As a five-star in the class of 2019, Haselwood came in with a target on his back. But as usual he took care of business, using his smooth approach and deep speed to give defensive backs problems. Haselwood, an early Georgia commitment, is one of the nation's best and earned an invitation to the Five-Star Challenge for his efforts.
Jones earned five-star status after an impressive showing at four different Rivals Camp events last spring, but on Sunday he came back and earned an invitation to the Five-star Challenge. The Ohio State commit is still being chased by several of the nation's top programs, and it's easy to see why after he showed his typically impressive and accurate arm.

The nation's No. 1 overall player is a veteran of Rivals Camps events and he finally earned a long-coveted invitation to the Five-Star Challenge with his play on Sunday. Lawrence was his typical calm, collected self and shook off the windy and rainy conditions to throw several beautiful balls.
Sims recently committed to Michigan and showed up to Sunday's event decked out in Wolverines gear from head-to-toe. He took a little while to get started but once he got locked in he was tough for wide receivers to beat as he used his trademark length to bat balls away. Sims earned an invitation to the Five-Star Challenge for his efforts.

After another dominant performance at a Rivals Camp event, class of 2019 four-star offensive lineman Clay Webb earned an invitation to the Five-Star Challenge. Webb, who won the offensive line MVP award at last summer's Underclassmen Challenge, was nearly impossible to beat while working at center. Alabama, Auburn and several others are in the mix to land his commitment.