Rivals 3 Stripe Camp Atlanta: Recruiting news and notes
ALPHARETTA, Ga. – The Rivals 3 Stripe Camp presented by adidas rolled into Atlanta on Sunday, with some of the Southeast's top stars turning out to compete. With so many big names on hand there was also plenty of recruiting news. Here's a rundown of the day's biggest notes.
RELATED: Live from Atlanta | Full Rivals 3 Stripe Camp schedule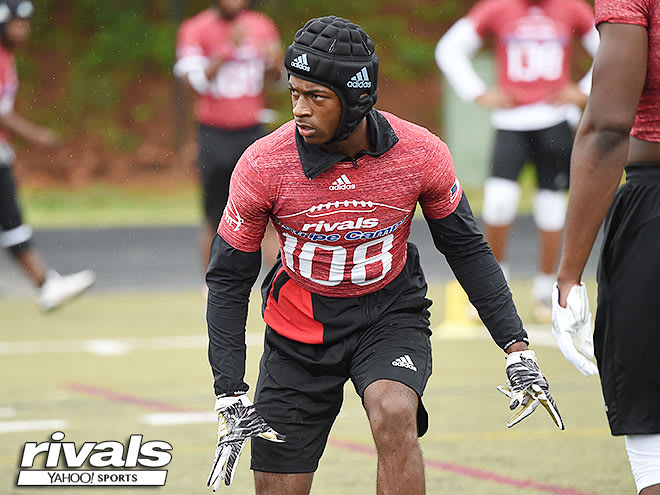 At every camp and event Chris Smith has competed in this year he has drawn great reviews. The cornerback out of College Park (Ga.) Hapeville Charter recently trimmed his list to Alabama, Florida, Georgia, Michigan, Ohio State and South Carolina. Not long ago he made his way to the Midwest and the visits to Columbus and Ann Arbor really opened his eyes. Myles Sims recently committed to Michigan and he and Smith are close friends. They would love to play on the same team in college. William Poole signed with Georgia in 2017, and they are former teammates and close friends, and the Dawgs are very much in this too. Smith was back at Georgia for G-Day Saturday. A decision is likely to be made before August.


Pierce Quick committed to Alabama Saturday and the 2019 four-star offensive lineman out of Trussville (Ala.) Hewitt Trussville said he is targeting Clay Webb. It is likely going to come down to Alabama and Auburn, the two in-state schools, for Webb, but Georgia is one to know as well. He has visited the Bulldogs numerous times, including Saturday for their spring game. Webb's parents attended Jacksonville State, so he says he did not grow up favoring the Crimson Tide or Tigers. Behind the scenes, it appears the Crimson Tide may have the edge. He has a great relationship with offensive line coach Brent Keys.


It looked like Georgia was going to win out and keep Brenton Cox, the four-star defensive end out of Stockbridge (Ga.), at home about a month ago, but after a visit to Ohio State last weekend the Buckeyes grabbed the momentum. Cox thought about committing this week, but he has postponed that. He was back in Athens (Ga.) visiting the Bulldogs Saturday and this is a very tight race. He is a priority for both programs and knows that, and now he is thinking about which one is best for him and when he wants to make that decision. This one could either way and Cox is adamant about his mind not being made up yet.

After visiting Alabama again over the weekend, cornerback Jaycee Horn has the Crimson Tide on top of his list. The rising senior out of Alpharetta (Ga.) has not been one in the past to publicly name top schools, so this says a lot about his interest in Alabama. When asked about schools behind the Crimson Tide, he wasn't ready to name those yet. Horn has no decision timeline; he said it will just happen when he is ready.
Three-star wide receiver Christian "Scoobie" Ford recently visited West Virginia and picked up an offer from the Mountaineers. A versatile slot receiver, Ford said he sees himself as a good fit in the West Virginia offense, but is staying patient with several trips coming this summer. Other schools in the mix early include Virginia Tech and Wake Forest.

Class of 2020 quarterback Harrison Bailey was recently in Gainesville for the Florida spring game and said he enjoyed his time on campus. Bailey is a priority target for the Gators and despite his age has been for nearly a year. While on the visit Bailey got a chance to see the Gators' offense in action and said he was impressed with the skill position talent on the field. Bailey continues to take visits while he weighs options that include Clemson, Alabama and several others.
Class of 2019 prospect Derrick McLendon recently visited Georgia and said the Bulldogs have moved up on his list of potential schools. According to McLendon, who has held an offer from the Bulldogs for months, UGA has only recently started to push for his commitment. He cites an increase in contact in the last few weeks as the reason for his elevated interest. Georgia is recruiting McLendon as a linebacker despite his high school career at defensive end. Florida, LSU and South Carolina are also in the mix, as the Georgia product lists such schools among his current favorites.
Offensive lineman Jalil Irvin remains committed to Auburn but will take visits in the year ahead. He says that coaches from Clemson, Ohio State and Alabama have informed him that they will be in to see him this spring. Auburn, Oregon, UCLA and North Carolina are on the list of schools Irvin intends to tour when it comes time to take official visits this fall.
Wide receiver Jallah Zeze named Indiana as his leader and says the program's recent recruiting success in the Southeast has played into his opinion. Zeze also mentions the Hoosiers' defensive scheme as a driving force in his recruitment. He intends to visit both Appalachian State and Purdue in the months ahead.

Alabama-based linebacker Matthew Flint plans to camp at Alabama this summer. And while Flint says he wouldn't commit on the spot should an offer from the Tide appear, he admits that it would certainly impact his recruitment in a major way. He names Louisville and Vanderbilt among his current favorites.