Rivals 3 Stripe Atlanta: Top defensive performers
ALPHARETTA, Ga. – Some of the Southeast's top players turned out for Sunday's Atlanta stop of the Rivals 3 Stripe Camp Series presented by adidas at Alpharetta High School. With so many stars on hand there was bound to be some very impressive performances. Here's a rundown of the day's best defensive performers.
MORE: 3 Stripe Atlanta - Awards | Recruiting notes | Chatter from Atlanta
Recruiting wrap: Cox is down to Georgia and Ohio State with a commitment coming as early as this week.
Performance: Cox entered the camp with the goal of receiving an invite to the 5-Star Challenge, and he achieved that. He was not only quick off the ball, but strong, and he won with moves to the inside and speed to the outside. He is an imposing figure at defensive end and it is scary to think how good he can be down the road.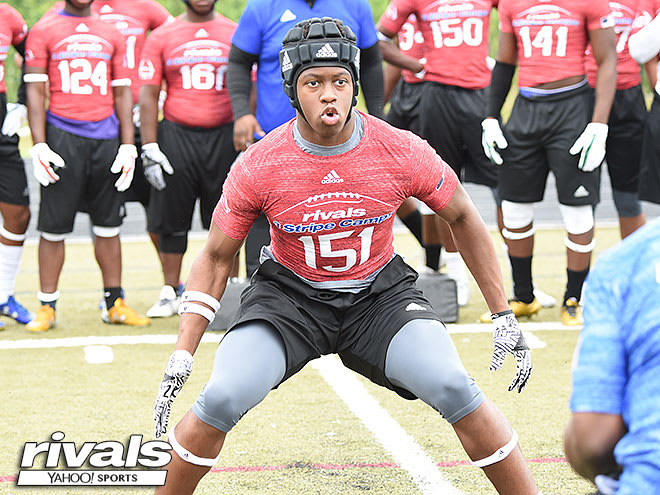 Recruiting wrap: Johns lists offers from Wake Forest, Toledo, Southern Miss and others.
Performance: Johns has incredible length and uses it relatively well. He still needs to add size, which has likely held him back when it comes to stacking offers, but he projects as a versatile linebacker. He was impressive in early drills and looked up to the task when it came time to cover running backs in space.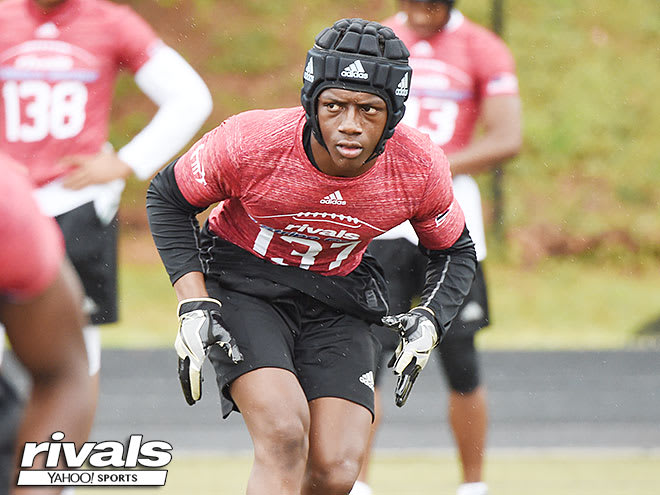 Recruiting wrap: Alabama is his top school with Ohio State, South Carolina and Tennessee among others hanging around. A decision could come at any time.
Performance: Horn was strong all day in the rain out on the perimeter in coverage. Horn has the frame to make you think free safety possibly down the road, but then you see him back pedal and turn and run with wideouts, and you see a big cornerback. He stayed in the hip pocket of the wideout almost all day.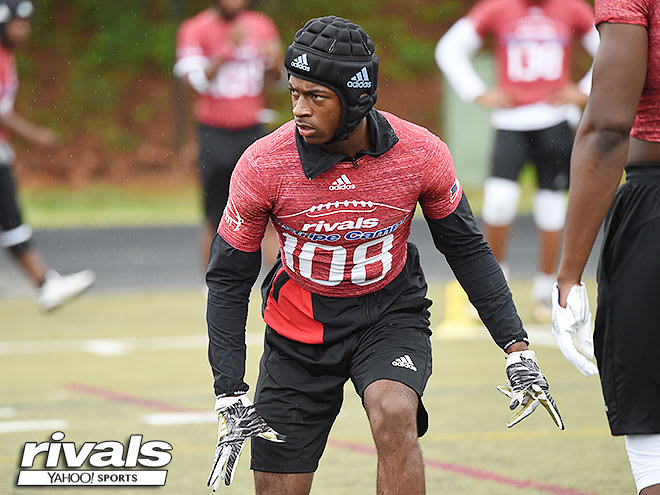 Recruiting wrap: Smith recently named a top six of Alabama, Florida, Georgia, Michigan, Ohio State and South Carolina. He plans to commit to one of those before his senior year.
Performance: Smith rotated groups, and he was successful on each side of the field Sunday. Some may question his size and others may wonder just how fast he is, but Smith is long, he is quick and he is an instinctive defender. He played the ball well and showed he can stay with top wideouts.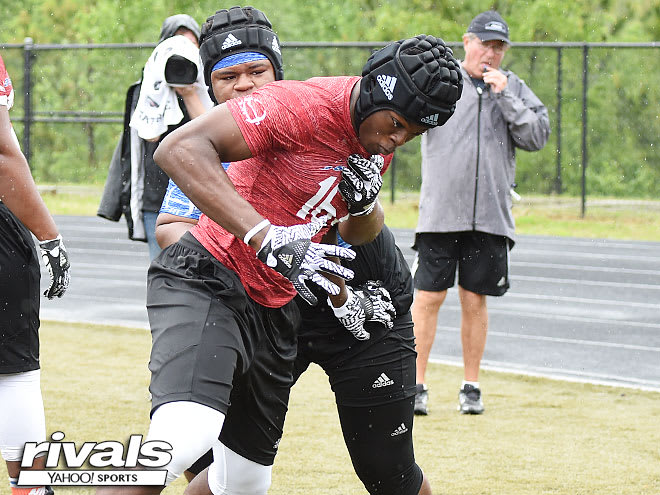 Recruiting wrap: Ojulari has offers from Alabama, Auburn and many others
Performance: Speed, speed and more speed — that is what Ojulari is all about. He really dipped down and turned that corner to get to the quarterback dummy in a hurry Sunday. It was hard for any offensive linemen to get their hands on him with his quickness. He is a good athlete who could project as a stand-up linebacker or weakside end.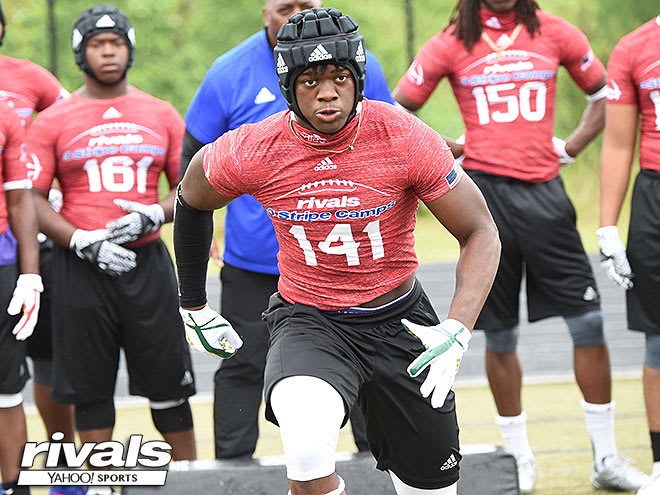 Recruiting wrap: Colorado State recently offered. Arkansas State, Rutgers and UNLV have offered as well.
Performance: McDonald created a little buzz with his performance in the cat and mouse. He played that well, stopping some of the better running backs before they crossed the line. Then, when we got to the one-on-ones, he shined as well. He moved well in coverage and did overplay the backs when they ran routes and made cuts. He had a strong day.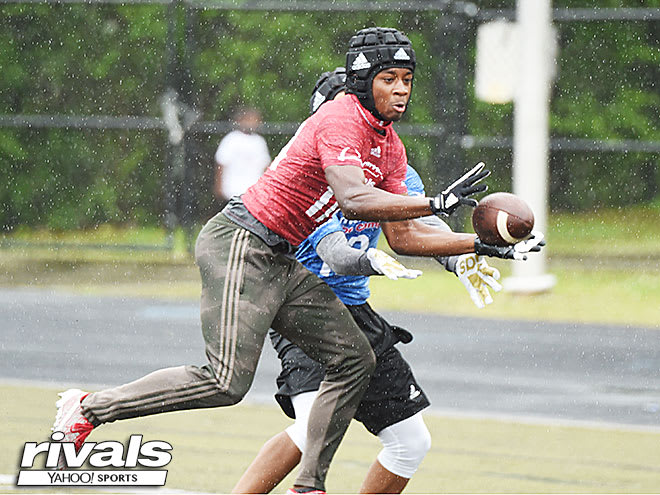 Recruiting wrap: Burton recently decommitted from North Carolina, and Virginia Tech may now be the favorite.
Performance: Burton was easy to spot wearing the camouflage sweatpants in the rain and that was good, because he had a good day in coverage. He is a very feisty cornerback who played with a lot of confidence. He is not the biggest in stature, but he played bigger and he was able to knock some passes down.
Recruiting wrap: Missouri offered over the weekend and the Tigers immediately moved up his list. Georgia Southern recently offered as well. His recruitment should pick up this spring.
Performance: For an athlete who could play running back or safety on the next level, Taylor was strong in coverage Sunday. Not many receivers were able to create great separation on him, so the quarterbacks had a hard time completing passes. He mixed it up physically and played above expectations in coverage.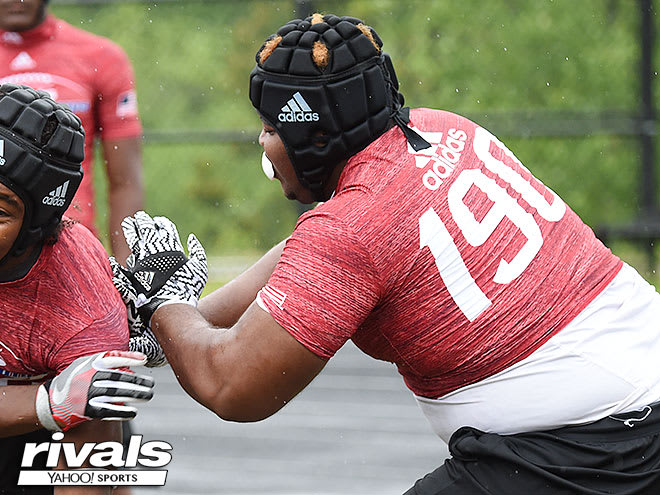 Recruiting wrap: Hodge is awaiting his first offer
Performance: Hodge started the day playing guard before switching to defense midway through one one-on-ones. He actually looked rather comfortable on offense, but his future could very well be at defensive tackle. Hodge knows how to use his wide build and was one of the more powerful linemen at the camp. If he takes off some bad weight, his stock will rise this spring.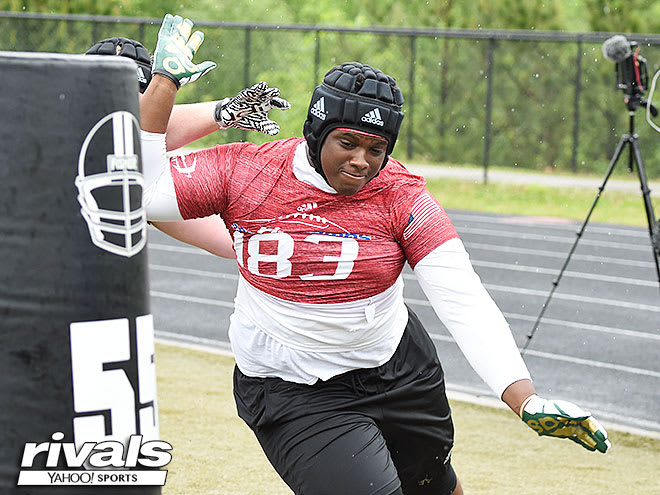 Recruiting wrap: Cy holds offers from Memphis, Troy, Tulane and others.
Performance: Sy is slippery for his size and is surprisingly light on his feet. He possesses decent power and will get even more effective when he replaces the little bit of bad weight he boasts with muscle mass. Sy made his mark during one-on-one work and was one of the afternoon's most pleasant surprises.
Recruiting wrap: Jibunor's offer list is long and distinguished. Notre Dame recently offered. He also holds offers from Alabama, Auburn, Tennessee and others.
Performance: Jibunor has a nice build. And while coverage down field against small running backs probably isn't his strong suit, he held his own during one-on-one work. Jibunor stood out in drills and showed an ability to move laterally with ease.
Recruiting Wrap: Georgia and Auburn are just a couple of the several schools to offer Enagbare in the last few months.
Performance: Enagbare is listed in the Rivals.com database as a defensive end, but he did a surprising amount of damage while working at defensive tackle. He showed good power and his time on the edge only helped with his pass rushing skills when he moved inside. He looks like an ideal fit for a 4-3 defense at the next level, and his versatility will only help his stock going forward.