Rival Views: Who did enough to keep their fifth star?
Rivals.com National Recruiting Director Mike Farrell and National Recruiting Analyst Adam Gorney don't always see eye to eye. In this edition of Rival Views, the two debate and give their reasoning on whether Corey Collier, Camar Wheaton and Tristan Leigh did enough to keep their fifth star.
1. S COREY COLLIER
FARRELL: YES
Collier isn't a speed demon at corner but as a safety he's plenty fast enough, closes on the ball well, has great instincts and excellent ball skills. And he's a sure tackler not a guy who's going to try to make a huge hit for the highlight reel but will wrap up and square.
GORNEY: NO
The concern I have always had about Collier is that he's a little too big to play cornerback but doesn't pack the physicality needed to play safety in the SEC. So the Florida signee is a tweener and it could take some years for him to put on enough weight to have an impact for the Gators. I'd take Terrion Arnold, Derrick Davis and Kadarius Calloway over Collier right now.
*****
2. RB CAMAR WHEATON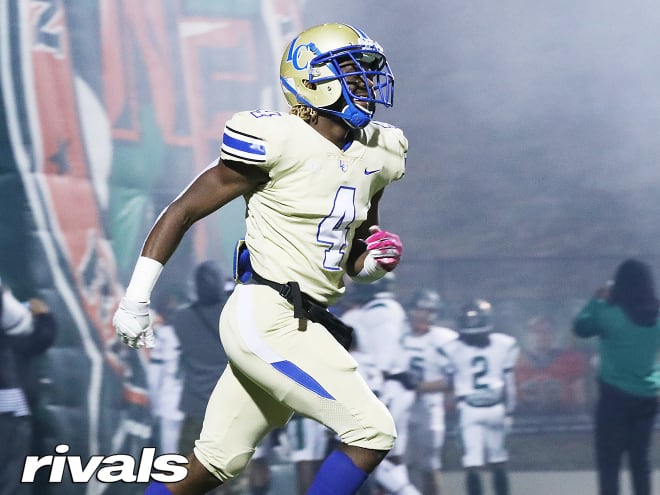 FARRELL: YES
He's a track kid with size and that's a nice combination for a running back. If he stays patient and waits his turn as Derrick Henry and Najee Harris did stardom is his but it wouldn't matter where he played he's an elite running back and will have success.
GORNEY: YES
Whether Wheaton is the best running back in the class - and some could argue even in his own state since LJ Johnson could hold that title - is up for debate but I do think he's a five-star. He has excellent speed, he can run by anybody and he is also a receiving threat out of the backfield. His numbers throughout high school were excellent and he's going to an offense that will open up huge holes for him to run. Wheaton has all the opportunities in the world to be the next superstar back at Alabama.
*****
3. OT TRISTAN LEIGH
FARRELL: NO
I'm concerned about the lack of evaluation we've had on Leigh who hasn't played since his junior season and I worry about conditioning. He's a talented prospect but I also see some Darnell Wright tendencies here and that worries me.
GORNEY: YES
A few years from now, this offensive line class could go down as one of the best in the Rivals era. There are currently seven five-stars at the position and Leigh should be one of them. He's big and might have to trim some bad weight but that should be no problem. The Clemson signee is light on his feet, physical enough to fend off defensive linemen and he has the potential to be special. The Tigers have not exactly developed elite offensive linemen - one spot where that is the case for Clemson - but Leigh is very talented, athletic for his size and has special qualities.