Rival Views: Adam Gorney's NFL mock draft 3.0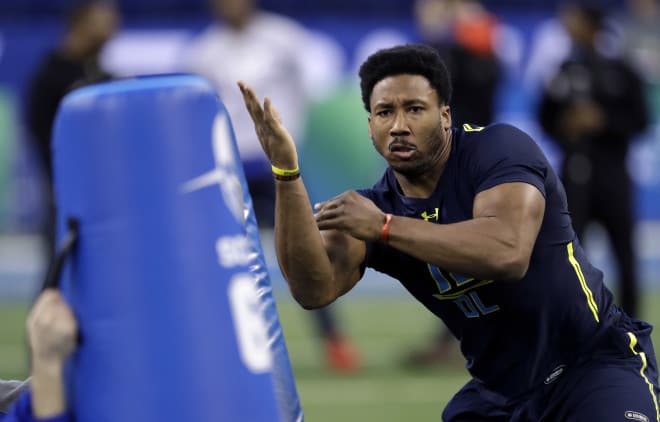 1. CLEVELAND BROWNS   
Lock this one up. Garrett has been incredibly impressive through all his workouts and Cleveland needs help at almost every position. The Browns don't move off this pick and take the best player in the draft.
2. SAN FRANCISCO 49ERS
Quarterback is a huge priority for the 49ers as well, but are they going to get super risky and go after Mitch Trubisky or Deshaun Watson? My guess is no. San Francisco gets smart and takes the best defensive lineman available to load up across the line.

3. CHICAGO BEARS
This might be a tad higher than others have him, but the Bears need physical, playmaking cornerbacks. Lattimore is the best of the bunch. I wouldn't be shocked if they go after Alabama DL Jonathan Allen or a linebacker, but corners are needed.

4. JACKSONVILLE JAGUARS
The Jaguars' defense is starting to look pretty solid so the focus turns to offense. A running back – say, Leonard Fournette – could definitely be the pick, but a big, athletic, pass-catching tight end could just be what is needed.

5. TENNESSEE TITANS
The Titans need wide receivers, but do they jump at Western Michigan's Corey Davis or Clemson's Mike Williams this early? My guess is no. My bet is that Tennessee looks to reinforce its defensive line, and Allen is phenomenal. It's also a position of need.
6. NEW YORK JETS
The Jets keep working out quarterbacks and one is needed, but New York is desperate for playmaking defenders in the secondary and none is better than Hooker.
7. LOS ANGELES CHARGERS
Hooker and Adams will both be taken early because teams need safeties and both of them are incredible talents. In the long run, the former LSU standout could be a tremendous steal here because he's a playmaker and a big-time leader who could have a great pro career.

8. CAROLINA PANTHERS
There has been some chatter that the Panthers want to trade up into the top two picks, especially after coach Ron Rivera watched Solomon Thomas at Stanford's pro day, but if Carolina stays here and Fournette is available then that's the pick. Fournette is just too good to pass up.

9. CINCINNATI BENGALS
Receivers John Ross and Mike Wiliams of Washington and Clemson, respectively, are possible options here, but Davis is probably the best all-around receiver in this draft. The Bengals have been gutted at the position and need help now.
10. BUFFALO BILLS
The Bills jump on the next-best receiver and the top one available. They need so much help after losing some receivers in free agency, and who knows what Sammy Watkins will do long term. Buffalo goes back to Clemson and takes a shot on Williams here.

11. NEW ORLEANS SAINTS
One way or another, this looks like a guaranteed pick on the defensive side of the ball. Pass rushers are desperately needed and Barnett put up huge numbers for the Volunteers. I actually think Barnett this low in the first round is a steal for the Saints.

12. CLEVELAND BROWNS
Cleveland has to be thrilled with this position, especially if no quarterbacks are off the board yet – as San Francisco, New York and maybe a few others could take one earlier. Trubisky is the most NFL-ready quarterback in this draft and the Browns smartly take him.
13. ARIZONA CARDINALS
The Cardinals will need to address quarterback and wide receiver at some point down the line. But the defense needs help, too, especially in the middle, and Foster is a tackling machine.
14. PHILADELPHIA EAGLES
I wouldn't be shocked if the Eagles choose an offensive dynamo like Christian McCaffrey but Philadelphia is thin at cornerback and bolstering that position makes sense. Conley keeps shooting up draft boards but the SEC has some good ones remaining, too.
15. INDIANAPOLIS COLTS - LB HAASON REDDICK, TEMPLE
Help on the edge would be a big deal, but adding linebacker depth is also a good thing so the Colts go after someone who can do both. Reddick can play all over the field and he'll be a tremendous asset for Indianapolis' defense.
16. BALTIMORE RAVENS
The Ravens need edge rushers for the long term and McKinley is a versatile, motivated player who could fit Baltimore's system well. Offense could be an option but defense makes more sense.

17. WASHINGTON REDSKINS
Who knows what's going to happen with the Redskins here with some front office changes and many needs on defense. Linebacker is a priority and Peppers is a versatile player who could help a lot.

18. TENNESSEE TITANS
Tennessee addresses defense earlier in the draft. Now it's time to help out quarterback Marcus Mariota. Ross broke the 40-yard dash time at the NFL Scouting Combine and he could be a big-time deep threat – exactly what the Titans need.

19. TAMPA BAY BUCANEERS
Bucs coach Dirk Koetter said in recent interviews that McCaffrey "can do everything as a running back." That's what Tampa Bay needs. Other teams later in the first round – including Denver – want McCaffrey, but the Bucs take him here.
20. DENVER BRONCOS
Denver definitely needs major help along the offensive line, and with McCaffrey gone position could be a no-brainer. Just which offensive tackle is the question. My guess is Ramczyk because of his Wisconsin pedigree.

21. DETROIT LIONS
There are still a plethora of edge rushers and defensive ends available here, but I love Harris and think he would be a wise selection. A linebacker could go here as well, but many top ones are off the board. Harris helps the defense.

22. MIAMI DOLPHINS
Any questions about his speed and athleticism were answered in the positive at the NFL Combine. The Dolphins absolutely need linebacker help, Watt is productive and his last name is Watt – enough said.

23. NEW YORK GIANTS
The defense received a lot of help recently and so now the offense must be addressed. There's no better place to start than along the offensive line, and Bolles is tough and hard-nosed. Ramczyk and Bolles can flip-flop easily.
24. OAKLAND RAIDERS
The Raiders need to address some linebacker issues, and Davis could be shooting up the charts. He's a playmaker, played on an excellent Gators defense and he really addresses a problem for Oakland.

25. HOUSTON TEXANS
If two or three teams above choose to go on defensive players and/or Trubisky goes first then Watson could easily still be available this late in the first round. It would be an absolute steal and the Texans won't miss out.

26. SEATTLE SEAHAWKS
The future of Richard Sherman in Seattle is unclear, and this is an incredibly deep draft class. This could have definitely been Sidney Jones' spot if he didn't suffer an Achilles injury. King is almost just as talented and could go in this spot.
27. KANSAS CITY CHIEFS
The Chiefs could go after Texas Tech QB Patrick Mahomes and make a killing there, but running back is also a necessity with Spencer Ware's production questions. Cook could be special even if his stock is a tad down recently.

28. DALLAS COWBOYS
The Cowboys need cornerbacks. If Humphrey is still on the board there's no doubt he has the talent to be drafted here, if not higher. An edge rusher could also be an option, but Dallas gets help at corner.

29. GREEN BAY PACKERS
The Packers need running back assistance but if Fournette, Cook and McCaffrey are all gone I don't think there's any way that the Packers go on Joe Mixon. So Green Bay looks to the defense and takes the best cornerback available.

30. PITTSBURGH STEELERS
The Steelers need athletic defenders and those who could come off the edge or play in space when needed, and Charlton could definitely be the answer here. It's such a loaded class at defensive end, but Charlton could provide all kinds of help.

31. ATLANTA FALCONS
Atlanta offensive guard Chris Chester is retiring. That means the Falcons could use this pick to get the best offensive lineman available, and there is some legitimate thought that Robinson could move inside ala Laremy Tunsil this past season.

32. NEW ORLEANS SAINTS
New Orleans needs to continue to build its defense and who better than a freaky athlete who showed out at the combine? There are still plenty of talented defensive backs remaining but no one with Melifonwu's size.