Recruiting notes: Defensive stars at adidas 7v7 National Championship
JOHNSON LAYS OUT SOME FAVORITES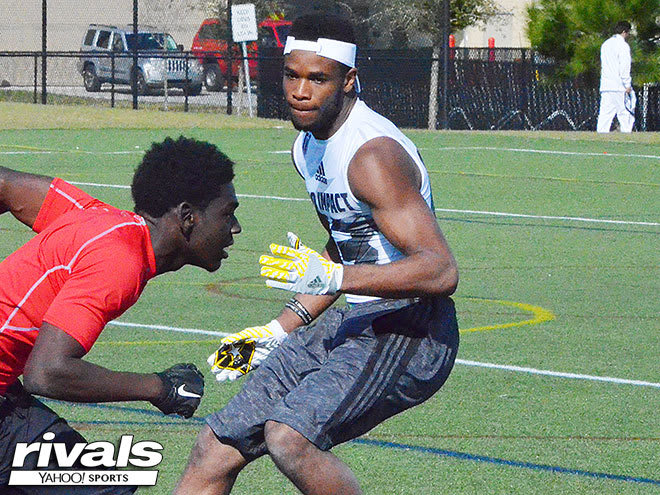 Florida, Georgia, LSU and UCLA seem to be the frontrunners for five-star safety Tyreke Johnson, although he also mentioned USC and Stanford being high on his list. Even FAU cannot be discounted since his brother, De'Andre, goes there.
As for the Gators, Johnson loves the defensive mindset in Gainesville.
"I love Florida's defense," Johnson said. "They play with a lot of energy and they have a thing called swagger that a lot of schools just don't have anymore."
The five-star from Jacksonville (Fla.) Trinity International called Georgia coach Kirby Smart a "defensive guru" and said LSU defensive back Kevin Toliver II is "like an older brother," and that's only one of the reasons why the Tigers stand out so much.
The academics at UCLA stand out and so does the challenge of playing defensive back in the Pac-12.
"It's a great place for a DB to make it," Johnson said. "The Pac-12 can make you and it can break you. It can exploit your coverage or show everybody you can cover."



TAYLOR-STUART NAMES STANDOUTS
Four-star Isaac Taylor-Stuart recently landed a Georgia offer after talking to that coaching staff for a while, and it could be a big one for him.
The San Diego (Calif.) St. Augustine standout is not sure if he's going to visit there soon, but the Bulldogs have piqued his interest after talking with defensive coordinator Mel Tucker.
"We just set up a phone call and he liked my speed and athleticism and he likes how I play corner," Taylor-Stuart said. "He wants me to get down for a visit."
The only visit planned for sure at this point is to Oregon, and another trip to Alabama might also happen since assistant coach Tosh Lupoi continues to diligently recruit the top four-star.
As for standout schools, Taylor-Stuart said Washington, Alabama, Nebraska, Oregon, USC, Notre Dame, Michigan, Georgia and Oklahoma all look good.
TRIPS COMING FOR TULIAUPUPU
Solomon Tuliaupupu is the top-rated inside linebacker in the 2018 class, and he said Ohio State, USC, Alabama, LSU, Oklahoma and UCLA are recruiting him the hardest so far.
"A lot of them compliment me on my game," Tuliaupupu said. "Of course, everyone has stuff to work on. The main thing they say is I have that dog in me. That's the way I play."
As for visits, the Santa Ana (Calif.) Mater Dei prospect said he wants to see Ohio State, Alabama, Michigan and Oklahoma in the coming months. He's already well-versed by seeing USC and UCLA multiple times.



ADDISON SEEING NEW INTEREST
Notre Dame and Washington have been showing the most new interest in four-star athlete Bryan Addison, who projects as a safety or wide receiver, and those offers could be coming within months.
"They haven't offered yet but they're really interested," Addison said. "They're coming out in the spring and they're saying they could offer."
USC, UCLA, Nebraska and Oregon are the early frontrunners for Addison, who said he's interested in all those Pac-12 schools and really likes the Huskers because of his relationship with assistant coach Donte Williams.
"I love the man," Addison said.
GORDON HAS SOME STANDOUTS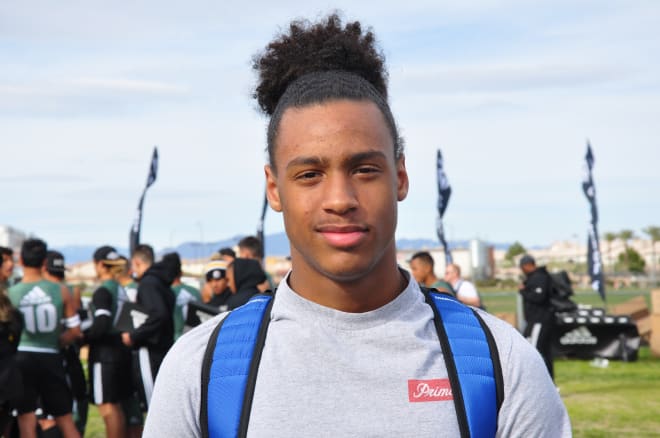 Washington and Stanford are two early frontrunners for four-star Kyler Gordon, but he's also going to look at some other programs including TCU and Notre Dame.
The four-star cornerback from Everett (Wash.) Archbishop Murray has been compared to former Notre Dame DB KeiVarae Russell, also a four-star from Washington.
"Everybody is trying to always compare me to him and I think they want me to be a bigger and better KeiVarae," Gordon said.
After a recent junior day trip to Washington Gordon said he's also planning to see Stanford and Cal soon and will probably see USC and UCLA this summer. A trip to Notre Dame is also a possibility.

WINSTON LOOKING AT VISITS
Four-star linebacker Eli'jah Winston visited USC when he was in town for the Under Armour Camp and he had an excellent time there.
The Trojans have not offered yet, but the Portland (Ore.) Central Catholic standout said he had a great chat with linebackers coach Johnny Nansen and he's confident USC will stay in his recruitment.
"It was a beautiful trip," Winston said. "I met all the coaching staff and I had a really good conversation with coach Nansen and I really look forward to building a strong relationship with him. USC is definitely a good school to look at."
Winston, whose brother plays at Oregon, is planning a trip to LSU in June and he's hopeful the Tigers offer. He's also going to UCLA next month and the Bruins are heavily recruiting him.
Florida State, Mississippi State and Indiana are showing new interest.