Recruiting notes: Offensive stars at adidas 7v7 National Championship
CORRAL TALKS UPCOMING VISITS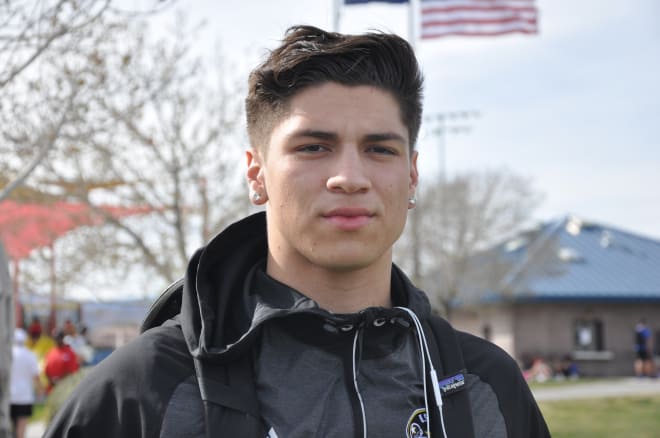 Five-star quarterback Matt Corral said he's "obviously still a hard commit to USC," but he does plan to still visit Alabama and Georgia in the coming months.
The Long Beach (Calif.) Poly standout, who just transferred there from Westlake Village (Calif.) Oaks Christian, said he's been talking with Crimson Tide assistant coach Tosh Lupoi and listening to what he's saying.
"The opportunity that I do have is just food for thought," Corral said.
As for Georgia, wide receivers coach James Coley stopped at Oaks Christian when Corral still played there and talked to the five-star about the offense and the Bulldogs' facilities, so Corral is interested in checking them out.
The five-star said those are the only two visits planned at this point.
JASON DISCUSSES COMMITMENT STATUS
Some are skeptical that four-star receiver Devonta Jason will stick by his Kansas commitment, especially since many SEC powerhouses have offered the New Orleans (La.) Landry-Walker standout, but Jason said it's for real.
There is legitimate interest in starting something special with the Jayhawks.
"They said they're going to use me in a dominant way," Jason said. "They're not just going to use me on the outside but getting me the ball and letting me make plays and let me be the great player I am."
Rated as the fourth-best receiver nationally, Jason said he's excited to "start a legacy" at Kansas and have the opportunity to be a star early on.
LSU, Mississippi State and Ole Miss are some of the other programs still pursuing Jason, who said basically no teams have backed off.

ST. BROWN TRYING FOR BIG TEN TRIP
Amon-Ra St. Brown is working to visit Michigan soon, as the Wolverines' staff has been aggressively recruiting the five-star receiver.
"They're on the path to doing great things, especially with (Jim) Harbaugh there, so Michigan is a great place," St. Brown said.
The Santa Ana (Calif.) Mater Dei standout is not sure about visiting Alabama yet, which had been a possibility, and he's trying to take a trip to Ohio State this summer. Georgia and Oregon are two recent offers St. Brown is interested in, and USC is still high on his list.
The five-star said USC, Cal, Stanford, UCLA, Michigan, Ohio State and Notre Dame are all recruiting him tough. He has a brother, Equanimeous, at Notre Dame and his other brother, Osiris, is going to Stanford.

THOMPSON FOCUSED ON FOUR
Alabama, North Carolina, Florida and Ole Miss are the main players for four-star receiver Warren Thompson, and the Seffner (Fla.) Armwood recruit seems to like something different about each program.
Thompson said he likes how Florida is recruiting him and how the Gators have made him a priority, that Alabama coach Nick Saban said he'd have a chance to play early in Tuscaloosa and that North Carolina and Ole Miss have been especially aggressive, too.
He was wearing a Florida towel on Saturday but said there was no message behind it.




JORDAN TAKING BIG VISITS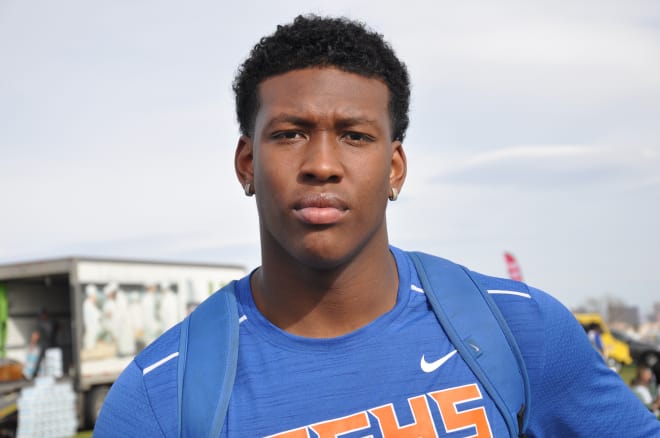 Four-star tight end Brevin Jordan is planning to visit Michigan and Miami in the coming weeks, but first is another trip to UCLA to meet with the coaching staff again.
The Las Vegas Bishop Gorman standout said he had a great trip there recently and wants to get back again to meet more with the coaches. It's no secret the Bruins are high on his list.
"I visited already and it felt like home," Jordan said. "I just want to see the second vibe I get just being around them again."
Rated as the third-best tight end in the 2018 class, Jordan is expected to visit Ann Arbor with four-star QB teammate Dorian Thompson-Robinson and will probably go to Miami with family.
Auburn and Cal are his newest offers, and Jordan said more visits could happen soon.

THOMPSON-ROBINSON READY FOR TRIPS
On Feb. 27, Dorian Thompson-Robinson put out a top list. It included Tennessee and Georgia even though Thompson-Robinson didn't have offers from those schools.
That changed quickly as the Volunteers and Bulldogs have now offered the four-star quarterback from Las Vegas Bishop Gorman. He's definitely interested in both programs, although others have a jumpstart because they've been involved longer.
"I put them on there for a reason because I really wanted them and I have interest in them, so to get those offers a day after was really big," Thompson-Robinson said.
The four-star is expected to visit UCLA and Michigan soon, widely believed to be two of his top schools. There's also a chance Thompson-Robinson could visit Georgia, North Carolina and South Carolina.
Alabama also recently offered but a visit has not been figured out yet. Thompson-Robinson said he'd like to narrow his list to five or so in the next couple of months.

WILLIAMS TALKS BAMA OFFER
Devon Williams has emerged this offseason as one of the best athletes in California, and recently the four-star landed an offer from Alabama. It's definitely a big one for many reasons.
"It really means a lot," Williams said. "It shows how much work I've been putting in, but I still have to improve in some areas so I could be the best to do it."
The Lancaster (Calif.) Antelope Valley recruit who projects as a wide receiver, safety or outside linebacker now has offers from Alabama, Arizona State, Cal, Colorado, Florida State, Nebraska, Oregon, Oregon State, UCLA, USC, Utah and others.
Stanford and Washington have been showing the most interest, and Williams said still no favorites have emerged.

PITTMAN OPEN TO ALL
Mycah Pittman is a top 2019 receiver whose brother, Michael, plays at USC but the Trojans are by no means a lock to land the Calabasas, Calif., standout who transferred there from Westlake Village (Calif.) Oaks Christian.
USC is one of Pittman's early offers and he's definitely interested, but the 2019 recruit said he's going to give every team a fair shake and not favor USC – or any other team – this early.
"It doesn't play a big factor actually," Pittman said of playing with his brother. "I'd rather be my own guy. I get following my brother's footsteps. I get that, but maybe I'll surprise people or maybe not surprise people."
Ohio State is showing more interest and Pittman said he would love to hear from Clemson, one of his childhood favorites.