Recruiting buzz, takeaways from Houston
HOUSTON -- The stars were out on Harris County over the weekend for a primetime slate of high school football action in South Texas. Rivals national recruiting analyst Sam Spiegelman was on hand for North Shore vs. Summer Creek; Cypress Park vs. Bridgeland; Langham Creek vs. Cy Lakes and C.E. King vs. Atascocita.
Here are some takeaways from the weekend action, including recruiting buzz surrounding multiple five-stars, commitments to Texas, Texas A&M and Louisiana.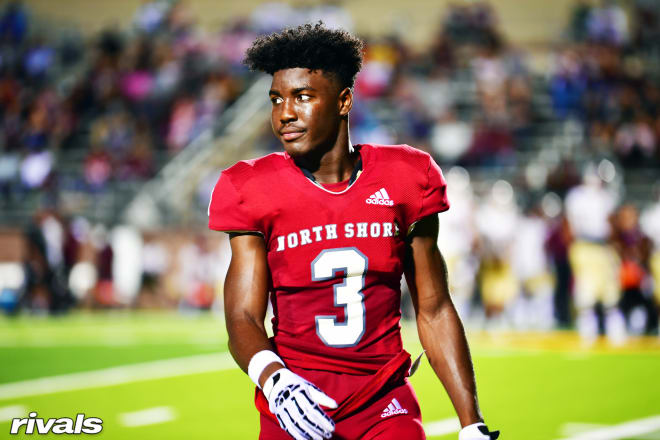 NO MOVEMENT SURROUNDING FIVE-STAR HARRIS
The nation's No. 2 cornerback is just four games back from a torn ACL, an injury suffered last January in a state semifinal showdown between North Shore and eventual champion Austin Westlake. Harris kept a low profile throughout the spring as he rehabbed his knee -- even delaying his return to the field until the district portion of the calendar arrived.
Since returning, Harris has not missed he beat. He 's flying around on the field, as physical delivering tackles in the open field and punishing defenders on the back end. He wasn't tested in the passing game and not by accident.
My FutureCast remains on Alabama, but the five-star has continued to make visits back and forth to Austin and more recently Baton Rouge. Nonetheless, Nick Saban has taken a larger role in Harris' courtship and the Texas coaches have still not won him over. There's too much uncertainty at LSU.
A note on Kris Ross: The three-star Texas pledge returned for the Summer Creek game after a four-game stint on the sidelines after suffering a high-ankle sprain in a loss to Spring Westfield. Certainly, the missed action didn't stop Ross from playing a ton at multiple positions along the defensive line and collecting a sack in the process.
What Ross lacks in size he makes up for with quickness and athleticism for the position. Ross provided pressure inside and playing over the tackle. It wouldn't be surprising to see him elevate his game once he regains his stamina in the postseason.
A note on Kaleb Bailey: The 2025 quarterback out of Houston-area powerhouse North Shore reminds me some of his predecessor, Dematrius Davis, a freshman at Auburn. That is high praise for a talented freshman that's operating the high-powered offense that hasn't missed a beat. Like Davis, Bailey is improvisational with the ability to make plays off-schedule -- and make it look easy in the process -- with the added ability to take off and run.
THE BUZZ AROUND FIVE-STAR BANKS
Five-star Summer Creek offensive tackle Kelvin Banks was magnificent. He showed off his wide array of moves as a proven pass-protector and run-blocker. He spreed a handful of big runs to the outside, blocked well in space and was stout in pass pro facing off against Ross, among others. More than anything, Banks is consistently excellent, a rare trait for an offensive tackle.
Banks is in line to be the next great tackle for Oregon, but by mid-week was contemplating a visit to Austin for the Texas-Oklahoma State game. Banks didn't make the trip and also affirmed his commitment to the Ducks. Neither Texas or Texas A&M will throw in the towel on the five-star until he's signed.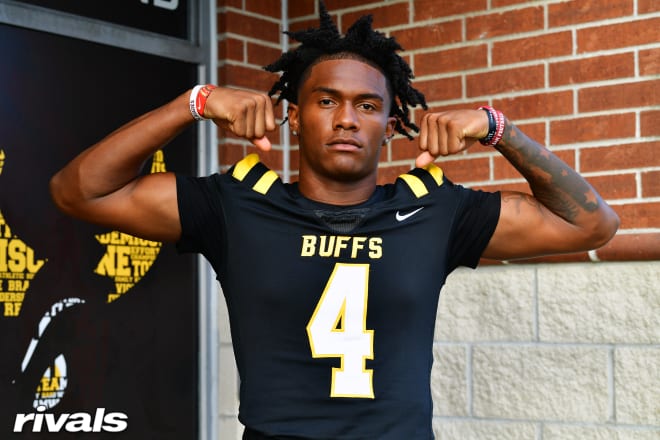 MARSHALL INCHING CLOSER TO FINISH LINE
Alabama wide receivers coach Holmon Wiggins was in the Missouri City area on Friday making visits to several schools, notably Fort Bend (Texas) Marshall, home to Rivals250 wideout Chris Marshall. Wiggins also attended Marshall's Homecoming game in addition to stopping by Ridge Point and Langham Creek.
Over the weekend, Marshall named USC, Texas A&M and Alabama as finalists and a decision is expected soon. My FutureCast is on the Aggies, but a visit to Tuscaloosa this weekend adds some intrigue into the equation.
A note on Ja'Koby Banks: The do-it-all athlete under center for Marshall took a visit to Baylor over the weekend. He'll likely get back to Texas A&M and possibly Texas Tech and Pitt before the end of the season. Banks is a projected slot receiver that could also play defensive back. Don't be surprised to see more in-state teams offer in short time.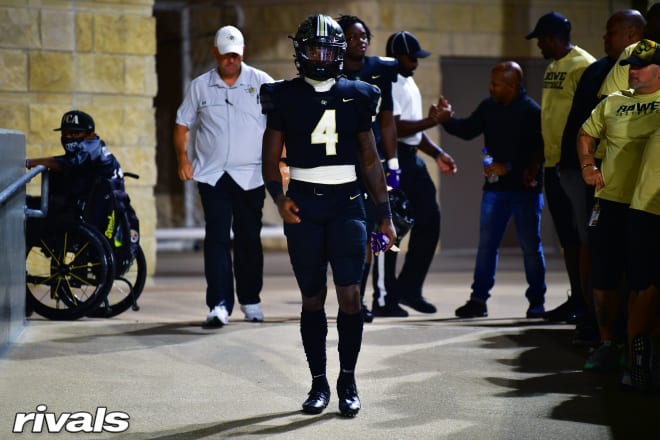 PERKINS IN RARE FORM
Harold Perkins remains one of the more polarizing recruits in this 2022 class and his recruitment is as riveting as his play-style. Playing in a variety of different positions for Cy-Park -- from a single-high safety to wing-back to receiver -- and wherever he lines up he takes over the game.
Perkins plays downhill and takes direct paths to the ball. He has straight-line speed to patrol sideline to sideline and cover ground from anywhere on the field in a hurry. He's well put-together at 6-foot-3 and over 200 pounds now. He hits with authority, notched a sack, a touchdown reception, ripped the football loose and also corralled an interception in the fourth quarter. The Rivals100 linebacker is squarely in the five-star conversation.
Texas A&M has been the team in pole position for some time, but Perkins has made a handful of visits to Austin as a result of his strong connection with Jeff Banks and NIL potential. His Louisiana ties have kept LSU in the picture despite the drama. He'll return to College Station this weekend for the South Carolina contest.
A note on Conner Weigman: The Rivals100 quarterback played on a snap count in this crosstown district showdown after injuring his right hamstring a few weeks earlier. Weigman looked sharp in warm-ups and roamed the sidelines for much of the first quarter and second half of the game. Weigman is fiery and competitive, a quiet storm frustrated by the circumstances.
In talking to those around the quarterback, many feel that he'll have a chance to compete for the stating gig as early as this spring. Weigman is the highest-ranked signal-caller Jimbo Fisher has landed since arriving at Texas A&M.
A note on Jarra Anderson: The district Defensive Newcomer of the Year as a sophomore, Anderson has elevated his game as a junior. Facing double-teams, Anderson was able to crash in a hurry off the edge and closed quickly on some quarterback pressures, including a sack of Weigman. Kansas State is an early offer, but more will begin to flood in.
LOTS OF EYES ON BIG-PLAY PETTAWAY
Rivals100 junior wideout Jaquaize Pettaway came away with two catches for 30 yards and a touchdown in Langham Creek's lopsided Saturday matinee. Both of Pettaway's receptions spanned 15 yards -- one coming as he found a hole in the zone and held on through traffic and the other in which he won in 1-on-1 coverage on a slant to the end zone for an easy six.
Pettaway also returned a punt down the sideline after reversing course and beating a host of defenders to position his offense right by the goal line. At 5-foot-11 and 170 pounds, he's explosive with profound speed and also an effective blocker. With more volume, Pettaway could put up even bigger numbers.
Alabama's Wiggins visited Langham Creek the Friday before and Pettaway sported crimson gloves the following game. He has yet to visit a college campus this fall due to a host of other responsibilities, but Alabama, Texas and Texas A&M are squarely on his short list.
FIVE-STAR DEWBERRY
A month after an in-person eval vs. Denton Guyer, five-star offensive lineman Kam Dewberry regained form. He didn't blink in pass sets and came through with some of the biggest blocks in the run game in Atascocita's win over C.E. King., including a knockdown while pulling on one of the decisive touchdowns late in the second quarter.
Dewberry had multiple knockdowns on the move and was able to reach the second layer of the defense on occasion. He was sound in pass pro and quietly came up with some key blocks to help chip defenders on some quarterback runs.
The Oklahoma official visit is still sitting well with Dewberry, but Texas and Texas A&M are also still in pursuit along with the Buckeyes. Texas could edge out Alabama for Dewberry's final official visit, which would certainly be noteworthy. That decision will be made in the near future as he moves closer to a decision.
A note on Chase Sowell: Sowell was among the top performers during an in-person eval a month ago. He continues to make plays -- able to quickly get open and operate well outside the numbers. He has good size and is a dual-sport athlete. UTSA offered, but Texas A&M could get in this late.
A note on Zion Brown: The 2024 quarterback filling in for Atascocita showed very well in a big-game setting. He's a fantastic athlete with a big arm to sling the rock downfield. Look out.
A note on Dylan Spencer: The Rivals250 defensive end missed the first half of action and was able to generate some pressures in the second half playing catch-up. Spencer is long (6-foot-5, 240 pounds) and disruptive off the edge -- forcing some incompletions -- in a small sample size. LSU and Texas are teams to watch for this high-upside edge-rusher.
A note on Van Wells: The Louisiana commitment has continued to flourish as a center. Wells blocked effectively out in space and was able to impact multiple defenders. A source noted Power 5 schools are taking notice, including Florida State.