Spiegelman: Takeaways from games in Texas, Louisiana
We're fully into the high school season. That's apparent from the weather and the intensity of the gams on the field.
Over the weekend, Rivals was on hand for big-time prep matchups in East Texas, Dallas and New Orleans, which featured double-digit recruits ranked inside the Rivals250 for the 2022 and 2023 cycles as well as commitments from Mississippi State, Texas A&M, Colorado, Louisiana-Lafayette, North Texas, Texas and Texas Tech.
Here are Rivals National Recruiting Analyst Sam Spiegelman's thoughts from the slate:
ALLEN at TYLER LEGACY
Rivals made the forward move to shift five-star Allen (Texas) defensive lineman David Hicks Jr. to No. 3 overall ahead of the season. Note the purposeful usage of "lineman" as opposed to end or tackle, as Hicks is a versatile piece used everywhere up front by Allen to generate pressure and create havoc in the backfield and absorb attention from multiple blockers.
Hicks won 1-on-1 and won battles with multiple linemen en route to a sack of Tyler Legacy's quarterback and sliced double-teams for multiple tackles for loss throughout the contest. He made a return visit to College Station over the weekend and named the Aggies as one of a handful of schools in daily contact with him and delivering on what he labeled as priority treatment. Oklahoma, Texas, LSU and Ohio State are also involved.
Allen brings 2024 edge-rusher ZIna Umeozulu onto the field on pass-rush downs. The younger brother of Rivals250 offensive lineman Neto Umeozulu, Zina is 6-foot-4 and 200-plus pounds and dripping with potential. He's explosive off the line and generates pressure routinely and is twitchy enough to make sharp cuts to the ball-carrier. He's landed offers from Florida, LSU and USC, among others, early on.
Colorado-bound wide receiver Jordyn Tyson is a long, athletic pass-catcher with the ability to make plays in the middle of the field. He was tough absorbing contact between the hashes and showcased outstanding feed on catches in the end zone. Tyson also impressed with his ball control and playmaking ability in open space, which yielded 169 receiving yards.
Texas head coach Steve Sarkisian and defensive coordinator Pete Kwiatkowski were on sidelines at Rose Stadium in East Texas watching Rivals250 running back Jamarion Miller, a Longhorns commitment, and Rivals100 defensive end Jordan Renaud. Miller and his backfield counterpart Bryson Donnell, a Texas Tech pledge, both impressed.
Miller set a school record, becoming just the second player to ever eclipse 4,000 career rushing yards. He did so on his best run of the night -- breaking two tackles before evading a defender and bouncing what turned into a 40-yard gain. Donnell accounted for four touchdowns, a big-play specialist who's smooth, shifty and tough enough to break tackles and covert on short-yardage downs. Renaud came close on a handful of pressures and did manage a few stops in the flats and showcasing his speed to patrol to the sidelines. He plays a lot like former Sooner Ronnie Perkins.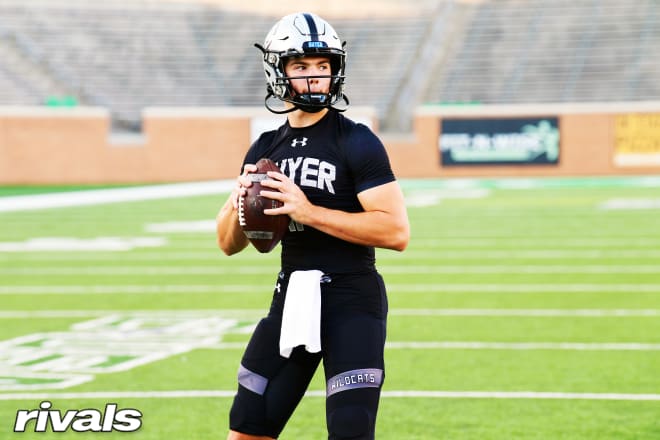 HUMBLE ATASCOCITA at DENTON GUYER
Jackson Arnold is quickly earning a reputation as a big-game quarterback for Denton (Texas) Guyer. After stepping in for an injured Eli Stowers in the state championship game as a freshman in 2019, Arnold has lifted his team to signature victories over recent Class 5A state champion and crosstown rival Ryan and now Houston-area power Atascocita.
In a balanced attack, Arnold is a quick and calculated decision-maker. He maintains a strong presence in the pocket and gets the ball off promptly and can thread the needle when needed to. Arnold is mobile and can extend and create plays with his legs, which he did in the red zone. He's also a talented, accurate deep-ball passer, and will rank among the top signal-callers from Texas for the 2023 class along with Southlake Carroll's Kaden Anderson. Ole Miss and Penn State have made Arnold a top priority in their 2023 classes. TCU and Notre Dame are also heavily engaged.
Defensively, Rivals100 cornerback Ryan Yaites was an underclassman who impressed this offseason and debuted as the nation's No. 6-ranked corner. He was challenged downfield by the Atascocita wide receivers on multiple occasions, able to go stride-for-stride and take away the deep ball. He's quick and crafty and closes well and isn't shy about tackling.
Future North Texas linebacker Vincent Paige played under the lights in Apogee Stadium and gave the coaches in attendance plenty to look forward to. Paige impressed as a coverage linebacker each of the last two offseasons and did so again in this contest. He's a high-motor defender that forced a fumble in the opening quarter and returned a kickoff for positive yardage.
Rivals100 safety Peyton Bowen was sharp as a center-fielder and covers a ton of real estate at the back end of the Guyer defense. His younger brother, 2024 defensive back Eli Bowen, came up with an interception on the opening series. Colorado was the first to offer the younger Bowen.
Playing through an ankle sprain, Kam Dewberry was unable to initiate the get-off he's accustomed to. Still, the five-star tackle was powerful enough to seal blocks and move defenders off the ball if engaged.Hhe's a ton-setter for the offense -- a smash-mouth blocker that didn't miss a snap despite the injury. Dewberry is a proficient pass protector and saw a mixed bags of blitzers from a talented Guyer defense.
After playing in Denton, Dewberry officially visited Oklahoma after seeing a good dose of the Sooners right before the CoVid-19 dead period. The five-star lineman called the return trip to Norman a "game-changer."
Also, a new profile was created for 2022 wide receiver Chase Sowell. The 6-foot-1, 185-pounder is a long pass-catcher who's dangerous with the rock in his hands and consistently battles for the ball. UTSA threw an early offer to the senior sleeper with upside and Sowell, who's also a standout baseball player, officially visited Indiana last weekend.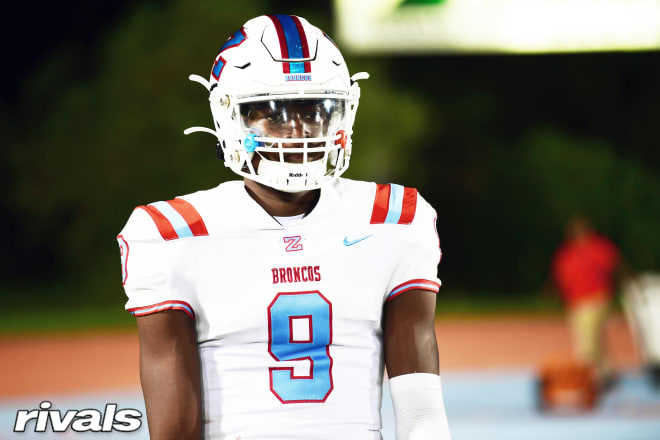 ZACHARY at ST. AUGUSTINE
Rivals100 quarterback Eli Holstein is continuing to take his game to new heights in the early portion of his junior season at Zachary (La.). Through three games, Holstein has completed 75-percent of his passes to the tune of nine touchdowns and three more on the ground.
During a back-and-forth tilt on the road against a strong St. Augustine defense, Holstein came up with timely throws on third down while also challenging downfield. He throws accurately on the move and showing toughness from the pocket. The Texas A&M commitment has played with conviction and also earned his team a few first downs with his legs up the middle.
Rivals250 safety Kylin Jackson is an enforcer on the back end of the Zachary defense and racked up double-digit tackles covering a ton of ground from sideline to sideline. Jackson had a strong showing this offseason in an array of settings in coverage. Texas A&M has made a strong impression on the four-star defensive back and Tennessee is also involved. LSU has been in heavy talks with Jackson since Sept. 1 and could be close to offering, too.
Louisiana-Lafayette wide receiver commitment Charles Robertson impressed as a polished route-runner with reliable hands. Just under 6-feet, he's shifty and dangerous with the ball in his hands. His teammate, 2022 all-purpose back Connor Wisham, scored three touchdowns from 50, 40 and 90 yards out on a run, screen pass and kickoff return, respectively. He only has one offer right now.
New Rivals profiles were created for 2023 Zachary defensive linemen Ashley Williams Jr. and Landen Thomas. Williams plays on the edge and impressed in spurts. Thomas, a converted running back, also made a tackle for loss and helped vs. the run.
Kyran Bourda, a 2023 defensive tackle, made his New Orleans (La.) St. Augustine debut with a statement performance. The 6-foot-4, 285-pounder is used primarily inside and occasionally over the tackle with the ability to handle double-teams and consistently impact the play. Bourda exploded for a handful of tackles behind the line of scrimmage, quarterback pressures and two sacks. He plays downhill and closes in a hurry.
Louisiana-Lafayette, Georgia and Florida offered Bourda prior to his junior season but more will certainly begin to flood in as film gets around. After an in-person evaluation, Bourda projects to be the top defensive lineman in The Boot for the 2023 cycle.
Mississippi State offensive tackle commitment Cam East is an anchor up front and appears to have added some more weight to his 6-foot-6, 270-plus-pound frame. East was a bully at times, physical paving running lanes and sure in pass-pro. Ole Miss offered the Bulldogs pledge on Monday.
Keep an eye out for 2022 safety Donald Johnson Jr.. The 6-foot, 190-pounder is a hybrid defender that excelled in coverage over the middle with active hands and quick instincts. He also flies to the ball in space and plays with a propensity for hit-stick tackles.