RCS Dallas: Prospects playing their way onto recruiting radar
A long and lengthy receiver that pairs his size with focused athleticism, Allen (Texas) 2024 wide receiver Stanley Okpulor made multiple impressive grabs throughout the day, including in the Showcase session. Okpulor will catch the eyes of college coaches when they make their rounds at Allen this spring, and a recruiting rise could soon follow.
*****
A last-minute addition to the camp, Katy (Texas) 2023 cornerback Ky Guillory took advantage of his opportunity and performed as one of the best defensive backs in attendance. Matching up against receivers and bigger tight ends, Guillory held his own and limited receptions. Guillory was able to walk away with a Gold Ball at the end of his solid performance.
*****
Clear Springs (Texas) athletic edge rusher Serigne Tounkara showed that athleticism on Sunday morning and proved why he is one of the best kept secrets in Texas. However, that secret is starting to leak as the 6-foot-3, 240-pound strongside defensive lineman has since picked up offers from Ole Miss and SMU since his eye-catching performance at RCS Dallas.
*****
A lengthy receiver that is coming off a state championship win in 2021, Katy (Texas) Paetow's Justin Stevenson is rarely held in check and that proved to be the case once again at RCS Dallas. In what was one of his better performances of the offseason, Stevenson used his length to go up over defenders and his smooth route-running to create separation. Currently at zero offers, Stevenson is past due for a recruiting rise.
*****
The only 2025 prospect on this list, Allen (Texas) tight end Davon Mitchell is more than deserving. His ideal frame paired with adept athleticism makes him a very intriguing prospect in the current freshman class, especially given the fact that he will develop at one of the strongest 6A programs in the state of Texas.
He made his presence felt on Sunday against older competition and earned his way into the Showcase.
*****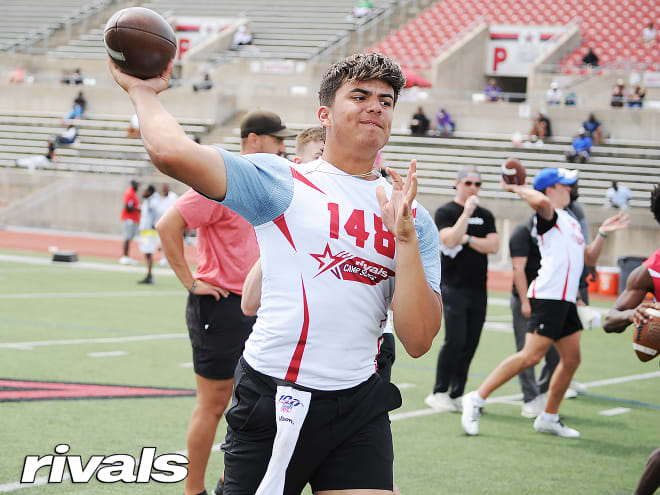 While Midland (Texas) Legacy 2024 quarterback Marcos Davila has been on the radar of colleges and recruiting analysts since he was a freshman, the West Texas gunslinger is starting to really put it together after back-to-back strong performances at the Elite 11 earlier this offseason and RCS Dallas on Sunday.
Schools are beginning to pull the trigger as he is now up to five offers with major Power Five programs starting to show interest as well.
*****
It's a talent-rich class in the Houston area at the tight end position, and Houston Strake Jesuit's Chico Holt may have been one that had previously fallen through the cracks before this offseason. However, Holt has had consecutive big camp performances that have earned him a total of 13 offers moving deeper into the spring.
His big frame is not a sacrifice for athleticism as he can route-run with the best of defensive backs, and his strong hands make him difficult to defend.
*****
The star of the show in the morning session was none other than South Oak Cliff (Texas) 2023 offensive lineman Brione Brooks, also known as "Big Bubba." His ox-strong upper half forced defensive linemen off the line of scrimmage in the wrong direction on almost every rep that he took, including against solidified Power Five prospects.
Brooks was able to walk home with a Gold Ball and has since earned an offer from Jackson State to bring his offer total to four.
*****
Another strong upper half that translates on the interior offensive line, Houston Heights 2024 offensive lineman Frank Moss impressed for the second camp in a row after earning MVP status at the Texas Exposure Camp in March.
He's quick off the line and has solid lateral movement to keep athletic pass rushers in front of him. His efforts earned him an invite to the Rivals Underclassman Challenge.
*****
Another invitee to the Rivals Underclassman Challenge, Lumberton (Texas) outside linebacker Brock Jackson continues to quietly rise on the recruiting trail. Having already notched three offers, more could be on the way after an eye-catching performance on Sunday.
*****