Quarterbacks staying on the move in the transfer portal era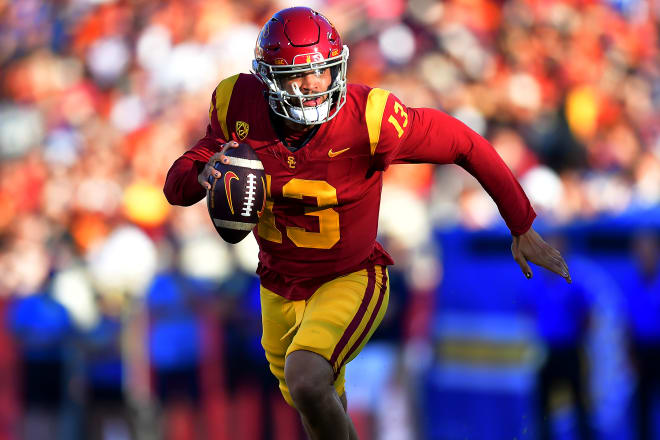 Transfer quarterbacks have taken over college football and if it's taught fans one thing it's this: Don't get too attached.
Of the 69 schools playing Power Five football this season, only 26 of them have expected starting quarterbacks that began their college careers at that program.
That means 43 transfer QBs should start this season, which is just an astronomical number because only a few years ago it seemed taboo to leave for another program. Now, 62% of Power Five starters are coming from somewhere else.
The transfer portal has popped open this tube of toothpaste and one cannot get the Crest back in. This could be the new norm – players bouncing around, finding "better" fits, looking for another opportunity.
It could have profound consequences on the sport. It already does in recruiting, and managing the quarterback room for these coaching staffs is an unenviable position to be in.
Off the record, coaches gripe about it all the time, yet a vast majority of them pursue transfer quarterbacks and seem to realize it's now the way of the college football world.
There are heavyweight programs that have quarterbacks who committed and signed at that school who are expected to be the starters, such as Alabama, Clemson, Georgia, Michigan, Ohio State, Penn State, Texas A&M and others.
But there are plenty of big-time teams as well who have welcomed or will bring in transfers this year, including Auburn, Florida, Florida State, LSU, Notre Dame, Oklahoma, Oregon, Tennessee, Texas and a whole bunch more.
There doesn't seem to be a correlation to success and whether or not your team's quarterback has been in the program for years or not.
The last Heisman Trophy winner, Caleb Williams, transferred from Oklahoma to USC when coach Lincoln Riley took the Trojans job. Prior to that, Heisman winners Bryce Young and (WR) DeVonta Smith signed with Alabama and stayed there.
But before those two, Joe Burrow, Kyler Murray and Baker Mayfield were not only Heisman Trophy winners but were back-to-back-to-back No. 1 NFL Draft picks. Transfer quarterbacks can be wildly successful or total duds or somewhere in between. It's a cottage industry all its own.
No conference is unscathed from the moving around of quarterback musical chairs, either, some in a striking way.
Ten of the 12 teams in the Pac-12 have transfer quarterbacks, with only Stanford and Arizona State not joining that list. There are nine transfer QBs in the Big 12, eight in both the ACC and Big Ten and seven in the SEC – the one category where that conference doesn't dominate in college football. The 43rd member of this group is Notre Dame, which brought in Wake Forest transfer Sam Hartman this offseason to run the show.
That means at least half of all quarterbacks in each conference – and in most cases well more than half – are transfers.
The 26 Power Five schools expected to start a quarterback who's not a transfer are Alabama, Arizona State, Arkansas, Baylor, Boston College, Clemson, Duke, Georgia, Iowa State, Kansas, Kansas State, Miami, Michigan, Michigan State, Minnesota, Missouri, Mississippi State, North Carolina, Ohio State, Penn State, Rutgers, Stanford, Texas A&M, Vanderbilt, Wake Forest and West Virginia.
As for quarterback recruiting, excitement over new commits and all that goes with that, fans have a better chance looking at the transfer portal and not getting too connected, too fast.
Before you know it, the majority of starting quarterbacks are looking for a second home.