One vs. One: Comparing top OL from 2016, 2017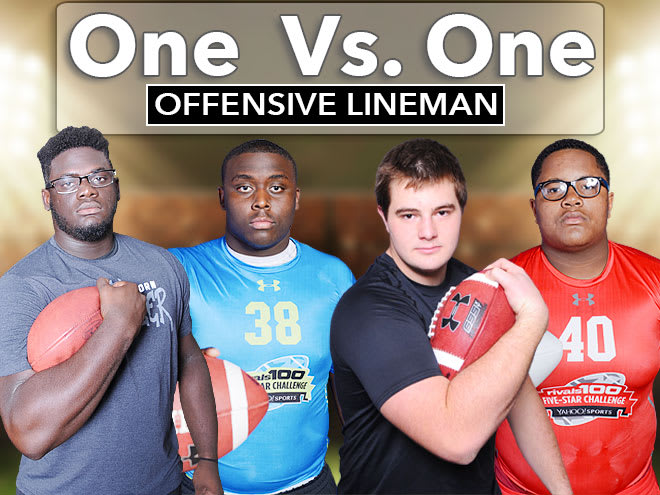 Mark Pszonak contributed to this report.
With Signing Day in the rear-view mirror and our national rankings shut down, we thought it would be fun to compare the top players at their position in 2016 to the top players at their position in 2017.
Today we look at the offensive line.
MORE ONE VS. ONE: Quarterbacks | Running Backs | Wide Receivers/Tight Ends
OFFENSIVE TACKLE: Gregory Little ('16) vs. Alex Leatherwood ('17)
The skinny: Little was initially committed to Texas A&M, but re-opened his recruitment before his senior season. He eventually signed with Ole Miss after considering offers from LSU, Auburn and Alabama. Following the departure of Laremy Tunsil, Little slid right in at tackle and impressed as a true freshman on the Rebels' offensive line. Leatherwood committed to Alabama before his junior year of high school and never really wavered despite a pair of unofficial visits to Auburn and Florida.
Farrell's take: This is a tough one because both players are ultra-talented, but I like Little's footwork and overall athleticism a bit better. Leatherwood has improved in those areas, but Little is a natural. He might not get as much national attention at Ole Miss, but Little should have a slightly better career.
Farrell's verdict: Little

OFFENSIVE GUARD: Landon Dickerson ('16) vs. Wyatt Davis ('17)
The skinny: Dickerson took official visits to Florida State, Tennessee, Florida, Alabama and Auburn before committing to the Seminoles on Signing Day. Dickerson showed a great deal of promise during the early stages of the 2016 season, but an ACL injury in early November cut his season short. At this point, Dickerson is on pace to be healthy enough to participate in the Seminoles' preseason camp. Davis emerged onto Ohio State's recruiting radar in the spring of his junior year and surprisingly committed once the Buckeyes offered.
Farrell's take: Dickerson came out of nowhere the spring before his senior year and improved his technique and footwork but was inconsistent overall, while Davis has been elite from start to finish. Dickerson's conditioning is a bit better and his motor is a tad stronger but when it comes to the combination of power, footwork and ability to naturally run and pass block, Davis is the guy.
Farrell's verdict: Davis

CENTER: Baveon Johnson ('16) vs. Cesar Ruiz ('17)
The skinny: Johnson committed to Florida State after his junior season. The only real drama with his recruitment was an official visit to Alabama in January, but any questions about his status were squashed the following weekend when he officially visited Tallahassee. Johnson redshirted in 2016 and will battle returning starter Alec Eberle for playing time at center this season. Ruiz, an early enrollee, committed to Michigan after his senior season over offers from North Carolina, Florida, Auburn and Oklahoma.
Farrell's take: I liked Johnson quite a bit throughout the process and he was stout and tough to move, but Ruiz is a bit more special. He's not quite as massive as Johnson but he's just as powerful, has better athleticism and handles multiple linemen better. Ruiz is just a natural at the center position, while Johnson was a bit raw at times. It helps that Ruiz played the position specifically for so long in high school.
Farrell's verdict: Ruiz