One vs. One - Comparing top RBs from 2016, 2017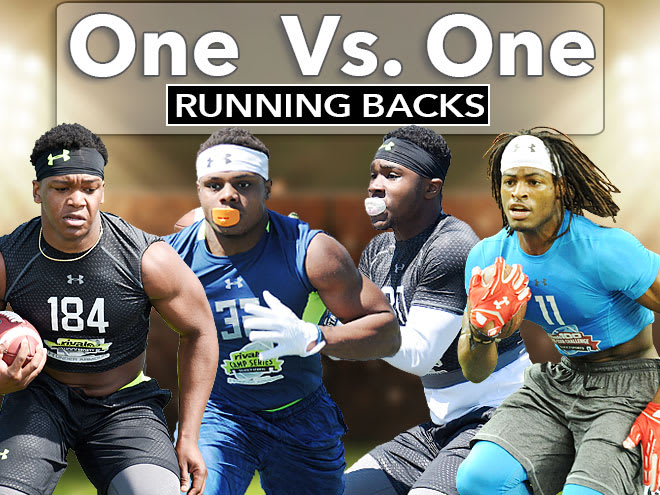 Mark Pszonak contributed to this report.

With Signing Day in the rearview mirror and our national rankings shut down, we thought it would be fun to compare the top players at their position in 2016 to the top players at their position in 2017.
Today we look at the running backs.
RELATED: One vs. One, quarterbacks
RUNNING BACKS - B.J. Emmons ('16) vs. Najee Harris ('17)
The skinny: Emmons, who originally committed to Georgia before re-opening his process, committed to Alabama during the summer leading up to his senior season and never wavered on his word. At the time of his commitment to the Tide, Tennessee was the school who posed the most serious threat. Despite a loaded backfield, Emmons still managed to accumulate 35 carries for 173 yards and one touchdown. It will be interesting to see how much playing time he will receive in 2017. Harris was a longtime Alabama commitment who flirted with Michigan before ultimately landing in Tuscaloosa, where he will join Emmons.
Farrell's take: The battle of two future teammates isn't a close one, at least when it comes to ceiling out of high school. While I liked Emmons a lot and he pushed for a fifth star at one point, Harris is the best running back I've seen when it comes to all the tools and facets of the game since Adrian Peterson. What's interesting is that Emmons, with his head start in the system, could keep Harris from impacting as early as expected.
Farrell's verdict: Harris

ALL-PURPOSE BACKS - Miles Sanders ('16) vs. Khalan Laborn ('17)
The skinny: Sanders committed to Penn State during the summer leading up to his junior season and stayed firm with his word throughout, despite originally planning an official visit to Michigan State in January that he eventually cancelled. Sanders saw extensive time returning kickoffs, plus also totaled 184 yards on the ground and 24 yards through the air during his freshman season.

Farrell's take: While Laborn is a five-star, this isn't as easy as you'd think because I loved Sanders out of high school and he was a better natural receiver. However, Laborn has that special ability to make something out of nothing, charge and reverse direction with amazing speed and he turns the corner as well as anyone in the last few years. It's a close one, but Laborn earned that fifth star for a reason.
Farrell's verdict: Laborn