NFL Draft: Top 10 players picked who were two-stars or below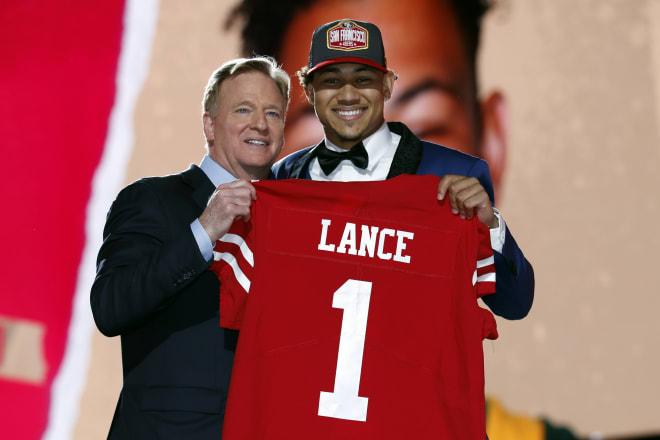 1. QB Trey Lance, North Dakota State  
Lance had an awkward sidearm release back in the day, but he developed into an elite quarterback at the FCS level.
*****
2. LB Zaven Collins, Tulsa  
Collins was a massive athlete who was a tweener in high school and developed well as a linebacker at Tulsa.
*****
3. DE Payton Turner, Houston  
A raw edge, Turner didn't garner a ton of attention in high school and as a Group of Five recruit it allowed him to gain experience and develop.
*****
4. RB Javonte Williams, North Carolina   
Williams was projected as a safety because he was so physical, but he wasn't great in coverage. He switched his focus to running back in college.
*****
5. DB Richie Grant, UCF  
Grant was overlooked despite solid size and his length, but later on he became known as a big hitter.
*****
6. OT Dillon Radunz, North Dakota State  
Another FCS star, Radunz got noticed while working to protect Lance.
*****
7. WR D'Wayne Eskridge, Western Michigan  
A MAC-level recruit, Eskridge took his game to the next level in college.
*****
8. QB Kyle Trask, Florida  
Trask, as we all know, was a backup to D'Eriq King in high school, so there was no way to rank him higher.
*****
9. OT Brady Christensen, BYU  
Christensen went from a regional recruit to an NFL prospect at BYU.
*****
10. DL Milton Williams, Louisiana Tech  
Williams was not heavily recruited but he always had size and power.