NFL Draft: The top 10 three-stars selected in 2021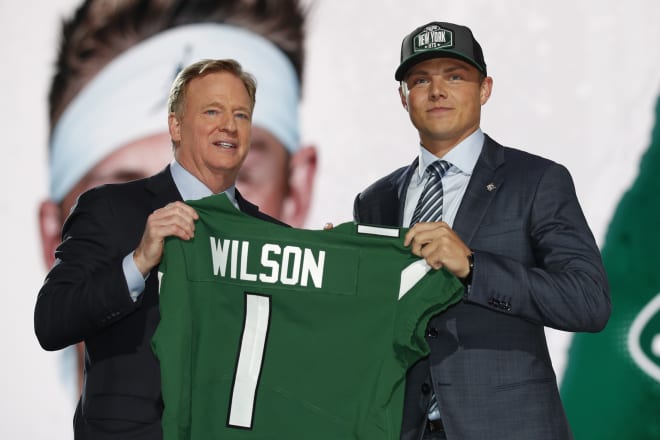 1. QB Zach Wilson, BYU
We had Wilson as a three-star back in 2018 out of Utah who was thin and had an average arm. He obviously progressed.
*****
2. OL Rashawn Slater, Northwestern   
Slater was a road grader, but not close to the athlete you see today as he had some bad weight on him.
*****
3. LB Jamin Davis, Kentucky  
Davis was an undersized linebacker who weighed less than 190 pounds back in high school. He grew 2 inches, added weight and became a freak.
*****
4. WR Kadarius Toney, Florida
We had Toney as a three-star athlete back in the day. He played quarterback and ran the ball a lot, but we didn't see these receiving skills.
*****
5. DE Kwity Paye, Michigan
Paye was a raw pass rusher out of Rhode Island we got to see at Under Armour, and he still didn't crack the four-star ranks.
*****
6. RB Travis Etienne, Clemson  
Etienne was a high three-star out of Louisiana that LSU slow played, but we had a feeling his potential could be higher.
*****
7. CB Greg Newsome, Northwestern
Newsome was at IMG Academy and we still had him as a three-star playing with all those other four- and five-stars. That's a miss.
*****
8. CB Eric Stokes, Georgia  
Stokes had speed but he wasn't really using it as well as he could have in high school, and he focused on offense until his senior year. Defense suits him well.
*****
9. DE Joe Tryon, Washington  
Tryon was a mid-level three-star and a raw edge rusher who was recruited late by Washington and developed into an elite hybrid there.
*****
10. OT Teven Jenkins, Oklahoma State   
Jenkins was a bespectacled and aggressive lineman with average feet and athleticism when we scouted him, but he improved in all areas and became a mauler.