NFL Draft stock report: Quarterback
Ten weeks into the college football season, many college football players have seen their draft stock rise, fall or stay steady. In our latest NFL Draft series, we take a look at some of these prospects.
We begin with the all-important quarterback position.
STOCK UP
Recruiting: Trubisky committed to North Carolina over Tennessee, Michigan State, Ohio State, Cincinnati, Minnesota, Northwestern and others shortly after a visit to Chapel Hill in the spring before his senior season.
Performance: Trubisky is completing more than 70 percent of his passes for 2,707 yards with 19 touchdowns and two interceptions this season. He's also rushed for five scores. Trubisky completed 20 of 32 passes for 329 yards and a touchdowns along with a rushing score in North Carolina's 48-20 win over Georgia Tech this past weekend.
Farrell's take: Trubisky's high school career was epic as he was Mr. Football for Ohio and passed for more than 9,000 career yards. As a mid-range three-star quarterback, we took a lot of abuse from North Carolina fans who felt his high school numbers should have translated to a higher ranking. As a big dual-threat, he could also move around, extend the play and gain yardage when he tucked and ran. He has proven this season, after finally getting the chance to start, that he's smart with the ball and those high school accolades should not have been ignored so much. He's emerging as a potential first-rounder, and it wouldn't stun me to see him continue to rise and move ahead of some of the bigger, more well-known quarterbacks by April.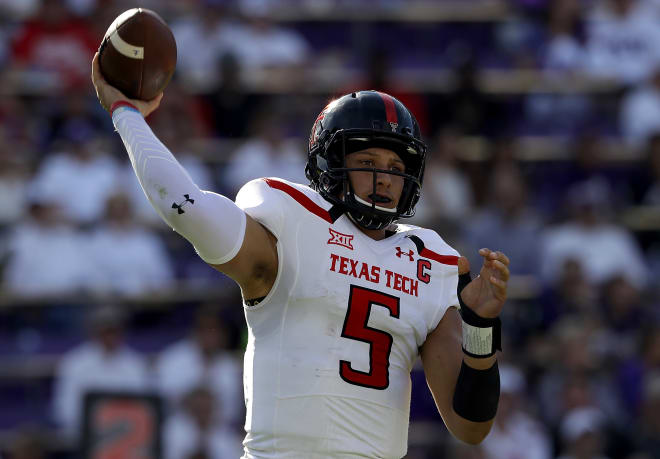 Recruiting: Mahomes was a high three-star prospect who put up big-time numbers in high school. He picked Texas Tech over Houston, Rice and others.
Performance: Mahomes is completing about 67 percent of his passes for 3,886 yards with 31 touchdowns and eight picks. He also leads the Red Raiders with 10 rushing TDs, more than half of Texas Tech's scores on the ground. Mahomes had 367 passing yards with three touchdowns and an interception in Texas Tech's 45-37 loss to Texas this past weekend.
Farrell's take: Mahomes was a big, dual-threat who was in the national top 12 at his position, just shy of a fourth star. We don't base rankings on offers, which is good for Mahomes, who didn't have many despite his amazing numbers in high school. Perhaps we should have seen a bit more from him out of high school as he's out-playing his ranking and is the nation's most productive passer from a yardage standpoint. He has a huge arm, can move around a bit and is likely being labeled as a "system" quarterback only because of the offense Texas Tech runs. Throwing the ball nearly 60 times a game actually hurts him in the eyes of scouts who want to see improved ball handling and how he would be in a balanced offense and who wonder if he's another spread only signal caller. But he could play in any system and he's rising on my list.

STOCK STEADY
Recruiting: Watson committed to Clemson about a year before National Signing Day and stuck with the Tigers despite pressure from many programs. Ohio State, Auburn, LSU, USC, Oregon and Georgia were a few that stayed involved until the end.
Performance: Watson is completing more than 64 percent of his passes for 2,497 yards with 24 touchdowns and 10 picks. He's also has rushed for two scores. After Clemson jumped out to a 30-0 lead over Syracuse this past weekend, Watson was sidelined with a bruised shoulder.
Farrell's take: Watson was a five-star dual-threat out of high school and we were the only site to give him that fifth star. We loved his run-pass ability in high school, obviously, based on his ranking, and he has grown into an excellent decision-maker. More importantly, he has shown how clutch he can be in leading comeback victories and playing his best in the fourth quarter. His character really struck me when he was in high school and it's one of the reasons he'll be coveted as the top quarterback in the draft as well. He's still one of the highest character kids I've ever scouted and the only quarterback I would consider taking No. 1 overall in this draft.

Recruiting: Less than 48 hours after visiting Notre Dame and landing his offer Kizer committed to the Irish. Prior to that offer Kizer had Tennessee, LSU and Alabama as his three favorites, and he was also keeping a close eye on whether Ohio State would offer as well.
Performance: Kizer is completing more than 60 percent of his passes for 2,261 yards with 19 touchdowns and seven interceptions this season. He is also second on the Irish in rushing with 368 yards, and he leads the team with seven rushing touchdowns. Kizer completed 19 of 27 passes for 223 yards and three scores in a 28-27 loss to Navy this weekend.
Farrell's take: Kizer was big and athletic coming out of high school but also very raw, which is why he was a four-star but didn't make our Rivals250. Amazingly, he never did receive an offer from the in-state Buckeyes, as he was clearly a work in progress out of high school, sometimes throwing a perfect ball and other times wobbling it down the field. He was a big boom-or-bust guy to us out of high school, and I can still see some of that at the NFL level. But he has the size, arm strength and ability to move around that will have scouts drooling. I could see someone taking him No. 1 overall or in the top five if they need a quarterback, but I'm less convinced about his ability to win big games than Watson and I'm still skeptical about his NFL potential.
STOCK DOWN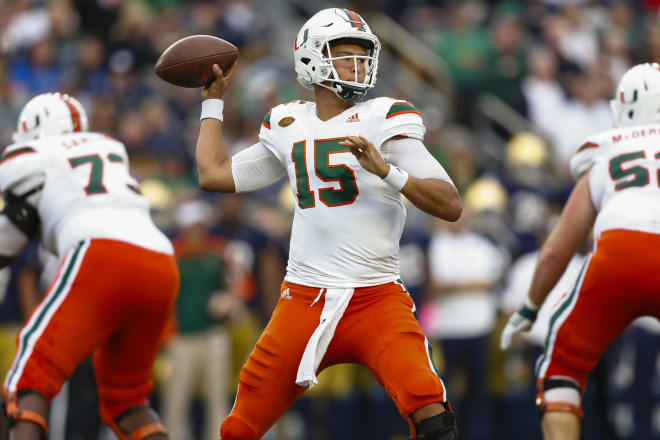 Recruiting: Kaaya committed to Miami in May before his senior season, but a late push by Boise State definitely made things interesting. UCLA and USC also stayed involved for a long time, but in the end it was a two-horse race for Kaaya between the Hurricanes and the Broncos.
Performance: Kaaya is completing just under 63 percent of his passes for 2,340 yards with 17 touchdowns and six interceptions this season. He completed 32 of 47 passes for 356 yards and four scores in a 51-28 win over Pittsburgh this past weekend.
Farrell's take: Kaaya made our Rivals250 and was No. 8 at the pro-style position in 2014, but what has really helped him has been his ability to develop under fire. There had been many reasons to compare Kaaya to last year's No. 1, Jared Goff, out of high school, as both hailed from California, had tall frames that needed filling out quite a bit and were smart decision-makers. But this season has hurt his stock quite a bit. Yes, he's coming off a big game against a weak and banged up Pitt secondary, but what I've seen this season has been less than what I expected. Like Goff, he started as a freshman in college and has taken his lumps, but he hasn't taken that next step of his development like Goff did to earn that No. 1 draft spot. I have never been as high on him as others, whether it was out of high school or now in college, but he's still one of the better pro-style options in this draft. I just don't see it like many others do.

Recruiting: Kelly committed to Clemson over Alabama, Michigan State, Florida State, Purdue and others. In April 2014, Kelly was dismissed from Clemson and later that same year he was arrested following an altercation outside a Buffalo nightclub. He transferred to East Mississippi C.C. and then to Ole Miss.
Performance: Kelly is completing 62.5 percent of his passes for 2,758 yards with 19 touchdowns and eight picks this season, and he's tied for the team lead with five rushing scores. In a 37-27 win over Georgia Southern this past weekend, Kelly completed 16 of 23 passes for 226 yards and a touchdown, and he rushed for two TDs before tearing his ACL in the third quarter. He is out for the season.
Farrell's take: Kelly has been a tough evaluation at two spots, out of high school and then out of JUCO, because he's had so many different off-field issues. That obviously continued this season with the issue at his brother's high school game and his horrible answer about his "swag" being the reason he should be drafted high. His play on the field, to go along with his size, mobility and accuracy, not to mention those bloodlines (he is the nephew of Hall of Fame QB Jim Kelly), make him a potentially special signal-caller. But he's a high-risk pick, even for his play on the field, which can be reckless. He takes chances with the ball, something he has always done with that big arm and gunslinger attitude, and they often work out but sometimes end in disaster. And with Kelly now done for the season with an injury, he'll have even less on field film to overcome his off field issues. He might fall even farther on this list for us and for scouts as the off-field questions mount, but he's clearly a very talented quarterback.