Top NFL Rookies: Nos. 1-4
MORE TOP NFL ROOKIES: Nos. 13-16 | Nos. 9-12 | Nos. 5-8

With the NFL season at its midpoint, it's time to take a look at how the league's top rookies are faring and how far they came since high school. We conclude our rank of the top 16 rookies in the NFL today with Nos. 1-4.
Mark Pszonak contributed to this report.
No. 4 Jack Conklin – Tennessee Titans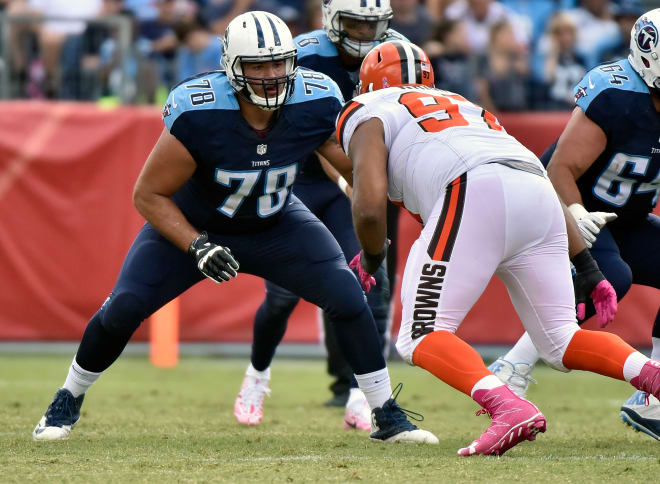 The skinny: Conklin's recruiting process never took off, which led him to walk on at Michigan State. He earned a scholarship after his first season with the Spartans. Selected with the eighth overall pick by Tennessee during the spring, Conklin has performed even better than expected as a rookie. He's solidified the right tackle position and is one of the major reasons that the Titans' rejuvenated running attack has them in the thick of the playoff hunt this season.
Farrell's Take: There was a question about his athleticism coming out of high school. The son of a coach, he was always smart and a leader and was another great find by Michigan State's staff. They did a great job developing him and he's made an easy transition into the NFL as a right tackle.

No. 3 Carson Wentz - North Dakota State
The skinny: Due to an injury that caused him to miss his junior season, Wentz never saw his recruiting process take off. A few FCS offers arrived after he was named the North Dakota 3A Player of the Year, which eventually led to his commitment to North Dakota State. His skillset and potential led him to fly up draft charts last year. He was drafted second overall by Philadelphia and became the opening week starter after Sam Bradford was traded to Minnesota. Wentz has not played like a rookie so far this season, helping the Eagles to a 4-3 start while passing for 1,526 yards, nine touchdowns and only three interceptions.
Farrell's Take: Wentz was an unknown in high school hailing from North Dakota and getting zero interest from almost every program. He had great size and a strong arm. This is a case of a guy who just wasn't found and ended up staying local. However, he didn't always have those measurables as he started his high school career well below 6-foot and was clearly a late bloomer. Now he's being talked about as a future star in the NFL and rightly so. I wasn't as all-in on him as many were, but the way he reads defenses and adjusts plays at the line of scrimmage is well beyond his years.
No. 2 Dak Prescott - Mississippi State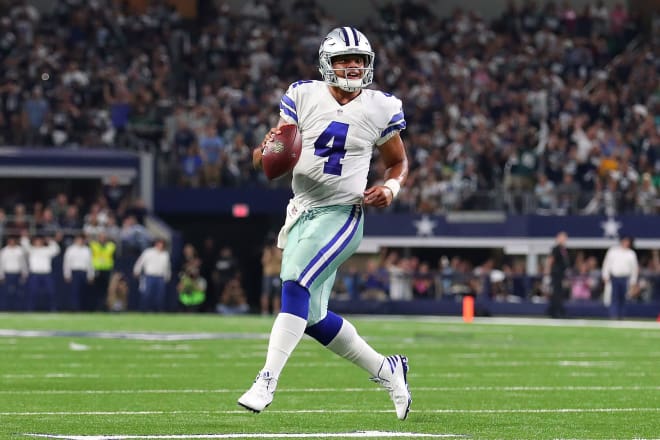 The skinny: Prescott committed to Mississippi State over offers from Memphis and North Texas. However, a late offer from LSU almost turned everything upside down. He did officially visit Baton Rouge, but a subsequent trip to Starkville solidified his commitment to Mississippi State. Despite an impressive career in Starkville, Prescott still slipped into the fourth round of the draft. Thrust into the starting job in Dallas due to Tony Romo's injury, Prescott has been the biggest surprise of the first half of the season. Prescott has thrown for 1,773 yards and nine touchdowns with only two interceptions, and he's added four rushing touchdowns. Prescott has engineered the Cowboys to a 6-1 start.
Farrell's Take: It was hard to see this one coming as Prescott wasn't a major target of many programs and didn't even get the time of day from in-state power LSU until the very end. What we saw was a big dual-threat quarterback who wasn't overly fast but made good decisions on the field and had a good arm. However, he was nothing like the one-time Heisman candidate and now NFL star he has become. Prescott has proven us wrong with our mid-level ranking and has improved in almost every facet of the game.

No. 1 Ezekiel Elliott - Dallas Cowboys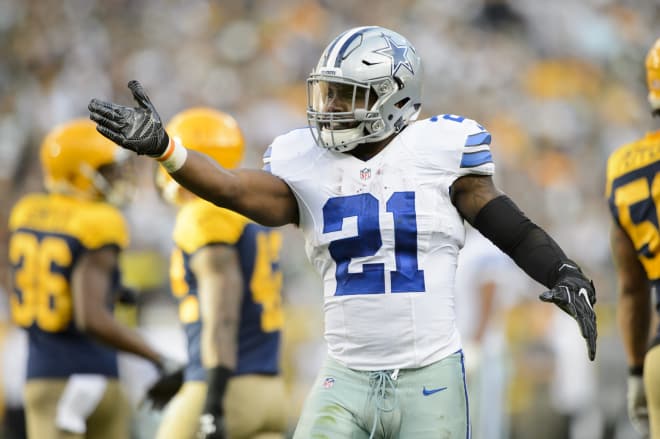 The skinny: Elliott committed to Ohio State in late March after a visit to Columbus. Elliott did take an official visit to Missouri a week before National Signing Day, but still signed with the Buckeyes despite his father having played at Mizzou. Selected with the fourth overall pick by Dallas, a great deal was expected out of Elliott as a rookie, and he has not disappointed. He already has 799 yards and five touchdowns rushing, plus 150 yards receiving, and is on pace to produce one of the top rookie running back seasons ever.
Farrell's Take: I liked this pick while many others felt it was a reach. Elliott was head and shoulders above everyone else on paper at running back in this draft and with the Cowboys' offensive line you could see early stardom. There was no way to see his leap in talent from high school to college, even as a top 100 prospect – he just got so much better and faster upon his arrival in Columbus. We liked him out of high school but there is no way I expected to be talking about him like this a few years later.