Next Up: Comparing LB recruits to college and NFL stars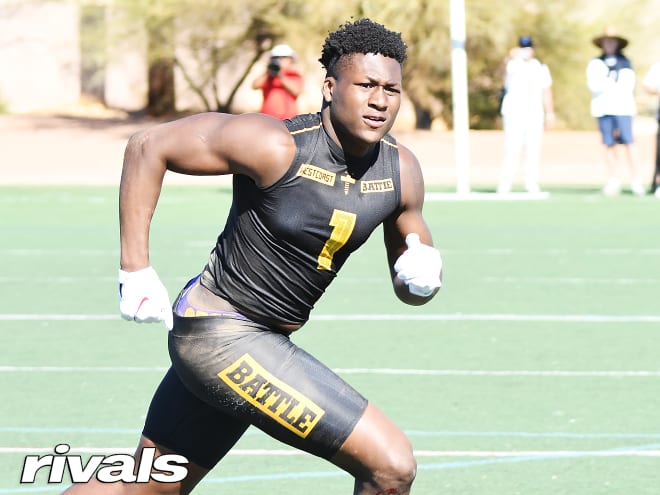 Anthony Hill is the next Trenton Simpson  
Simpson has emerged as arguably the top linebacker to be taken in the next NFL Draft and one reason is because of his versatility. Hill is the same way. The former Texas A&M commit and current No. 1 linebacker from Denton (Texas) Ryan is great in space, he's great in tight spaces, he does a phenomenal job blitzing, filling holes and everything in between.
Simpson might have a little more length than Hill, but the two play similarly and whichever school lands Hill - after backing off his Texas A&M pledge it looks like Texas could land the five-star linebacker - will be getting a top-notch player.
*****
Siale Esera is the next Noah Sewell  
This one could be a bit of a stretch because Sewell is such a special linebacker at his size because of his speed, toughness and playmaking ability. We might not see someone else like him for a while. And it's very likely he is a first-round NFL Draft pick based on his performance at Oregon so far.
But Esera is the closest thing in high school football, and BYU is getting a very talented player. The Provo (Utah) Timpview prospect is about 6-foot-3 and between 250 to 260 pounds, just like Sewell in high school, and he's shockingly fast in coverage and moves well in space. Is anyone like Sewell? Not really. But Esera has many of the same characteristics.
*****
Tackett Curtis is the next Tommy Eichenberg  
Eichenberg is an incredibly productive linebacker for Ohio State, and he leads the Buckeyes by far in tackles with 33 more than anybody else on the team. He's sneaky athletic and just has a nose for the football, gets pressure, wraps people up and he's a physical presence as well that seems to diagnose the play and then get people on the ground.
Curtis, who seriously considered Ohio State before picking USC, is the same way. The Many, La., four-star might even be more physically developed at the same stage. He rallies to the football, racks up tackles and uses physical domination to win.
*****
Raylen Wilson is the next Henry To'oto'o  
Wilson might be more physically developed than To'oto'o at the same stage, but their playing styles are so familiar and they both rack up major tackles because of their speed, vision and playmaking ability.
Wilson, a four-star from Tallahassee (Fla.) Lincoln, can line up inside, outside, off the edge, he tracks players down on the other side of the field and plays with that twitchy athletic ability that's so rare. To'oto'o was the same way out of high school, and he has had a successful career at both Tennessee and Alabama. He wasn't a physical freak out of Concord (Calif.) De La Salle. But he just make plays all the time.
*****
Braylan Shelby is the next Drew Sanders  
There are not many 6-foot-5 linebackers that move like Sanders, but Shelby could be one of them. The USC commit from Friendswood, Texas, does an excellent job of using his size and length to his advantage. He can rush off the edge, he can play in space, he can cover and do everything necessary to have a huge impact from his linebacker spot.
Sanders, who transferred from Alabama to Arkansas and is now shining in the Razorbacks defense, is the same way. Put him anywhere on the field and let him attack the ball carrier and good things are going to happen.