National Signing Day: Biggest stings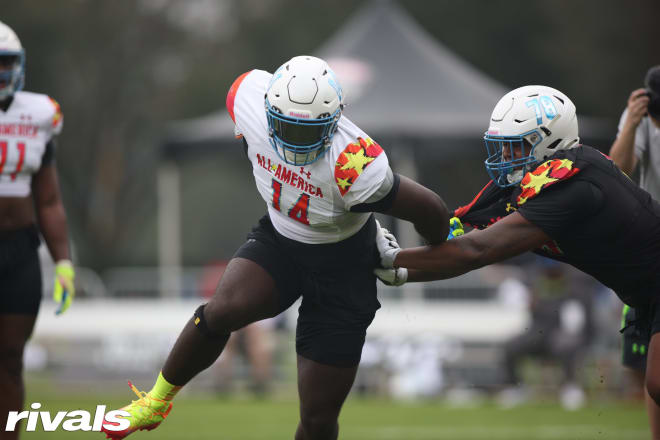 Programs in the mix: Texas A&M, Miami and Georgia
Listing his top three of Georgia, Miami and Texas A&M six days before his announcement, the rumblings were this was a two-team competition between the Aggies and Hurricanes. When it was Stewart's time to make his announcement, he first picked up a Miami hat to cheers from those in attendance, but he quickly extinguished those hopes. Stewart praised his home city of Miami before announcing his commitment to Texas A&M.
Miami fans may be crushed that new head coach Mario Cristobal couldn't keep him local, but A&M has its advantages as a program ready to compete for an SEC and national championship.
Top sting: Miami
*****
Programs in the mix: Georgia, Ohio State, Florida A&M, Miami and Oregon
Scrolling through Miller's social media leading up to his big day, there was a heavy Oregon and Miami presence on his page with a visit to FAMU in the mix. The Ducks got the last big visit the weekend of Jan. 14 and Miami got the in-home mention on his Twitter page. No matter how strong or persuasive the pitches, the Cedar Grove talent was a lock with the national champion Bulldogs.
Mario Cristobal played host to Miller during his first official to Oregon on Nov. 13 and again in Miami on Jan. 28. Two opportunities plus in-home meetings weren't enough to sway him from the in-state powerhouse.
Top sting: Miami
*****
Programs in the mix: Clemson, Texas and Florida
Dudley was a one-time lock with Oregon, but a change in the coaching staff in Eugene opened doors for Texas, Florida and Clemson. Dudley officially visited Texas on June 25, leading many to put the Longhorns as a favorite in February.
Down the stretch official visits were taken to Florida and Clemson, with new Miami head coach Mario Cristobal trying to get into the mix on Dec. 8. Having the last official paid off for Clemson, as it received his signature on Wednesday. Florida and Miami needed him, while Texas put in the extra work trying to get him.
Top sting: Texas
*****
Programs in the mix: Florida, Miami, LSU, Auburn
On Monday, Citizen posted his four top teams of Auburn, LSU, Florida and Miami. Throughout the great state of Louisiana, LSU fans were hoping to get Citizen back on board after he decommitted on Nov. 28. The pressure was on new head coach Brian Kelly to wrap up the Rivals100 running back.
Sticking with a theme, the last to host was Miami, and the Hurricanes landed him. The Hurricanes closed strong, as they landed five 5.9 Rivals four-stars, including Citizen. The Tigers still signed a great class (ranked No. 15 overall), but having Citizen would have made it that much better.
Top sting: LSU
*****
Programs in the mix: Oklahoma and Miami
Days ahead of his announcement, Moten trimmed his list - which had included Iowa State, North Carolina, Tennessee, Oklahoma and Miami - down to the Sooners and Hurricanes.
Showing how important he was to his 2022 class in Norman, new head coach Brent Venables made Moten his first offer. Venables even made an in-home visit at Moten's Miami-area home to further emphasize the desire to have him on the roster this fall.
Cristobal had been recruiting Moten since his time with the Ducks, making it easier to keep the Hurricanes legacy at home for college.
Top sting: Oklahoma
*****
Programs in the mix: Clemson, Florida and Auburn
On Jan. 20, Florida, Auburn and Clemson fans knew there was a chance to land the four-star strongside defensive end. Auburn was happy to be in the mix after a Jan. 16 decommitment.
Five days after walking away from his verbal pledge cast on Aug. 1, he was officially visiting Clemson. The Gators hosted him on his last official visit, but coach Billy Napier and his new staff didn't have enough time to close the deal.
Top sting: Auburn
*****
Programs in the mix: Alabama, Cincinnati, LSU and Florida
Whatever the gut instinct was to not sign early, the patience paid off for Lewis. A verbal commit to Cincinnati on Sept. 6, the tight end decommitted on Jan. 12, taking official visits to Florida, LSU and Alabama.
With LSU seemingly kicking off his late-rising status by dropping an offer on Jan. 12, he decided to skip his in-state option, instead choosing LSU's rival Alabama. It's worth noting that Napier offered Lewis as head coach of the Louisiana Ragin' Cajuns.
Top sting: LSU
*****
Programs in the mix: Florida, South Carolina and Georgia
Lightsey was locked with the Gators, committing on Aug. 16 after his June 1 official visit. Making the trip from Fitzgerald (Ga.), Lightsey was a regular in Gainesville throughout the 2021 season.
The change in the coaching staff in Florida paved a path for the Bulldogs. An official visit to Athens was taken on Jan. 21. The Gamecocks were a last-minute contender. Defensive coordinator Clayton White made an in-home visit with Lightsey, leading to a South Carolina official visit on Jan. 28.
Top sting: Florida
*****
Programs in the mix: Oregon, USC and Miami
Oregon fans have been excited about Florence, a four-star cornerback. The San Diego talent committed to the Ducks on Aug. 12, taking pause on Dec. 9 with the changes on staff in Eugene.
USC made a run at Florence and Cristobal's staff kept on wooing him for an official to Miami on Jan. 14. Oregon coach Dan Lanning was able to get his message through to Florence, and got him back on campus for his last official Jan. 28. USC and Miami couldn't overcome the love for Oregon that was already there.
Top sting: Miami
*****
Programs in the mix: LSU, Florida and Texas A&M
Perkins provided arguably the biggest sting on National Signing Day. The Rivals100 talent verbally committed to A&M on Jan. 2, but he backed off on Jan. 24. Perkins staying in-state seemed like a done deal after all the visits taken to College Station.
After making his commitment during the Under Armour All-American Game, 12 days later he was on Florida's campus for an official visit. Perkins officially visited LSU on Jan. 28.
The Aggies are feeling the sting after believing they had a shot, and the flip to SEC West foe LSU will surely be remembered on the field over the next three to four years.
Top sting: Texas A&M