Midwest Spotlight: Quarterbacks that are flying under-the-radar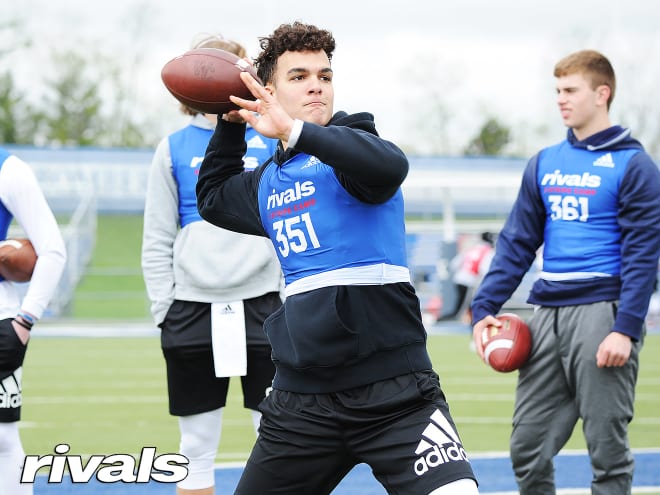 The quarterback position is unique in college football recruiting. Most teams only take one per class, and coaches start scouting the position earlier than all others. That approach means some players fall through the cracks, and it's why you have NFL starters Carson Wentz and Jimmy Garopollo who never received a Power Five offer in high school.
This week we look around the country at under-the-radar quarterbacks, starting in the Midwest region.
Despite playing for one of the most heavily-recruited high school porograms in the Midwest, Dhue-Reid still awaits his first offer. As a junior he completed 66 percent of his passes for 2,856 yards and 35 touchdowns against just four interceptions, and added another five touchdowns on the ground. Dhue-Reid reminds me of Missouri commit Tyler Macon in that he throws a great deep ball, knows how to get the ball from point A to point B, but it doesn't always look pretty.
One of only two quarterbacks currently rated four-stars out of the Midwest in the 2022 class, Harrison offer lists only consists of two FBS programs: Louisville and Toledo. We have had the benefit of evaluating Harrison more times in-person than any college staff, but his in-season performance speaks for itself, including passing for 2,638 yards and 28 touchdowns as a sophomore. Harrison is on the radar from a publicity standpoint, but underrecruited when considering his talent.
Hawley is a prospect who has caught my attention at a couple events in the past year. I first noticed him at the Lindenwood Mega Camp last June, and then again at the All-American Bowl Combine this past January. He has a big arm and spins a beautiful football. The problem is the demand for tall, drop-back passers has dropped off. Twenty years ago I would have expected a prospect like Hawley to have a dozen offers by now, but his only offer to this stage is from an NAIA program.
Like Hawley, Hotzclaw is a tall, strong-armed, drop-back passer, and, also like Hawley, he is having trouble generating interest from college programs. As a junior Holtzclaw threw for over 2,100 yards and 23 touchdowns. He does have a little bit of mobility to him – enough to escape pressure and move the pocket – but is primarily a pro-style quarterback. Holtzclaw does have a scholarship spot in the Ivy League at Penn, but still awaits his first FBS scholarship offer.
It feels like Jackson was on the verge of seeing an offer surge before the recruiting shutdown eliminated the spring evaluation period. Jackson does not have ideal height for the position, but that stigma is being overcome and less of an issue for college coaches. What he does have is whip-quick arm and the quickness and agility that makes him a true dual-threat. Illinois and Akron have offered, but in a normal year I would expect this sophomore's list to be growing by now.
Morgan is one of the highest-rated quarterbacks in the Midwest, but holds just one Power Five football scholarship offer. That is likely a reflection of Morgan's abilities on the baseball diamond, where he has drawn additional Division I offers and could be in line to get drafted next year. For now, Morgan is open to playing either sport at the next level. If he does make a commitment to football, expect more Power Five offers to roll in immediately.
Of all the prospects on this list, Powlus is the one I am most surprised does not have a lengthier offer sheet. The son of a former Notre Dame quarterback by the same name, Powlus won the Quarterback MVP award at the Rivals Camp Series in St. Louis last spring. He has the size, the arm strength and accuracy as well as the bloodlines to be a successful college quarterback. FBS offers have come from Kentucky, Central Michigan and Bowling Green, but Powlus has the talent to play at the highest levels.
There are some quarterbacks who look like they were born to throw a football. That is the case with Taylor, who has some of the cleanest arm mechanics and throws one of the prettiest footballs in the 2021 class. He missed time during his junior season, but was starting to gain some recruiting momentum. Taylor holds offers from four Mid-American Conference programs, and was starting to draw additional interest from Power Five programs before the recruiting shutdown happened.