Midwest Spotlight: Programs that should make noise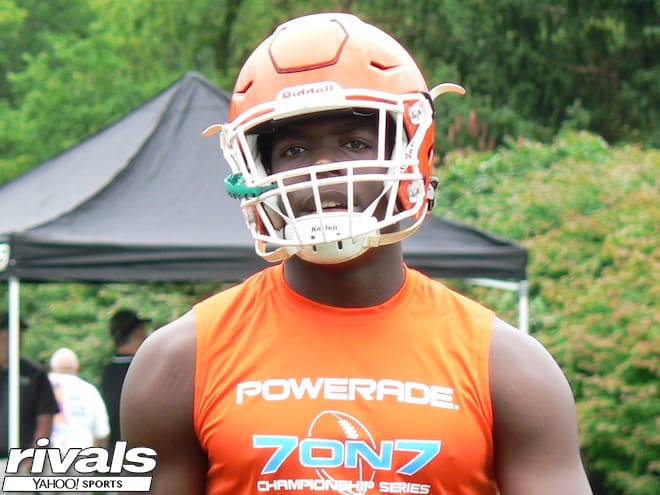 Recruiting is starting to heat up as the college football regular season is coming to an end and the early signing period looms large on the horizon. In the Midwest, schools are jockeying for position with the top remaining targets in the region. Here are five programs we expect to make the most noise in the Midwest over the coming weeks.
TAKE TWO: Will Brohm leave Purdue for Louisville?

MICHIGAN
Coming down the homestretch to the early signing period, Michigan will be involved in several of the biggest recruitments yet to be decided. The biggest and most notable involves Olentangy (Ohio) Orange five-star defensive end Zach Harrison, for whom the Wolverines seem to be building strong momentum with as they contend with their arch-rival Ohio State for his services. A pair of uncommitted four-star offensive linemen – Kansas City's Danielson Ike and Crystal Lake (Ill.) South's Trevor Keegan – list the Wolverines among their top few schools. Michigan also put out a recent offer to another Kansas City-based prospect – athlete Amauri Pesek-Hickson, whom they project to the defensive side of the football.

MICHIGAN STATE
Mark Dantonio is sitting on a solid 2019 class, and will look to make it a strong group in the final weeks before the early signing period opens. The Spartans recently offered Kentucky defensive line commit Cavon Butler out of Toledo. Butler made an unofficial visit to East Lansing in October and has expressed interest in the program going back to the summer. Among uncommitted targets, Michigan State has hosted St. Louis-area defensive end Keith Randolph, in-state defensive end Darius Robinson and Ohio tight end Justin Stephens for visits in recent weeks.

Also, as we noted in our Big Ten's biggest questions feature last week, it feels like the Spartans are on the verge of an offer run that could target some emerging regional prospects.

MISSOURI
Recruiting the home-state talent has not been easy for Missouri head coach Barry Odom during his tenure in Columbia, but 2019 has seen a turn to the positive for the Tigers on that front and their fortunes could continue to increase in the final weeks before the early signing period.

Five of Missouri's commitments in the 2019 class are in-state prospects, and they are solidly in the hunt for top uncommitted St. Louis prospects Jalani Williams, Ira Henry and Shammond Cooper. Williams, a four-star safety, is set to announce his decision on Nov. 17 and Missouri looks like the likely pick. Elsewhere in the Midwest, three-star Michigan defensive end Darius Robinson just took an official visit to Columbia this past weekend after receiving an offer from Missouri last month.

OHIO STATE
In several previous classes, Ohio State has circled back to its home-state and thrown late offers to guys who emerged, or improved, as seniors. This 2019 class has been different, however, with those offers being much more prevalent and likely necessary for Ohio State to meet its needs with this class.

The Buckeyes currently stand at just 15 commitments for 2019, and have issued four offers to in-state prospects in the last six weeks. The first in-state priority remaining in this 2019 class, however, is five-star defensive end Zach Harrison, but the Buckeyes are in a tough fight with their hated rival Michigan, for Harrison's services. Ohio State is also in contention for the next two highest-ranked prospects uncommitted in the Midwest – Indianapolis wide receiver David Bell and Chicagoland offensive lineman Trevor Keegan – but are not considered the favorite to land either.

PURDUE
This 2019 class is already the best in more than a decade for Purdue. Last Friday, the Boilermakers landed four-star Louisville wide receiver Milton Wright, who is the fifth four-star commitment in the class. You have to go back to the 2014 class to find a Purdue class that signed any four-stars, and 2004 was the last time they pulled in a top-25 ranked recruiting class.

Purdue is ranked in the top 25 right now and the potential for this class to get better exists thanks to several big Midwest recruitments they are still in on. Tops on the wish list heading into the early signing period is four-star wide receiver David Bell, the top-ranked prospect in the Boilermakers' home-state. They also have a strong shot at the other remaining uncommitted four-star in-state, Merrillville linebacker Cameron Williams, and are also in the ball game with St. Louis-area defensive end Keith Randolph.