Midseason Farrell 50: Countdown rolls on with Nos. 21-25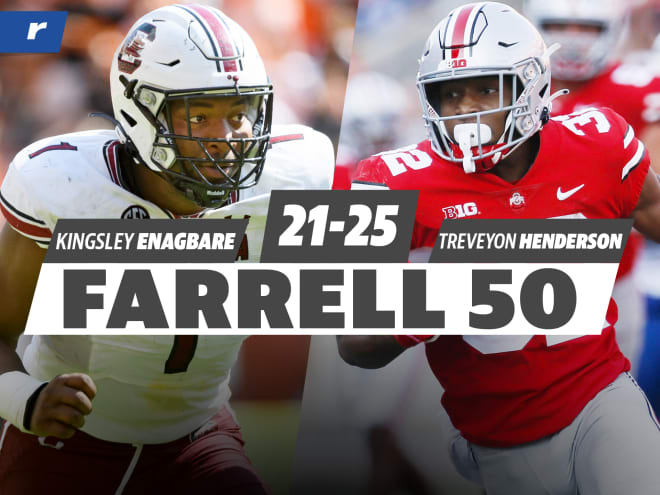 25. RB TreVeyon Henderson, Ohio State   
The skinny: Initially, it was Virginia Tech and Virginia that were the top contenders for Henderson, followed by Ohio State, North Carolina, Michigan, Oklahoma and Texas. With COVID-19 shutting down options for additional visits Henderson committed to the Buckeyes in late March after establishing a strong relationship with the coaching staff.
As a true freshman, Henderson has been electric this season with 612 yards and nine touchdowns while averaging 8.7 yards per carry. He has also added two receiving touchdowns.
Farrell's take: Henderson is the only true freshman to make this list, and his impact has been amazing. He's been as fast as advertised and already making our ranking look too low.
*****
24. OL Tyler Linderbaum, Iowa  
The skinny: Linderbaum only had three offers at the time of his summer decision, but two were in-state programs Iowa and Iowa State. His familiarity with the Hawkeyes helped them pull off the recruiting victory. The preseason All-American has played at the level many expected this fall while leading Iowa and its rushing attack to a fantastic first half of the season.
Farrell's take: A local defensive tackle recruit, Linderbaum brings that defensive mentality to the offensive line. He is the best center in the country.
*****
23. WR Jordan Addison, Pitt  
The skinny: Addison had already taken two unofficial visits to Pittsburgh before taking an official one during the spring. At the conclusion of his visit he committed to the Panthers. Coming off an impressive true freshman season, Addison has continued to improve his game this fall with 34 receptions for 586 yards and nine touchdowns, which leads the ACC and is ranked second in the country.
Farrell's take: A slick receiver out of Maryland, he has been better than expected from the start, and he is easily one of the best and most explosive route runners in the ACC.
*****
22. DL DeMarvin Leal, Texas A&M
The skinny: Texas was considered the frontrunner for Leal, but after taking an official visit to Texas A&M he committed to the Aggies. Coming into the 2021 season with plenty of hype, Leal has not disappointed this fall with 35 tackles, 8.5 tackles for loss and 5.5 sacks for the Aggies.
Farrell's take: As a massive end, Leal has the ability to move inside full time in the NFL or play in a 3-4 or 4-3 scheme. Big men who can move like he does don't last long in the NFL Draft, and he should be a top 10 pick.
*****
21. DE Kingsley Enagbare, South Carolina 
The skinny: Enagbare had been down to Georgia and Georgia Tech, but a visit to South Carolina quickly changed everything as he committed to the Gamecocks a week later. After three productive seasons at South Carolina, Enagbare has raised his level of play this fall with 29 tackles, five tackles for loss, 4.5 sacks, one forced fumble and one fumble recovery through the first seven games.
Farrells take: A late bloomer of sorts in high school, Enagbare got his fourth star late and has just continued to develop. He's now one of the best pass rushers in the country and a potential first rounder.