Midseason Farrell 50: Countdown continues with Nos. 31-35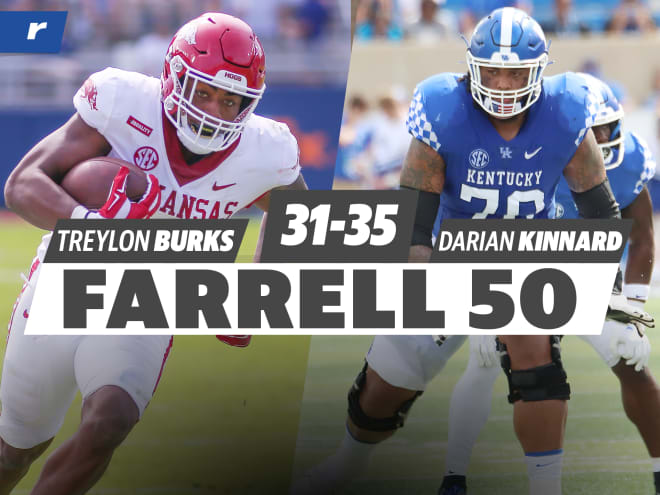 The Midseason Farrell 50 is here, my list of the top 50 players in college football and I can say that this season has been like no other so far. Here's Nos. 31-35.
35. OL Darian Kinnard, Kentucky 
The skinny: Kinnard committed to Kentucky during the spring after his junior season over offers from Penn State, UCLA, West Virginia, Iowa State and Indiana. Plenty was expected from Kinnard this season and he has not disappointed. Helping pave the way for Kentucky's physical running attack, he is a big reason for the Wildcats' 6-1 start this fall.
Farrell's take: Kinnard came back to raise his stock and push Kentucky to heights it hasn't seen and he's done both. He's part of one of the best offensive lines in the country and clearly the best.
*****
34. QB Sam Howell, North Carolina 
The skinny: Howell had been committed to Florida State since the spring of his junior year, but on signing day of the Early Signing Period he pulled off a surprise by flipping to North Carolina. With Heisman Trophy hype surrounding him during the off-season, he may not be having the quality of season many expected. However, he has still played at a high level overall, with 1,851 yards, 18 touchdowns and only six interceptions to this point. He has also rushed for five touchdowns.
Farrell's take: Howell has been a bit of a disappointment this season with a couple of rough games but no one is questioning his talent like some other quarterbacks and he's still in that first-round discussion.
*****
33. WR Garrett Wilson, Ohio State 
The skinny: Ohio State beat Texas and others for Wilson, who played at Austin (Texas) Lake Travis but lived in the Columbus area until he was 12-years-old. Wilson committed to the Buckeyes in the spring before his senior season. In his two seasons in Columbus, Wilson has totaled 73 receptions for 1,155 yards and 11 touchdowns.
Farrell's take: Wilson is having a very solid season and his numbers are lower because of the slower development for Ohio State at quarterback. He has a first-round grade for most in the NFL Draft next season.
*****  
32. WR Jahan Dotson, Penn State 
The skinny: Dotson initially committed to UCLA, but then he flipped to Penn State during an Early Signing Day public announcement. After two productive seasons with the Nittany Lions, Dotson took his game to a higher level in 2020 with 52 receptions for 884 yards and eight touchdowns. He has also returned punts, which included a touchdown return last season.
Farrell's take: Dotson is arguably the most explosive receiver in the country and is sneaky strong for his size. Comparisons to Stefon Diggs aren't far off.
*****
31. WR Treylon Burks, Arkansas 
The skinny: Burks committed to Arkansas during the summer leading up to his senior season over offers from LSU, Auburn and Ole Miss. Coming off a breakout 2020 season, Burks has continued to shine with the Razorbacks this fall with 38 receptions for 628 yards and five touchdowns.
Farrell's take: Burks is a big, physical and imposing receiver who can beat you on 50-50 balls or get behind you. Now that he's healthy he's almost unstoppable.