Mid-South Spotlight: Five prospects on Flip Watch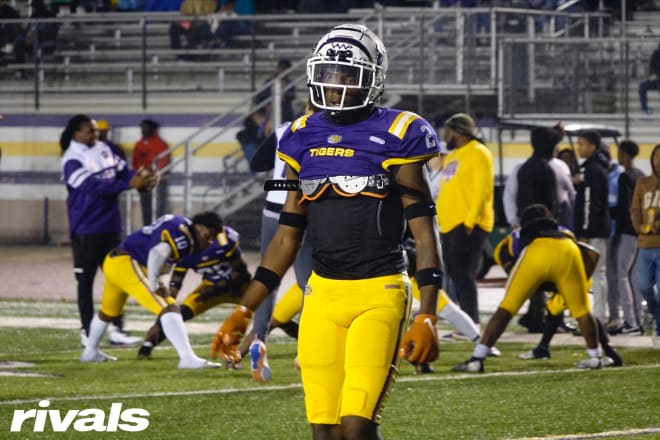 The rubber will have to meet the road in the coming days for Denton (Texas) Guyer five-star safety Peyton Bowen if he is to make a flip from his long-time Notre Dame commitment to Oklahoma.
The Sooners have been persistent in their push since he committed to the Fighting Irish way back on New Year's Day, but there are some hurdles that both Oklahoma and Bowen will have to clear to make the flip happen.
Both programs have gone in-home with Bowen in the last week and will continue to make their presence felt ahead of his final decision being made in the coming days.
*****
New Iberia (La.) Westgate four-star safety Derek Williams doesn't say a whole lot in regards to his recruitment to the public, but there is a strong feeling that Williams will want to see some other programs before putting pen to paper.
Williams is one to watch as a Texas commit that could push his signature to February with programs such as Alabama, LSU, Miami and Texas A&M trying to get the nation's No. 3 safety on campus for an official visit.
*****
Dripping Springs (Texas) four-star quarterback Austin Novosad curbed a handful of Power Five programs in the summer such as Notre Dame, Ohio State and Texas A&M in favor of sticking with his Baylor commitment that will be a year-long pledge this upcoming Friday.
However, some late buzz has begun to generate out of a pair of programs as they each look for quarterback help: Oregon and TCU.
The Ducks recently hired Will Stein as offensive coordinator who has deep ties to the Central Texas area including with Novosad and his family. If Oregon were to lose five-star Dante Moore to UCLA, Novosad would most likely be the pivot.
For TCU, offensive coordinator Garrett Riley was in attendance for a game of Novosad's late in his senior season and has maintained contact, but there doesn't seem to be much reciprocated interest at this point.
*****
Baylor has already lost one defensive commit this week from Temple (Texas) linebacker Taurean York, who is expected to commit to Duke in the coming days, but the Bears may be keeping an eye on another prized defensive pledge in Katy (Texas) Mayde Creek four-star cornerback Tay'Shawn Wilson.
The Houston-area product has maintained communication with Houston throughout his Baylor pledge, and a late flip to the Cougars shouldn't be considered out of the equation. Wilson will sign on Wednesday next week.
*****
Haslet (Texas) V.R. Eaton four-star tight end Jaden Platt has been committed to Stanford for almost a year, but in the wake of David Shaw retiring, the DFW product is starting to explore a pair of options: Florida and Texas A&M.
Platt is fresh off of an official visit to Florida this past weekend that went well for the Gators and will tentatively see Texas A&M this upcoming weekend unless he decides to return to Stanford which remains on the table.