Mid-South Spotlight: Big rankings questions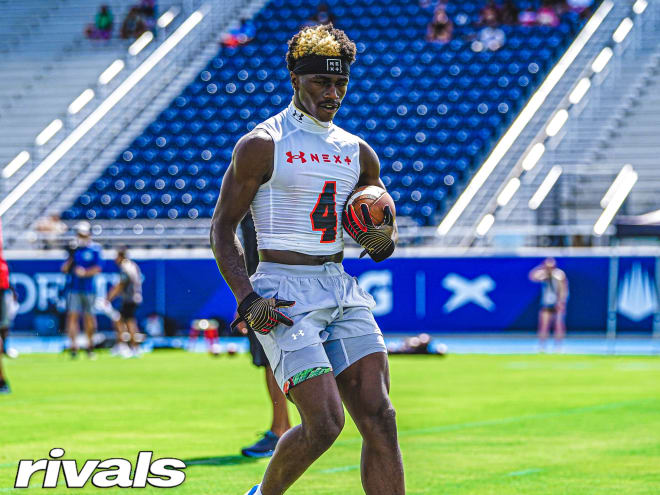 WHO IS THE TOP RECEIVER IN THE STATE OF TEXAS IN 2023?
As it sits, DeSoto (Texas) four-star wide receiver Johntay Cook is the top-ranked receiver in the state of Texas, but it's becoming harder to ignore the impact Alabama commit Jalen Hale has had this season for Longview (Texas).
Both bring a different set of tools to the field as Cook is a shifty, route-running machine that can create separation anywhere on the field, whereas Hale retains some of those separation skills but also combines it with an elite high-point ability that makes him dangerous on the boundary.
How each receiver fares down the stretch of the season and in the playoffs will help determine this answer.
*****
HOW HIGH DOES PEYTON BOWEN GO?
There isn't a defender in the entire state of Texas that has proven worthy of a higher ranking than Peyton Bowen this season. The aggressive-yet-instinctive defensive back has been a ballhawk from the defensive backfield and has been a big reason why Denton (Texas) Guyer is in the state championship conversation midway through the season.
I personally believe that Bowen has done enough to earn five-star status, but how high he will go in those ranks remains to be seen. His performance at postseason all-star events will be crucial.
*****
IS JACKSON ARNOLD A TOP FOUR QUARTERBACK IN THE COUNTRY?
For much of the 2023 cycle, the conversation at the quarterback position has revolved around Arch Manning, Dante Moore, Nico Iamaleava and Malachi Nelson before anyone else, but Jackson Arnold is slowly starting to inch his way into that conversation.
A big performance at Elite 11 over the summer paired with a big senior season thus far has him safely entering the five-star discussions, but can he threaten the upper stratosphere of signal-callers? A deep playoff run and postseason all-star events will help paint that picture a little more clearly.
*****
HOW MUCH STOCK SHOULD GO INTO SEASON-ENDING INJURIES?
The injury bug has hit the Mid-South, and it happened early and often among some of the region's top prospects.
Jayvon Thomas, Isaiah Crawford, Marquise Collins and Derion Gullette all suffered major preseason injuries that are expected to sideline each for the entirety of 2022 while Cole Adams and Will Randle are among the names that have suffered major injuries during the season. For Thomas, Gullette and Adams specifically, big rises in the rankings came in the offseason amid solid track seasons and camp performances, but how much will each of their respective athleticism traits be affected post-injury?
Conversations will be had based on an individual basis, but how much will certain prospects suffer?
*****
JUST HOW GOOD IS ARKANSAS IN 2024?
Every few years, the state of Arkansas puts out a solid crop of prospects in a specific class, and it looks like 2024 is next up. High-major prospects such as Charleston Collins and TJ Lindsey are already making noise across the country and are both in the discussion for Rivals250 consideration, while Braylen Russell and Walker White look to maintain their high praises in the rankings.
Rivals will be making a big swing through Arkansas in the coming weeks to check on the growing talent in the state in the 2024 class to answer this big question heading into 2024 rankings meetings.