Longhorns invade New Jersey, get a commitment from 4-star DL Sydir Mitchell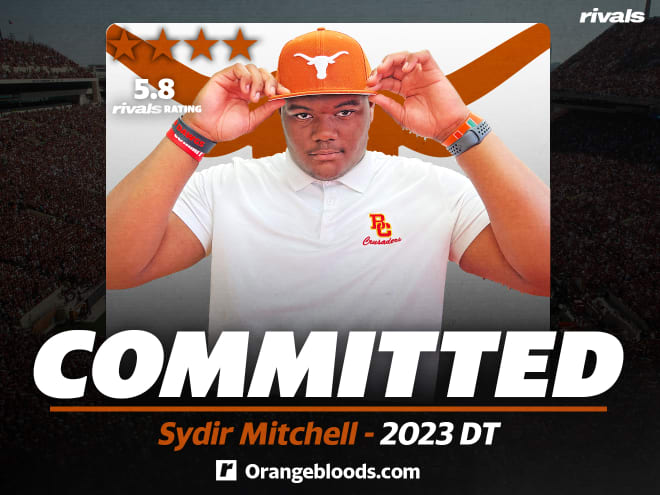 Texas has been on an incredible recruiting run since Arch Manning announced his commitment and now they're adding an important piece on the defensive side of the ball. Four-star defensive tackle Sydir Mitchell went public with his commitment, choosing the Longhorns over Georgia and Texas A&M. The Oradell (N.J.) Bergen Catholic star broke down his decision with Rivals.com.
IN HIS OWN WORDS...
"It was probably Wednesday that I knew I was picking Texas," said Mitchell. "Really hearing coach Bo Davis out, he really explained everything to me and I feel like, from a development perspective, that was the place for me.
"Coach Bo Davis broke down my film, showed me other player's film that he's coached before, and what I can look like," he said. "He also showed me players in the NFL doing things that he's also coached and seeing how my game is similar to theirs.
"I wouldn't say Arch going there was big for me," he said. "I was on the official visit at the same time as him and we spoke. I just felt it was the perfect place for me. I wouldn't say it was anything to do with him but it was an add-on. It's a good thing that it (a lot of players committing to Texas) is happening right now."
RIVALS' REACTION...
Mitchell's commitment, the 13th for Texas in the last month, helps Texas close the gap between them and 2nd ranked Ohio State in the Rivals team rankings and beating Georgia for a highly ranked player again has to feel good for Steve Sarkisian and his staff. If Mitchell sticks with his commitment to the Longhorns, he would be the highest profile prospect from New Jersey to sign with Texas since Chris Simms in 1999.
In Mitchell, Texas is getting a massive interior defensive lineman that should help solidify their run defense. He does a good job shedding blockers and making plays in the backfield. Mitchell has shown a willingness to pursue ball carriers on outside runs too. In passing situations, Mitchell can push the pocket into the quarterback's lap and disrupt his timing. The strength and conditioning staff will have plenty to work with in Mitchell and his 6-foot-6, 340-pound frame but keeping him in shape will end up being their main focus because it's the quickness he brings to the table that makes him a matchup problem.