How did 10 players who were predicted to break out fare?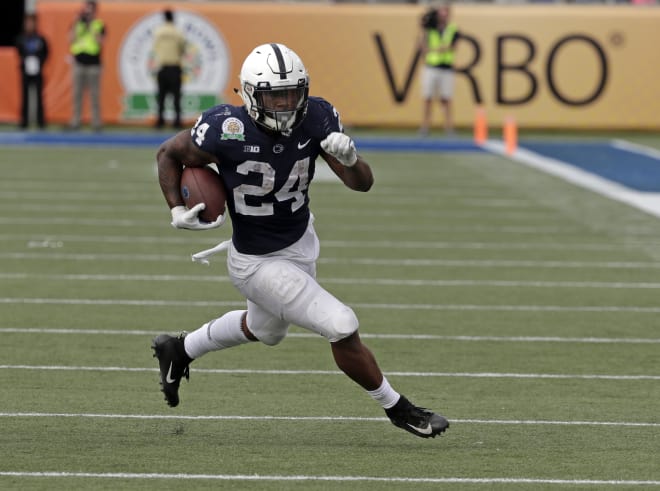 Miles Sanders – Penn State
The skinny: After committing to Penn State leading up to his junior season, he remained relatively open by taking several visits to Michigan, Pittsburgh, Michigan State and Ohio State. With an official visit scheduled to Michigan State during the weekend leading up to National Signing Day, Sanders finally shut down his process and re-affirmed his commitment to Penn State. Tagged with the responsibility of replacing Saquon Barkley, Sanders impressed with 1,223 yards and nine touchdowns on the ground. With one year of eligibility remaining, and with Trace McSorley graduating, even more would have been expected from him in 2019, but he has decided to leave for the NFL early.
Farrell's take: Sanders has a good - but not great - year, and I'm surprised he decided to leave for the NFL early. If he had stayed for an extra year, his stock would have soared and he would have had an incredible year. He's a massive talent and should have a great NFL career if he can work through some issues.

Cam Akers – Florida State
The skinny: Akers initially committed to Alabama before the start of his junior season, but eventually re-opened his process. After trimming his list of top schools to Florida State, Ole Miss, Georgia and Ohio State, Akers committed to the Seminoles over the in-state Rebels in late December.

After rushing for 1,025 yards as a true freshman, big things were expected from Akers in new coach Willie Taggart's open offense. However, as with a majority of the Seminoles, his 2018 season proved disappointing. Finishing with only 704 yards and six touchdowns while rushing for 4.4 yards per carry, Akers will need to reach his true potential in 2019 in order to help the Seminoles return to form.
Farrell's take: A big year is needed from Akers to live up to his potential, as 2018 was a bit of a disaster. Akers still has a ton of talent and with even a slight improvement in the OL play, he should have a breakout year. Akers is too talented to keep down.

Stephen Carr – USC
The skinny: Carr picked up an offer from USC during the spring after his sophomore season and waited approximately two weeks before committing to the Trojans. He also held offers from UCLA, Washington and Colorado at the time of his decision. Despite taking a few visits over the next two years, he never seriously wavered from USC. With Ronald Jones making his move to the NFL, everything seemed set for a big season out of Carr in 2018. That never materialized though, as he only rushed for 384 yards and two touchdowns, which was a step back from his true freshman season.
Farrell's take: Injuries have played a part here, but Carr has been a disappointment overall. I expected him to have a huge year this year and it just didn't happen. He has the talent to be something special and he could have a great year next season, but it's puzzling that he hasn't broken out yet.

Tee Higgins – Clemson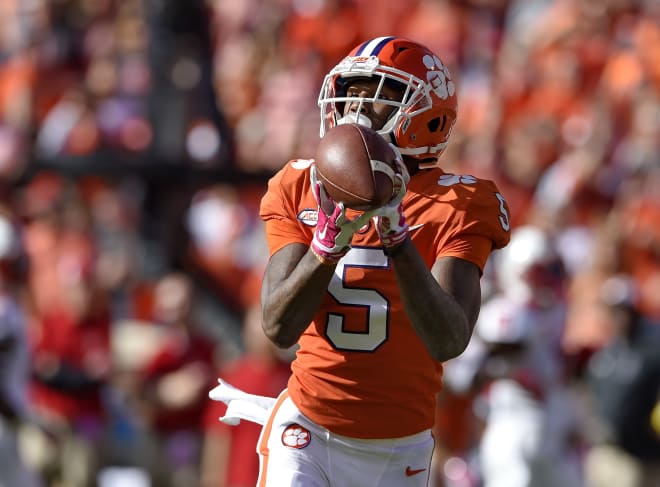 The skinny: Higgins initially committed to the in-state Vols, but then de-committed from Tennessee after taking a visit to Clemson after his junior season. The Tigers made him a priority from that point on and picked up his commitment in July. Considering Clemson showcased a stable of strong receivers, Higgins still led the group with 52 receptions, 802 yards and 10 touchdowns. With Amari Rodgers and Justyn Ross also returning in 2019, Higgins' numbers likely won't explode, but he has already proven that he has next-level talent.
Farrell's take: Higgins has become of the of the top wide receivers in the ACC and is clearly a future star and possible first-rounder down the line. This was an easy and great call to make, because he's so tall and talented. He's a future college and NFL star, with ease.

Tarik Black – Michigan
The skinny: After taking several unofficial visits, Black trimmed his list of top schools to Michigan, Alabama, Auburn and UCLA. With the Wolverines being considered the heavy favorite for several months, he pulled no surprises and committed to Michigan in December.

For the second season consecutive season, an injury derailed Black's season in Ann Arbor. Now having only totaled 13 receptions for 169 yards and one touchdown in two seasons, while only playing five games, 2019 will be a huge for him to prove that he can stay on the field.
Farrell's take: Black has a ton of talent, but he can't stay healthy, which makes it hard to have a breakout season. Maybe next season will be the year he's healthy and breaks out, but time will tell. He certainly has the potential to be a great player.

D'Andre Swift – Georgia
The skinny: Swift stockpiled elite offers from coast-to-coast, but when Georgia pulled the trigger, the Bulldogs immediately became the favorite. After trimming his list down to the Bulldogs, Penn State, Clemson, Florida State and Alabama, Swift did what was expected and committed to Georgia in August.

With Sony Michel and Nick Chubb both moving on to the NFL, the opportunity was Swift's to grab after a very promising true freshman season. And while he did grab the opportunity, with 1,037 yards and 10 touchdowns, he also split carries with Elijah Holyfield, who rushed for 956 yards and seven touchdowns. It will be interesting to see if this will continue in 2019 or if Swift can take control of the position.
Farrell's take: Swift should be the man next season and have the season I expected him to have this year. He's a talented kid, has great explosion and when he becomes the No. 1 guy outright he should have a crazy season. This year was a good season, but I'm expecting much better next year.

Tua Tagovailoa – Alabama
The skinny: Despite saying that USC was his "dream school," Tagovailoa committed to Alabama after a trip that also saw him visit Auburn and Ole Miss during the spring after his junior season. Both USC and UCLA continued their pursuit of Tagovailoa, but neither was able to beat out the Tide.

Not much more needs to be said about Tagovailoa's performance that hasn't already been said. The frontrunner for the Heisman during the majority of the season may have ended up finishing second to Kyler Murray, but he still took the college football world by storm.
Farrell's take: This was an easy one, and Tagovailoa had an amazing season and could have easily won the Heisman Trophy. Many don't remember that this was his first season as a starter and so much was expected that perhaps it's overlooked that he was a breakout star.

Dwayne Haskins – Ohio State
The skinny: Haskins committed to Maryland during the spring, but he kept his process relatively open. With rumors swirling that he was taking serious looks at other schools, he took official visits to Florida and Ohio State before flipping to the Buckeyes in mid-January. He canceled a scheduled visit to LSU after committing to Ohio State. While Haskins didn't necessarily excel during the off-season, once the season began he quickly emerged as one of the top players in the country. Finishing third in Heisman voting after throwing for 4,580 yards and 47 touchdowns, he's off to the NFL.
Farrell's take: Haskins, like Tagovailoa, was a first-year starter who broke out this season but it seems like he has been a star for years. I expected him to have a great season, and he lived up to those expectations. He's a great player, but was also in a great system.

Tre Bryant – Nebraska
The skinny: Bryant initially committed to Kansas State, but after taking additional official visits to Nebraska and Minnesota, he flipped to the Huskers soon after returning home from Lincoln. Bryant showed promise in 2017 until a knee injury quickly shortened his season after two games. Then after multiple surgeries in the off-season, he looked poised for a big 2018 season after an impressive summer camp. However, that all quickly ended when he suddenly announced that he would be retiring from football at the end of August.
Farrell's take: This was a bad call as Bryant ended up retiring from football. Had he been healthy, he could have had a great year, but it just didn't pan out.

Jeff Thomas – Miami
The skinny: Thomas trimmed his list of top schools to Miami, Louisville and Oregon before committing to the Canes on National Signing Day. He was rumored to be favoring Miami leading up to his decision. Thomas seemed to be the natural replacement for Braxton Berrios, but while he did finish with 35 receptions for 563 yards and three touchdowns, his productivity and consistency never reached the levels many expected. Things then got worse at the end of November, when the Canes suddenly announced that they were dismissing Thomas from their program.
Farrell's take: Thomas has a ton of talent, but never panned out in Miami, so it will be interesting to see how he does at his next destination. He can still be a breakout player in college, but it's disappointing he showed flashes in Miami but couldn't continue his success.