Georgia's dynamic RB duo has high hopes for 2017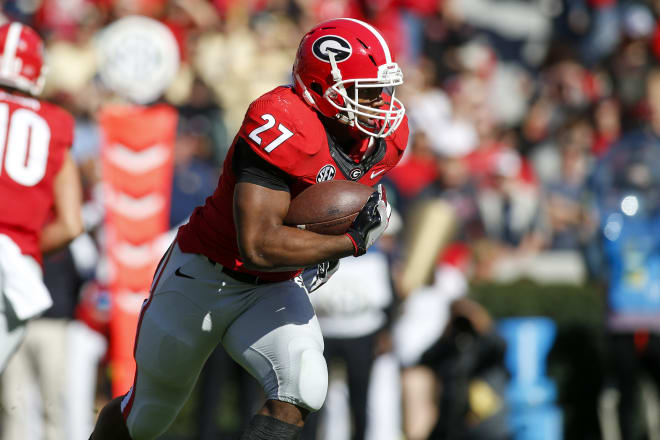 While several highly ranked members of the Class of 2014 saw their names called on NFL Draft night earlier this year, former Rivals100 running backs Sony Michel and Nick Chubb were left to watch and wait their turn. That's because the talented duo decided to pass on the draft and come back to Georgia in hopes of leading the team to new heights and perhaps helping their draft stock in the process.
Since making that decision, which according to Michel came randomly while the two were having dinner together, the duo has been locked in. From holding each other accountable to pushing themselves for playing time, the bond between the two clearly goes beyond football.
"Nick and I are seniors so we have been down this road before," Michel said. "This is not our first rodeo, so we just have to take what comes with it, embrace it, and take it to the team and lead. This is our chance to try to lead our team and lead them to something great."
MORE SEC MEDIA DAYS: Tuesday takeaways | Standout freshmen
When the two came in as prospects, it was Michel who was expected to be the more impactful. A fixture on the recruiting scene since his middle school days, he was the five-star with all the expectations. But after nagging injuries slowed Michel and several other Georgia running backs, it was Chubb who drew comparisons to Hershel Walker as a freshman.
Each took turns having success, but each also dealt with injuries, especially Chubb, whose sophomore season ended due to a horrific knee injury.
While he didn't want to admit it on Tuesday, Chubb never quite looked 100 percent during 2016 while recovering from the injury. According to his head coach, those concerns are in the rearview mirror heading into the 2017 season.
"One of those reasons he stayed is because he didn't feel he was 100 percent," Kirby Smart said. "He wanted to be 100 percent at the time he was coming out, he felt his value was higher than where he would probably have been picked, and he wants to put Georgia back in a place that he thinks it should be and I think it should be."
During an offseason when some questioned their decisions to return to school, Smart said the duo has set the tone for entire Georgia team not only with their bond, but their competitive spirit and drive to improve.
"They challenge each other every day in practice - so in the weight room, when one is lifting beside the other," Smart said. "Nick is not a guy you want to be competing against when it comes to lifting weight because he's really strong. I have seen them race at workouts. When you got a guy that's the same caliber as you, I think it drives your energy level each day to beat that guy. I know they came in not really knowing each other, but now having lived together, been around each other, both of them have been through pretty horrific injuries, and they've both come back from that. So they have a lot of similarities, even though they come from two different backgrounds and have two very different personalities."
Despite their differences, all of the time the two have spent together has started to take hold.
"It gets to the point where we're starting to think the same thing sometimes," Michel said. "If I'm thinking of a song, he might be thinking the same song, but I'll sing it first and he'll be like, 'I was just thinking that.' That's when it kind of gets a little bit crazy."
The pair is clearly on the same page headed into their final hoorah between the hedges. Chubb said that they have let their Georgia teammates know they don't plan on squandering their last chance to represent the Bulldogs.
"I tell them all the time that I didn't come back for no reason," he said. "You've got to work and you've got to grind. You've got to make it count."