Georgia has more elite QBs coming in classes of 2020, 2021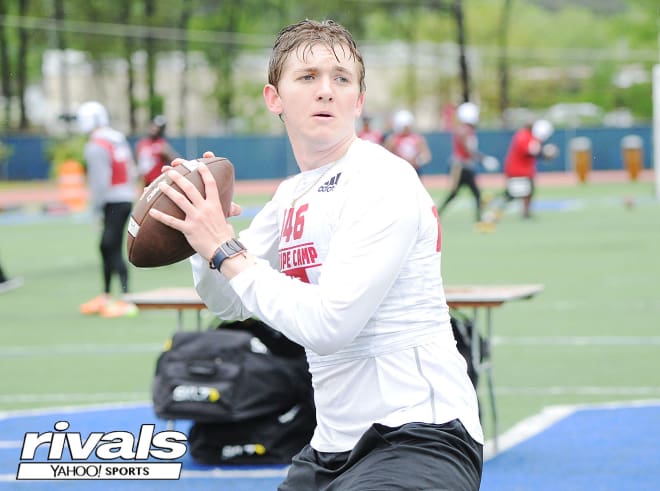 While on the road in the spring and summer, I've seen many talented prospects - and some of the best were quarterbacks. That is no surprise these days, but when I first got into this industry, around 2004, top quarterbacks were scarce in the Peach State.
How things have changed.
It used to be that high school coaches just put their best athlete, like Eric Berry, at quarterback and let them make plays running around. All but two of Cam Newton's three dozen offers were to play tight end in college, not quarterback. Both Berry and Newton were the top two prospects in the state of Georgia's 2007 class, and they went on the star at Tennessee and Auburn before the NFL.
MORE: Preseason Farrell 50, from 46-50 | 10 breakout players to track for 2018
LOOKING BACK
A lot has changed in the Peach State over the last decade. Especially over the last few cycles. Taking a quick look back over the last 10 quarterback classes in Georgia, things have really picked up the last few years.
2009: Zach Mettenberger was a Georgia signee in 2009, and he was the No. 11 prospect in the state.
2010: Blake Sims signed with Alabama. Connor Shaw signed with South Carolina. Sims was No. 26 in Georgia and Shaw was No. 47.
2011: Nick Marshall signed with Georgia as an athlete, then transferred to Auburn to play quarterback. He was the only prospect in the top 90 that played any quarterback in college that cycle.
2012: Greyson Lambert, a Virginia signee, was the only quarterback ranked in Georgia's top 75. He checked in at No. 31.
2013: Things started to change a little in this class. Anthony Jennings (LSU) and Brice Ramsey (Georgia) were both four-stars. Joshua Dobbs (Tennessee), Eddie Printz (Missouri) and Parker McLeod (Alabama) were also in this class and in the Georgia top 80.
2014: Not much depth, but none was needed with Deshaun Watson leading the way. The Clemson signee was a five-star, and he was an NFL first-round draft pick in 2017.
2015: South Carolina signee Lorenzo Nunez was the only four-star quarterback in Georgia.
2016: Zerrick Cooper (Clemson), Logan Byrd (North Carolina) and Jawon Pass (Louisville) were four-star quarterbacks in this class.
2017: Stanford signee Davis Mills was the No. 1 prospect in the state. Georgia signee Jake Fromm was No. 3. Both were five-star prospects. Also in this class were Clemson signee Chase Brice (four-star), Florida State signee Bailey Hockman (three-star) and Oklahoma State signee Jelani Woods (three-star).
2018: Lawrence and Fields led the way, then four-star Emory Jones (Florida), four-star Jaren Williams (Miami), three-star Cade Fortin (North Carolina) and three-star Gunnar Watson (Troy). All six were in the Georgia top 100.
Now, back to the current class — 2019. It looked like somewhat of a down year, and it is extremely down compared to 2018 - a quarterback group that will be hard to compare to over the years - but Texas A&M commit Zach Calzada has emerged as that guy in this class. If you look back a few months ago, you saw Calzada's offer list show schools like Appalachian State, Kent State, Liberty and South Alabama. Move forward into May and he is adding offers daily from schools like Iowa, Maryland, Missouri, Minnesota, North Carolina, NC State, Oklahoma State and West Virginia before committing to the Aggies after an early-summer visit to College Station.
The Lanier product has a live arm, has good size, is a sharp young man and he has emerged as the guy to lead the way in 2018.
Justin Fomby, Knox Kadum, Austin Kirksey (Nevada) and Jordan Yates (Georgia Tech) are other top quarterbacks in the Peach State this cycle.
Who's next? Trust me, it only gets better. There are more Power Five quarterbacks in the 2019 class, but looking ahead, there will be even more national names.
BAILEY'S STILL ADDING OFFERS  
Harrison Bailey is a name most recruitniks recognize across the country. The Marietta star in the 2020 class added offers from Purdue and Vanderbilt recently, but it all started for him before he started high school. He was first offered by Miami in February of 2016, his eighth-grade year. Florida, Syracuse, Texas A&M and others offered before he started high school.
Bailey has been seen a lot, he is very active on the 7-on-7 circuit and he has taken a lot of visits - as a sophomore. He has a big frame, he is a leader and he can throw a great deep ball. Bailey is still wide open with his recruitment, but he did have a strong visit to Florida State with the new staff in Tallahassee earlier this spring. Look for him to start to narrow his list down his junior year. Michigan and Tennessee are two schools to keep an eye on. And he grew up a fan of the Florida Gators.
JOHNSON QUIETLY GOES ABOUT HIS BUSINESS
How many of you know about Max Johnson? Does that name ring a bell? He is not active on social media, he does not travel around on a 7-on-7 team and he just works hard behind the scenes to be one of the best in the 2020 class.
The left-handed quarterback out of Oconee County (same school as Mettenberger in 2009) doesn't get talked about much, but he can drop some dimes. Watching him practice in the spring and seeing him make some of the outside throws was impressive. He has somewhere around 20 offers, including Florida State, Georgia, LSU, Miami, Ohio State and Wisconsin, to name a few. Johnson is in that 6-foot-4, 215-pound range, and he is athletic.
His father is Brad Johnson, who played at Florida State, and his uncle is Mark Richt, the head coach at Miami. Both schools, along with Georgia, the program just a few miles from his home, are in pursuit. Johnson is taking his time with the process.
DIXON HAS EMERGED  
CJ Dixon picked up his first offer from Boston College in May, then it was a big June for the gunslinger out of Loganville (Ga.) Grayson. Alabama, Florida, Georgia and Ohio State. All saw him in camp and each program offered.
Dixon is a dual-threat quarterback with a big arm and gifted athleticism. He is still raw, but he has great size, the ability to extend plays and a lot of upside. He will have his chance this fall to become one of the top quarterbacks in his class. He has checked a lot of the boxes already this summer. He grew up a fan of the in-state Bulldogs.
PATTERSON'S PATIENTLY WAITING  
Kendrick Patterson is a very intriguing 2020 dual-threat quarterback from South Georgia. The star at Pelham put up big numbers in 2017, and he is a dual-threat quarterback who has several schools' attention. So many have been by to check on him this spring, but none have pulled the trigger yet. They will.
Alabama, Clemson, Florida State, Georgia, Georgia Tech, Kansas State, Wake Forest and many others have their eye on him. Patterson plans to be active this summer on the camp circuit, and his first offer is likely to arrive before he plays his first game as a junior. His school is not known for producing a lot of football prospects, but the coaching staff is in the process of changing that.
Patterson has size, he is athletic, he has a big arm and he is going to be one that sees his first offer much sooner than later.
WILLIAMS IS MAKING A NAME FOR HIMSELF
Michael Wright of College Park (Ga.) Woodward Academy has put together an impressive offer list over the last year. He is a big quarterback at 6-4, 185 pounds with a good arm and mobility.
Arkansas is the most recent school to offer. He added offers from Minnesota and Ole Miss in the spring. Kentucky and Louisville have offered and had Wright on campus for visits and both stand out early.
Wright has added some weight, gotten stronger and this fall could be big for the signal caller.
VANDAGRIFF WILL BE A NATIONAL NAME  
Miami offered early in the spring. Then it was Georgia, Auburn and North Carolina next. Michigan came in with an offer as well. Auburn, the school his mother attended, offered over the summer. Brock Vandagriff was named MVP for the quarterbacks at the Rivals 3 Stripe Camp presented by adidas in Atlanta, when he had a few schools showing interest. He was only a freshman at that time, but his recruitment has taken off since.
Watching the 2021 prospect throw in the camp setting, then at practice in May combined with his film, he is on track to become a national prospect. The ball comes out of his hand hot, he is a great athlete, he is so mature for his age and although he is still a freshman he is an elite talent.
It is very early, so he is still wide open. This young man is an excellent baseball player, too, and soon he will have his share of options in that sport, also.
MANY ALREADY KNOW MCLAUGHLIN
Aaron Mclaughlin is a 2021 signal caller, but his recruitment got going very early. He had numerous offers before he started high school and he has already visited many schools, so he is ahead of the curve in many ways.
Buford is one of the top programs in the country, with over a dozen Power Five prospects, and McLaughlin started there on the varsity level as a freshman last fall. He has offers from Alabama, Florida State, Michigan, UCLA and USC. He will continue to take offers, but at this point some think he could end up on the West Coast. He works with quarterbacks coach, Steve Clarkson, who is based in California.
DEL RIO'S TIME IS NOW  
Florida, Miami, Michigan and NC State have jumped on Carlos Del Rio, another 2021 quarterback in Georgia who could become a national name before all is said and done. He played meaningful minutes for Powder Springs (Ga.) McEachern, and his recruitment is just getting started. Look for his offer list to grow this fall as schools see him in live action.
Florida was the first school to offer 2021 pro-style quarterback. That offer came June 2. On June 6, NC State offered. His most recent came from Florida State during the first week of August. Miami and Michigan offered in June as well. He played a lot as a freshman at Powder Springs (Ga.) McEachern, but this season he is the starter and he is expected to take big strides on the field. He has a good arm, is a smart player and his upside is what everyone that sees him likes.
Expect his offer list to grow as he plays in front of more coaches this fall.