Five recruiting busts that helped doom Tom Herman at Texas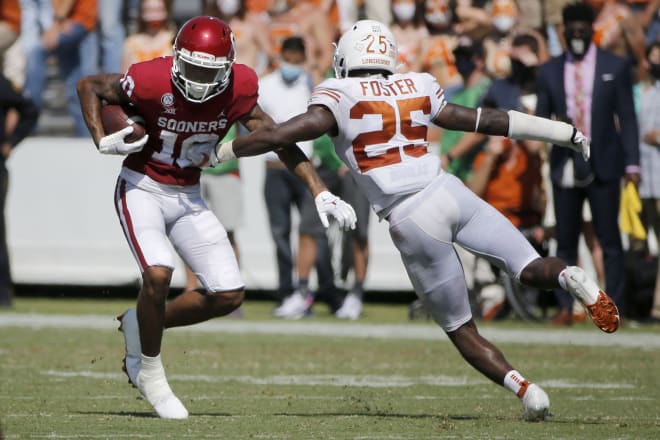 After four seasons, Tom Herman was fired by Texas on Saturday and Alabama offensive coordinator Steve Sarkisian was hired to replace him. Here is a look at five recruiting busts that helped seal Herman's fate in Austin.
Less than a month after Herman took the Texas job, Carter committed to the Longhorns and he was seen as a major recruiting victory because he would be a major piece in restarting Texas' ground game. The four-star from Houston (Texas) Langham Creek was set for Georgia but after some upperclassmen decided to return, Herman was able to flip him to the Longhorns. Carter was used sparingly in 2017 but did have three touchdowns and it looked like he could be a big part of the Longhorns' backfield. But just like what he was concerned about at Georgia happened at Texas as well where he got lost in the shuffle in the backfield and Carter eventually transferred to Sam Houston State, where he didn't gain much traction, either.
Herman's 2018 recruiting class was poised to be a really strong group especially at defensive back but many of those players - including Cook - have not lived up to expectations. Picking the Longhorns over LSU and Ohio State, Cook was a five-star prospect at one time but finished as a high four-star, still someone who was expected to have a major impact in the secondary. Through three seasons, Cook has started only seven games and this past season he totaled just 18 tackles. He was ranked as the ninth-best cornerback and No. 54 overall in the 2018 recruiting class.
In the summer before his senior season, Foster committed to Texas over Ohio State, Michigan and many others and it was an encouraging sign that Herman was able to keep prospects locked up in-state as that group really came together on paper. And Foster has had a decent career in Austin but has he lived up to the expectations of a player one notch below five-star status who was ranked as the sixth-best safety in the class? Foster had 41 tackles and three pass breakups this season. His freshman season might have been his best and he's plateaued since then as Foster has only two interceptions over three years.
The saga of McCoy is one for the recruiting history books and it will go down as one of the strangest of all time. After all was said and done, and all the bouncing back and forth was finished, McCoy ended up never playing a down for the Longhorns and he was an important part of USC's offense this season. In six games this season, McCoy had 21 catches on a team loaded at receiver. Texas' top receiver had 30 in 10 games. There is almost no doubt that the former five-star and top-rated athlete in the 2019 class would have played a major role in Texas' offense this season and beyond.
There were very encouraging signs for Smith in his freshman season as he finished with 25 catches for 274 yards and six touchdowns, getting in the record books for Texas freshmen along the way and it looked like he would be an even more integral part of the offense this past season. But Smith battled injuries and a shortened season and while he still finished with 23 catches for 294 yards he had only three touchdowns and it felt like he was less of an option in the offense. Rated as the fourth-best athlete nationally in the 2019 class (behind, as it would be, McCoy and Texas' Jordan Whittington), Smith still has a chance to be a massive part of the Texas passing game especially with Sarkisian running the show now.