Farrell Forecast: Where Five-Star Challenge offensive players are headed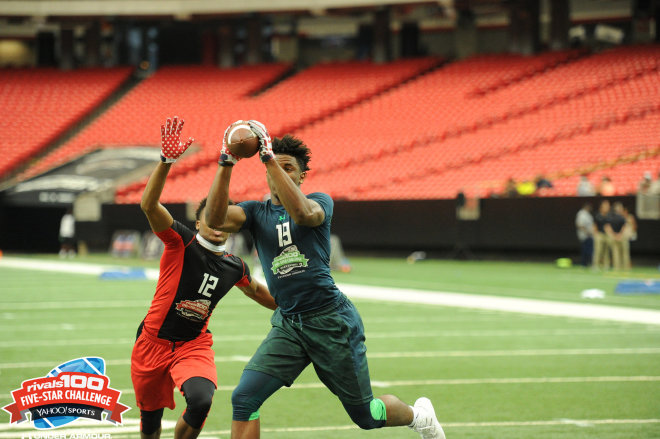 With the Rivals100 Five-Star Challenge presented By Under Armour in the rearview mirror, everyone wants to know two things – how well the prospects their team is recruiting performed and, where are the uncommitted prospects going? All this week, we've covered the first part with position rankings, ups and downs, All-Farrell teams and the like. Now we have the latter covered as well with my educated guesses.
Important Note: It's June 17, a game hasn't been played in the 2016 season, coaches haven't been fired and assistant coaches haven't moved around like chess pieces on the board. Don't hold me to these (unless I get them right). Here are my predictions for the offensive uncommitted players who competed at the Georgia Dome.
RELATED: Farrell predictions on uncommitted defensive players | Recruiting updates from Media Day

QUARTERBACKS
All eight of the Five-Star Challenge quarterbacks are currently committed and I don't forsee any flips barring a major coaching change.
RUNNING BACKS
Najee Harris is committed to Alabama but it wouldn't stun me to see him flip and stay closer to home in the end while Stephen Carr is committed to USC but will look around as well. That leaves two uncommitted RBs.
PREDICTION: Ole Miss. He's an in-state kid and many others are in the mix, but barring an NCAA beatdown, I think he stays home with the Rebels.
PREDICTION: Georgia. I think the Dawgs are positioning themselves very nicely here with multiple visits and a great recent running back tradition.
WIDE RECEIVERS
There were a ton of uncommitted wide receivers at the event and many of them are very hard to read, so this will be interesting. KD Nixon is committed to Tennessee, but he might end up elsewhere. Here are the rest:
PREDICTION: Stanford. Black is academically inclined, Stanford has always been a school he likes and he's been interested in the west coast for a while.
PREDICITON: Nebraska. Calvin has been linked to the Calibraska movement for a long time and was rumored to have been close to a commitment on a spring visit.
PREDICTION: Ohio State. Tough call here between the Buckeyes and Florida but I'll go with Ohio State. He lived in the Midwest and has liked the Buckeyes the longest.
PREDICTION: USC. I think some of this depends on where teammate Joseph Lewis goes, but a big-time wide out so close to the USC campus, it's hard to bet against the Trojans.
PREDICTION: USC. Harley does not have a USC offer but I think he gets one this summer and this could be a Jamel Cook, Keyshawn Young thing for 2017.
PREDICTION: Clemson. Hightower hails from the west coast, but I think the IMG standout wants to play in the Southeast and Clemson is the offer he wanted the most. There's a long way to go here, of course.
PREDICTION: Alabama. 'Bama has been his leader for a long time and I think he sticks with that until the end.

PREDICTION: Tennessee. An in-state kid at a bit of a feeder program, you have to think the Vols win out here.
PREDICTION: Ohio State. With best buddy Tate Martell committed now and the way they would utilize Lindsey in that offense, it's hard to bet against Urban Meyer here.
PREDICTION: LSU. This is an early pick of course and who knows what kind of room LSU will have at receiver, but I'm not betting against them for an in-state star.
PREDICTION: Michigan. Peoples-Jones is a very tough one to read as many felt Florida was his initial leader and he's been tied to Michigan State and Ohio State as well as Notre Dame. But Jim Harbaugh can't let this kid leave the state, right?
PREDICTION: Clemson. Robinson was an early lean to Clemson, then favored Florida but the Gators have focused on others now so it's back to Clemson. Alabama is showing some interest as well but I'll go with his first love.
PREDICTION: Alabama. He's apparently No. 1 on 'Bama's board because of his elite speed and he's been linked to them for a while so I'll go with the Tide.
PREDICTION: LSU. The Odell Beckham Jr. comparisons aside, he's an in-state kid who is a priority for the Tigers so I think they get him.
PREDICTION: Clemson. An in-state target for a few years, Smith picks Clemson and could grow into a tight end.
PREDICTION: Arizona State. Thompson doesn't have as many options as some other west coast wide outs and isn't high on the radar of the bigger in-state schools so I think he goes to ASU and a nice offensive fit.
PREDICTION: Georgia. He's tight with Swift, he is very high on the Dawgs and I think Georgia gets a package deal with the two Philly area prospects.
TIGHT ENDS
With two 2018 prospects, you'd expect at least a couple of the four tight ends to be uncommitted. But all four? That's more work than I hoped for!
PREDICTION: Penn State. He's buddies with quarterback Sean Clifford who would be throwing the passes to him in Happy Valley, so that connection is enough for me.
PREDICTION: USC. Jaggers has been looking out of state, but I think he stays home and plays for the Trojans. The big question is, what position?
PREDICTION: Texas. He has family that went to Texas and that's enough to make this early prediction on a kid who is just starting the process.
PREDICTION: Michigan. Call it a wild guess because he has zero idea who he likes, but Florida is too easy a pick here and he's a Harbaugh-type of kid.
OFFENSIVE LINE
There are a few guys already locked up out of the 16 in attendance and offensive linemen usually stick with commitments moreso than some other positions. So schools like USC, Alabama, LSU, Georgia, Tennessee and Miami can feel good about their guys. But the rest?
PREDICTION: LSU. Once again I'm going in state for a big-time Louisiana prospect. I know, I know, I'm not exactly sticking my neck out here.
PREDICTION: Tennessee. I think he stays in state, the Vols covet him and are the major in-state player for him unless he stuns the world and goes to Memphis.
PREDICTION: Texas. This is a tough one because Filiaga is moving from California to Texas, so does he head back home and play for USC or fall in love with the Longhorns? I think the latter happens.
PREDICTION: Tennessee. The Vols are his first offer, he's been there and loved it and they'd love to add to their list of Georgia state commitments.
PREDICTION: Penn State. He hails from Pennsylvania, will likely have PSU and Pitt on his finalist list until the end and I hear more about the Nittany Lions and Big Ten around him than I do anyone else.
PREDICTION: Missouri. He's an in-state must-get for Mizzou who will have 20-25 offers by the end of the summer, but I think he sticks at home.
PREDICTION: Florida. This could be the easiest one on my list, right?

PREDICTION: Ole Miss. With a brother and sister at Ole Miss, he picks the Rebels despite interest and multiple visits to Stanford.
PREDICTION: Michigan. Some think Alabama or another SEC school could land him, but with two former New Jersey teammates at Michigan, that will tell the tale.
PREDICTION: Kentucky. Notre Dame, Alabama and others are tempting, but if Kentucky goes to a bowl game this year, Wills stays home.