Farrell Forecast: Where Five-Star Challenge defensive players are headed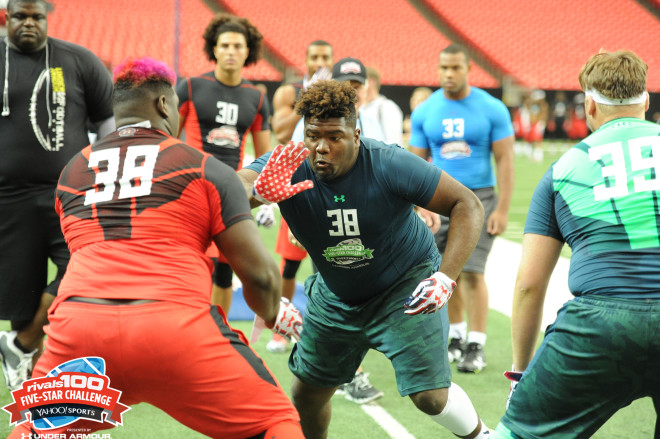 With the Rivals100 Five-Star Challenge presented By Under Armour in the rearview mirror, everyone wants to know two things – how well the prospects their team is recruiting performed and, where are the uncommitted prospects going? All this week, we've covered the first part with position rankings, ups and downs, All-Farrell teams and the like. Now we have the latter covered as well with my educated guesses.
Important Note: It's June 17, a game hasn't been played in the 2016 season, coaches haven't been fired and assistant coaches haven't moved around like chess pieces on the board. Don't hold me to these (unless I get them right). Here are my predictions for the uncommitted defenders who competed at the Georgia Dome.
RELATED: Farrell predictions on uncommitted offensive players | Recruiting updates from Media Day
DEFENSIVE LINEMEN
Defensive linemen are less inclined to stick with early commitments than the big uglies on the other side of the ball so time will tell on a few of the committed in this group. But here are the current uncommitted prospects out of the 16 on hand.
PREDICTION: Tennessee. Most would think Georgia, but they get Robert Beal (below), who would play the same role. Allen and his teammate Tyler Taylor like the Vols a lot.
PREDICTION: UCLA. Andrus will likely stay in-state and the Bruins like him more than some others here.
PREDICTION: Georgia. Many felt he would stick with Notre Dame but we all know that fell apart and then others felt Alabama would get him, but he sticks in-state.
PREDICTION: Miami. The 'Canes have always be in here and despite calling Duke his leader, I don't think Mark Richt lets this one get away.
PREDICTION: Ohio State. Ewell has a top five but it's not a secret that Ohio State is his favorite. The big question will be whether the Buckeyes have room.
PREDICTION: Georgia. I'll go with the in-state school here for Herring, who has his eyes on only a few schools at this stage.
PREDICTION: Florida. It's a long way away for Porter but his Florida offer seemed to interest him greatly so I'll take a shot that he goes out of state.
PREDICTION: USC. Most feel Rogers will stay out west and pick the Trojans on his mom's birthday in December and I'm among them.
PREDICTION: Ohio State. The Buckeyes haven't offered yet as far as I can tell but I think they do and in the long run he ends up in Columbus. But as a 2018, it's just a hunch.
PREDICTION: Virginia Tech. Williams likes a few schools but he stays in-state and becomes a huge pickup for the Hokies' new staff.
PREDICTION: Alabama. LSU was once Wilson's leader but with the way the Tigers treated Les Miles down the stretch last year, they fell off a bit. He could go anywhere, and Texas and Oklahoma are options, but he wants to play in the SEC.
LINEBACKERS
There were a few linebackers committed at the event and a few that have been committed elsewhere already but have opened things up. Some of these are tough calls as this group doesn't make it easy to get a read.
PREDICTION: Notre Dame. The Irish haven't offered yet but they will and he will commit. How's that for direct and blunt?
PREDICTION: Georgia. Britt had been linked to Auburn early but he heads to UGA in the end.
PREDICTION: Texas. This is a tough one to call because Ohio State is a popular pick and Urban Meyer is hard to bet against but this is a five-star that doesn't get away from the Longhorns.
PREDICTION: Georgia. This could happen much sooner than later after Alabama apparently backed off.
PREDICTION: UCLA. Johnson is a West Coast kid who will stay closer to home and the Bruins are the choice here.
PREDICTION: Clemson. Another tough 2018 prediction, this will come down to whether Clemson really pursues him hard and if he wants to leave the state.
PREDICTION: LSU. The one-time commitment ends up as a Tiger in the end after all.
PREDICTION: Oklahoma. Phillips is a tough one to read and could end up at many schools, but something about the way he spoke about OU gives me this hunch.
PREDICTION: USC. A Serra kid going to the Trojans? Never happens right? Just an early hunch on a 2018 based on the pipeline.
PREDICTION: Clemson. This is a tough call between the Tigers and Michigan and you'd think it would be the Wolverines because of Rashan Gary, Jabrill Peppers and Chris Partridge being the former coach, but Singleton liked Clemson a lot more early than Gary did so I think they win out.
PREDICTION: Tennessee. Taylor and Allen will likely end up at the same school together and I can see the duo heading out of state to the Vols.
DEFENSIVE BACKS
There are a lot of young guys in the defensive backs group and multiple five stars from 2017 to contend with as well. This could be the toughest position to project.
PREDICTION: Miami. With the last name Blades, how do you not pick Miami even for a 2018?
PREDICTION: Nebraska. Brown doesn't have an offer from the Huskers but I know he likes them a lot. He gets one soon and he ends up with some of those other Cali kids in Lincoln despite being an east coast transplant.
PREDICTION: Texas. A 2018 who is also tough to call, but the Longhorns get things rolling after closing strong in state in 2016 and keep this kid home.
PREDICTION: Clemson. Clemson was in his top 10 before he was even offered and he wants to head out of state.
PREDICTION: TCU. This is a darkhorse pick this early but he talks about TCU a ton and Gary Patterson can pull surprises.
PREDICTION: Notre Dame. A tough call here because UCLA and Oregon are also favorites but there's something about ND when Graham talks that makes me feel he'll end up there.
PREDICTION: LSU. I don't have a great read here, like with many other kids this early, so why not pick the in-state power?
PREDICTION: Florida. The Gators pull a bit of surprise here over some others like Clemson and Virginia Tech who have been mentioned a bit more.
PREDICTION: Oregon. A big DeAnthony Thomas fan, he heads north and becomes a Duck.
PREDICTION: Ohio State. The Buckeyes have had the lead for a while and Okudah will stay transfixed on them until he commits.
PREDICTION: Oregon. Redd almost committed to the Ducks already and his speed fits in with what they do.
PREDICTION: Florida State. A tough read this early, but FSU is my very early in-state pick here.
PREDICTION: Georgia. They have been his leader for a long time and it will take something special to pry him away.
PREDICTION: Auburn. He's most comfortable with Auburn and the staff, he's been there a lot and despite being a hard read, he says War Eagle in the end.
PREDICTION: Ohio State. More and more schools seem to impress him but I think OSU was his first love and he sticks with that.
PREDICTION: UCLA. It's early for a 2018 as I've said many times, but the Bruins seem to be his early favorite.