Farrell 50: CFB's top players, Nos. 11-15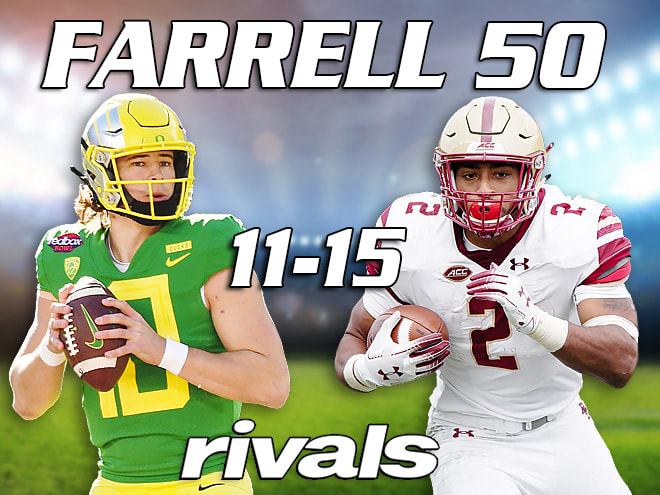 It's time for the Farrell 50, the ranking of the top 50 players in college football by Rivals.com National Recruiting Director Mike Farrell. We continue today with Nos. 11-15 led by perhaps the No. 1 pick in the NFL Draft next April.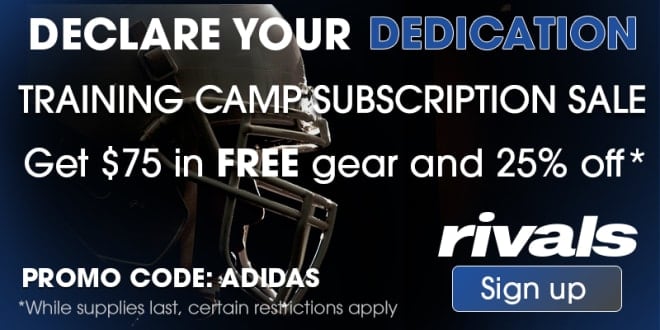 The skinny: Dillon initially committed to Michigan during the spring after his junior season, but then flipped to Boston College in December. The Eagles' coaching staff never let up on him after his commitment to the Wolverines.

Coming off a huge 2017 season, Dillon battled through some injuries in 2018 but still finished with 1,108 yards and 10 touchdowns. Now fully healthy, Dillon seems physically and mentally prepared for a huge junior season.
Farrell's take: Dillon was a big running back with solid speed and very nifty footwork coming out of high school and it's clear we liked him, but he's made a bigger impact than I expected. His vision is excellent and he always falls forward for additional yardage. Boston College is a great fit for him offensively. He reminds me of a young Derrick Henry and could have a 2,000-yard season if he stays healthy.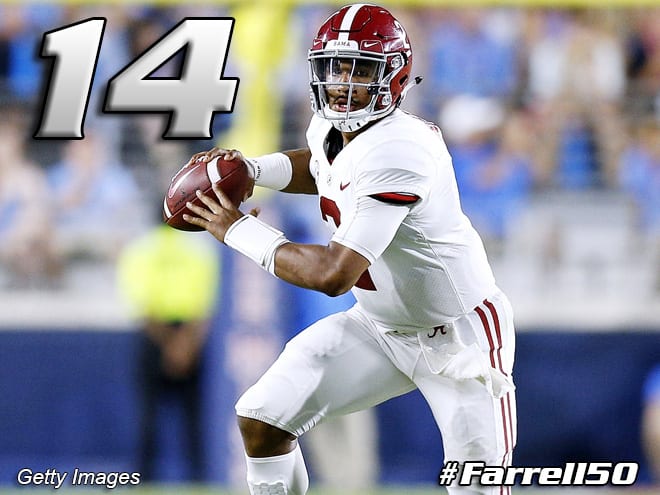 The skinny: Hurts named a top four of Alabama, Texas A&M, Mississippi State and Florida before committing to the Crimson Tide less than a week later in early June. Hurts' accomplishments at Alabama have been well publicized at this point, as was him losing the starting job to Tua Tagovailoa. Now he is trying to find happiness and success at Oklahoma, which will give him the opportunity to prosper with their over-abundance of talent at the skill positions.
Farrell's take: Hurts was always known for a big arm, but his touch wasn't consistent. However, he was the kind of kid who seemed very relaxed on and off the field and never shrunk from the moment. Hurts was smart with the football and his accuracy improved greatly between his junior and senior seasons. Why is he ranked ahead of Sam Ehlinger? Mainly because of the recent success of quarterbacks at Oklahoma. We'll see if they can turn Hurts into a Heisman winner as well.
The skinny: Shenault took unofficial visits to Colorado, Alabama, Oklahoma State, LSU and Baylor during the spring after his junior season, which led to his commitment to the Buffaloes soon after.

Despite missing several games due to an injury, Shenault still flourished in 2018 with 86 receptions for 1,011 yards and six touchdowns. He also added five touchdowns on the ground. Every defense will be primed to try and slow him down this fall, so will he be able to replicate his success?
Farrell's take: Shenault was a mid-range three-star with good size, but we questioned his top-end speed and football quickness. Clearly that was incorrect, as he's emerged as one of the best playmakers in the country. He has the size we liked, but has added shiftiness and explosion and is a threat to score from anywhere on the field. He's expected to have another huge season.
The skinny: It was believed that Ross would choose between Alabama and Auburn, but a very successful official visit to Clemson in December quickly changed everything. Despite taking official visits to both Tuscaloosa and Auburn in January, Ross committed to the Tigers on National Signing Day.

Ross was already in the midst of an impressive season last fall, when he took his game to an entirely new level during the national semifinals and championship with 12 receptions for 301 yards and three touchdowns. Part of a loaded wide receiving group at Clemson, Ross still has the tools to standout.
Farrell's take: Ross was a no-brainer as a five-star wide receiver coming out of high school with great size and body control. He has big hands, snatches the ball out of the air and is an excellent 50-50 ball receiver. It's no surprise he was as impressive as he was as a freshman and he will be the biggest weapon for Trevor Lawrence this season once again.
The skinny: Playing his high school football in Eugene, Ore., Herbert picked up offers from Montana State, Northern Arizona and Portland State when the Ducks offered during his senior season. He quickly ended his recruitment with a commitment.

Coming off of a junior season that saw him pass for 3,151 yards, 29 touchdowns and eight interceptions, Herbert surprised many by not entering the NFL Draft. Back for his final hurrah in Eugene, expectations are through the roof for him to lead the Ducks to a memorable season this fall.
Farrell's take: Herbert is another great find by Oregon as his only other offers were FCS schools, and last year some were talking about him as the No. 1 overall pick in the NFL Draft if he decided to come out. He was a big, raw, dual-threat coming out of high school who could sling it, but had some accuracy issues and some mechanical problems. He also looked skinny despite being 210 pounds or so. He's filled out, has improved his accuracy greatly and is making good decisions. He's big, he can move, he has a strong arm and he has all the intangibles NFL scouts love.