Farrell 50: CFB's top players, Nos. 31-35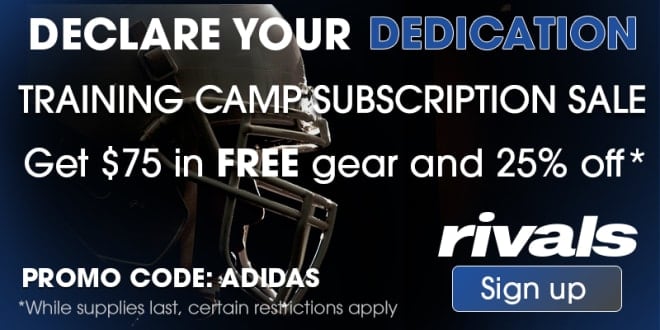 The skinny: Little trimmed his list of stop schools down to Stanford and Texas before committing to the Cardinal during his senior season. Stanford's pro-style offense and reputation for producing NFL linemen were key factors in his decision.

Little is just beginning to reach his full potential after producing a first-team All-Pac-12 season in 2018. Already discussed as a top offensive line prospect in next spring's NFL Draft if he decides to forego his senior season, his progression his fall will go a long way in determining Stanford's success on the field.
Farrell's take: Little was an elite talent coming out of high school as a top-10 prospect nationally and a five-star and he ranked behind only Alabama's Alex Leatherwood at offensive tackle. He had the size, length and I loved the way he extended his arms and used an aggressive punch to keep defenders off balance. Stanford has turned into the perfect fit for him.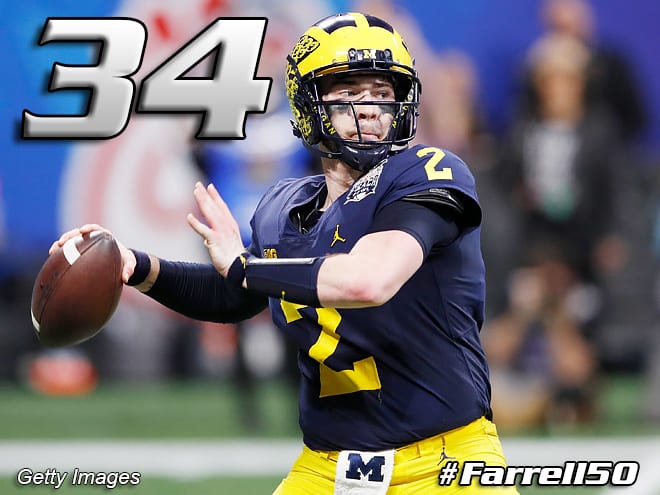 The skinny: Patterson initially committed to Arizona, before re-opening his recruitment and committing to Ole Miss over LSU. NCAA sanctions against the Rebels resulted in Patterson transferring to Michigan, where he had a successful first season with 2,600 yards and 22 touchdowns through the air. However, more is expected from him this fall, as the Wolverines look to make a run at the Big Ten title and a playoff berth.
Farrell's take: As a high school prospect, I loved Patterson for his arm strength, accuracy, moxie and ability to make big plays when it mattered. Being our No. 1 quarterback coming out of high school, expectations were high after a really good final season at IMG. He had shown flashes of his ability at Ole Miss, but bigger things were expected at Michigan and he's lived up to those expectations so far. He's not the tallest quarterback, but he finds passing windows, can extend the play and throw on the run very well. With Michigan's new offense, he should have a big year.
The skinny: Parsons initially committed to Penn State before packing off the pledge in order to take a closer look at a few other programs. Ohio State became the biggest challenger to Penn State, but the Nittany Lions were able to regain Parson's commitment in late November. Parsons did not disappoint during his true freshman season, finishing with 82 tackles, four tackles for a loss, 1.5 sacks and two forced fumbles. More will obviously be expected from him this fall, and there is no reason to believe that he won't be able to meet these expectations.
Farrell's take: Parsons was a freak of nature out of high school, one of the best pass rushers I've seen from a standing position at defensive end in my career. He also showed great ability in space and the quick-twitch speed needed to cover a ton of ground. I was surprised he was being looked at as a middle linebacker to some extent, but his athleticism was so off the charts in high school that I guess he could play safety and I wouldn't be stunned. He had a great season as a freshman and should be even better this year.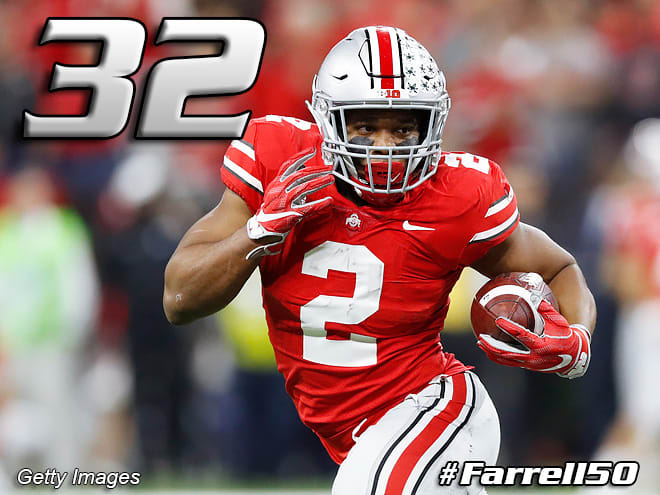 The skinny: Dobbins also considered Oklahoma, Texas A&M, Notre Dame and Texas, but when Ohio State offered in mid-February it only took him a couple of weeks before deciding to commit to the Buckeyes. With the Buckeyes, he quickly adapted to the college spotlight with a big true freshman season. While his sophomore production didn't exactly meet expectations, it is expected that Dobbins is in store for a bounce back season that should see him become one of the top all-around backs in the country.
Farrell's take: Dobbins was highly-regarded and ranked coming out of high school despite missing nearly his entire senior season with a broken ankle. His combination of speed, leverage and the ability to catch the ball had him remain in our Rivals100 despite questions about how effective he would be upon his return. In a great year at running back in the 2017 class, we had him only behind Najee Harris (No. 1 overall), Cam Akers (No. 3) and D'Andre Swift (no. 35). We expect a big bounce back season.
The skinny: Simmons took official visits to Clemson, Missouri, Michigan, Nebraska and Illinois before committing to the Tigers on National Signing Day. His final official visit was to Clemson, which solidified the Tigers status for him. With the Clemson defensive line garnering a majority of the attention for the unit, it was easy for other top players to be under-appreciated. That was the case with Simmons, who continued to anchor the secondary with 88 tackles, nine tackles for a loss, two sacks, one interception and six pass breakups.
Farrell's take: Simmons was a high three-star prospect and a rare commitment from Kansas for Clemson who has blossomed into a star that the NFL loves. He was a huge safety coming out and we thought he might grow into a linebacker, so there were some question marks surrounding how he would develop. Those look silly now.